United States of America | Alaska
Alaska is the first state in the United States where Love Justice International is piloting our anti-trafficking work. While trafficking is present in every state in the U.S., Alaska, specifically Anchorage, is where we have determined that we can begin well and make the most impact. Additionally, the need is great. Senator Lisa Murkowski spoke on the Senate floor in 2018 to reference a multi-state study involving Covenant House in Anchorage: "Out of that study, Alaska respondents reported more trafficking than both New Orleans and New York. ... More human trafficking coming out of Anchorage, Alaska, than you're seeing coming out of New York, New Orleans, Los Angeles, Detroit, Atlanta."
Alaska, the largest state in the United States, is the size of Texas, California, both Carolinas, Florida, and Maine combined. Alaska has an economy driven by oil, tourism, and fishing. Despite its oil-related revenue, in 2020 Alaska ranked 48th for current-dollar GDP in the United States. The state's weak economy contributes to a high unemployment rate of 6.3% (national: 4.8%).
Alaska was first colonized by Russia in 1762. Russian explorers and fur traders were abusive in their treatment of the Alaskan Native people and greatly decreased the population by murder, drowning, disease, and starvation.
Alaska was purchased from Russia in 1867, and the frontier attracted gold miners and church missionaries. The missionaries divided up Native populations to determine which denomination would control which region for the purpose of "civilizing" the Alaskan Natives. Alaskan Natives were forced to turn their children over to missionary schools, where children were separated from their families. Those who attempted to practice traditional ways or to speak their language were sometimes severely punished and shamed. There are also reports of widespread sexual abuse by Jesuit and Catholic priests that affected entire villages in the 1960s and 1970s.
In part due to the intergenerational trauma, there is an epidemic of sexual violence and substance abuse within Alaskan Native communities. In Alaska, 59% of the women reported that they have been sexually assaulted, and the state's sexual assault rate is three times the national average. Among the 59%, 61% are Alaskan Natives, which makes Alaskan Native women almost 10 times more likely than other Alaskans to be victims. Furthermore, the lack of police presence in Alaska's remote rural communities and villages renders the investigation and prosecution of sexual assault cases more difficult. Widespread substance abuse can also be attributed to the introduction of alcohol from colonization and the uprooting of Alaskan Natives' traditional subsistence lifestyle.
Sources: https://apps.bea.gov/regional/bearfacts/action.cfm https://www.bls.gov/regions/west/alaska.htm#eag https://www.adn.com/alaska-news/lawless/2019/05/16/lawless-one-in-three-alaska-villages-have-no-local-police/ https://geriatrics.stanford.edu/ethnomed/alaskan/introduction/history.html https://www.alaskapublic.org/2018/12/17/these-priests-abused-in-native-villages-for-years-they-retired-on-gonzagas-campus/ https://www.propublica.org/article/why-were-investigating-sexual-violence-in-alaska https://www.npr.org/2018/04/21/604551221/alaska-mans-revelation-shine-a-light-on-sex-abuse-in-the-state
2019
Research begins for potential expansion plans in Alaska. Exploratory trips are planned and relationships are built with local government and NGOs working in similar sectors.
2020
Plans to launch the pilot project are delayed by COVID lockdowns and travel restrictions.
2021
Joseph Gamache is identified as our champion in Alaska. Then a lieutenant watch commander with the airport police, he is now the executive director of Alaska Police Standards Council with statewide influence on how law enforcement is trained and equipped. He is an Alaskan Native who came highly recommended by trusted contacts, and he is passionate about fighting trafficking. Joseph is knowledgeable about trafficking and has experience working in counter-trafficking operations for drug and human trafficking. Additionally, Sabrina Stratford is hired as project manager for the airport in Anchorage.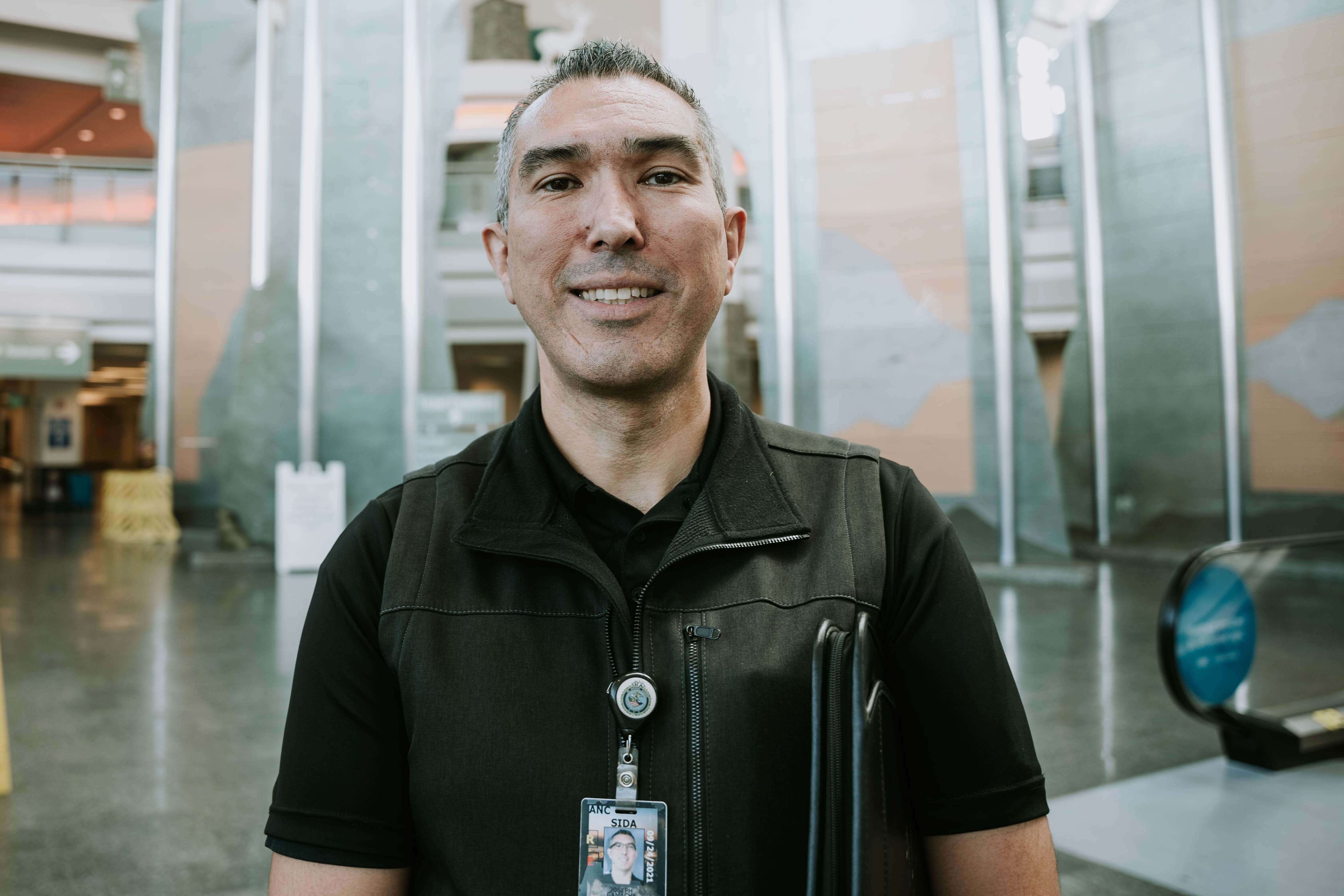 Human Trafficking in Alaska
Every year, thousands of rural youth leave their villages in pursuit of opportunities in Alaskan cities (Anchorage and Fairbanks, primarily). Of the female youth migrants, 90% were sexually assaulted during their childhood before leaving home. This makes these youth particularly susceptible to being trafficked as they have been "pre-groomed" for sexual violence. According to our trusted contact, the average time from recruiting to profitability for an Alaskan youth is two weeks, as opposed to six weeks for the average victim. Rural youth also earn a premium because of their exotic ethnicity. This all equals significant opportunity for traffickers. Within 72 hours of arriving in Anchorage, most youth are solicited for trafficking.
Though Anchorage is a known hotspot, contacts also suggested monitoring in other hub cities such as Fairbanks, Bethel, and Barrow. Demand for prostitution/trafficking is high in areas with industries involving transient male labor, such as oil on the North Slope, the military, and commercial fisheries. Demand is also high during the tourism season (e.g., men's weekend trips for hunting and fishing) and in October, when Alaskans typically receive their annual stipend from the government and have excess money to spend.
At-risk populations for trafficking include homeless youth, American Indian and Alaska Natives, and women. In 2016, a research study sponsored by Covenant House found that 28% of homeless youth in Alaska were victims of human trafficking. Homeless youth may engage in survival sex to obtain shelter, protection, food, and clothing.
Sources:
https://nhttac.acf.hhs.gov/sites/default/files/2020-11/HTLA%20Class%205%20Recommendations%20Report_508c.pdf
https://covenanthouseak.org/wp-content/uploads/2019/08/2018-Impact-report.pdf
Where We Work
Our core work is currently based in Nepal, India, Bangladesh, South Africa, Zimbabwe, Malawi, Kenya, Uganda, Benin, Tanzania, Sierra Leone, Ghana, Rwanda, Namibia, Cambodia, Mozambique, Lesotho, Alaska, Mexico, Liberia, Zambia, Burkina Faso, Indonesia, Moldova, Romania, Burundi, and Ethiopia.
Where our donors live
Where we're on the ground
Both