Bangladesh
Bangladesh ("Land of the Bengals") is one of the most densely populated countries in the world. It is an independent nation located in South Asia, and its people are predominantly Muslim. Officially known as the People's Republic of Bangladesh, the country makes up the eastern and largest portion of the ethno-linguistic region of Bengal. It is situated along the Bay of Bengal and is bordered by Myanmar and India and separated from Bhutan and Nepal by the thin Siliguri Corridor.
Present-day Bangladesh came out as a sovereign country in 1971 after breaking away and gaining independence from Pakistan in the Bangladesh Liberation War. Its early history was characterized by internal fighting, a succession of Indian empires, and a scuffle between Buddhism and Hinduism for dominance. The borders of modern Bangladesh were formed after the partition of India and Bengal in August 1947. The name Bangladesh was initially written as two words, Bangla Desh. Bangla is a key word for both the Bengali language and the Bengal region.
Bangladesh is a developing country; nevertheless, the economy is growing rapidly.
Although manufacturing and services are increasing in importance, almost half of the Bangladeshi workers are employed in agriculture. Most factories and enterprises are owned by the government and tend to be inefficient.
One important source of income for Bangladesh has been workers' remittances from the oil-rich Gulf states such as
Saudi Arabia
and the UAE.
Since its inception in 2006, LJI Bangladesh has intercepted more than 1,200 individuals to prevent them from being trafficked.
2006
Love Justice Bangladesh is established with the opening of a family home.
2014
Love Justice Bangladesh has its first interception, which is also the first interception for the organization outside of Nepal. This proves that transit monitoring can work beyond Nepal, and we begin eyeing other countries for future expansion.
2020
Our teams on the ground in Bangladesh distribute food and basic essentials to more than 19,000 of those most starving due to the COVID-19 pandemic and its subsequent lockdowns.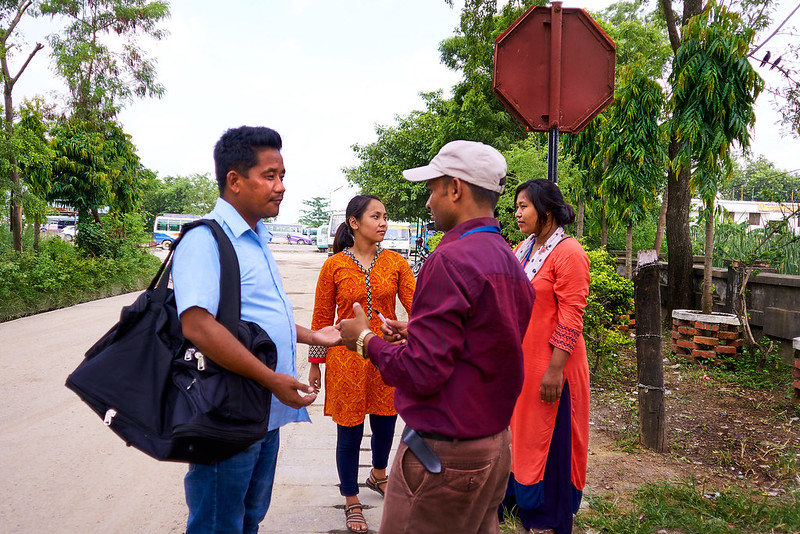 Watch to hear how our transit monitoring teams in Bangladesh cared for women and families trapped in the sex industry.
Stories from LJI Bangladesh
Human Trafficking in Bangladesh
As reported over the past five years, traffickers exploit domestic and foreign victims in Bangladesh, and traffickers exploit victims from Bangladesh abroad. Traffickers exploit some Bangladeshi men, women, and children who migrate willingly to work in forced labor in the Middle East and Southeast Asia, especially Brunei, Malaysia, and the Maldives. Traffickers also exploit Bangladeshis in forced labor in South Asia, Southern and Eastern Africa, Europe, and the United States.
Many Bangladeshis migrate for work each year through illegal channels, and traffickers target them. Before departure, many workers assume debt to pay high recruitment fees, imposed legally by recruitment agencies belonging to BAIRA and illegally by unlicensed sub-agents; this places workers at risk of debt-based coercion. Some recruitment agencies, agents, and employers also commit recruitment fraud, including contract switching; this includes promising women and children jobs and then exploiting them in sex trafficking upon arrival. In recent years, authorities identified more than 100 Bangladeshi male forced labor victims in construction in Vanuatu, and officials received thousands of complaints of non-payment of wages and contract switching among the 30,000 Bangladeshi migrant workers in Brunei. More than 69,000 of the 234,000 Bangladeshi workers in the Maldives are undocumented, and some report passport retention, underpayment or non-payment of wages, and fraudulent recruitment. In Saudi Arabia, traffickers exploit in labor trafficking a substantial number of the hundreds of thousands of Bangladeshi female domestic workers. Officials report that recently approximately 200 domestic workers return to Bangladesh from Saudi Arabia each month with indicators of forced labor.
Traffickers exploit Bangladeshi women and girls in sex trafficking abroad, including in India, Pakistan, and Gulf countries. Women who migrated through Bangladeshi recruitment agencies to Lebanon or Jordan for domestic work have been sold by traffickers into forced labor and sex trafficking in Syria. Some Chinese traffickers force Bangladeshi women, specifically indigenous women from Chittagong Hill Tracts, into sex trafficking and labor in domestic work through arranged marriages. Some traffickers falsify identity documents to make children appear older than age 18 to send them abroad. Gulf countries, including Saudi Arabia and Kuwait, deported hundreds of undocumented Bangladeshi workers during the reporting period, some of whom employers had coerced into forced labor and caused their documents to expire.
Traffickers continue to exploit adults and children from all regions of the country in Bangladesh's legal and illegal brothels, as well as private hotels. Traffickers use false promises of work to lure poor women and children, some as young as 10, into sex trafficking and then fabricate exorbitant debts they must work to repay. Child sex trafficking remains widespread; experts estimate 20,000 children are both growing up in and exploited in commercial sex in Bangladeshi brothels.
SOURCE: U.S. TIP REPORT
Where We Work
Our core work is currently based in Nepal, India, Bangladesh, South Africa, Zimbabwe, Malawi, Kenya, Uganda, Benin, Tanzania, Sierra Leone, Ghana, Rwanda, Namibia, Cambodia, Mozambique, Lesotho, Liberia, Zambia, Burkina Faso, Indonesia, Burundi, Ethiopia, and Ecuador.
Where our donors live
Where we're on the ground
Both