Stop human trafficking
Over 50 million people live in modern-day slavery because of human trafficking*. We train and place monitors at strategic transit points to identify and stop trafficking as it is occurring, BEFORE people are exploited. To date, we've intercepted over 30,000 individuals to prevent them from being trafficked.
*International Labour Organization
Help put traffickers in jail
Since we intercept hundreds of people monthly, intervening as the crime of trafficking occurs, we're able to collect immensely valuable data on traffickers and their networks. Through our data analysis and investigations, we've helped authorities arrest over 1,100 suspects in connection with our anti-trafficking work. Read more here.
Care for the most vulnerable
Love Justice was established with the opening of family homes in some of the poorest parts of the world, caring for orphaned and abandoned children. We also operate a school in South Asia, empowering students to become difference makers in the world through excellent education.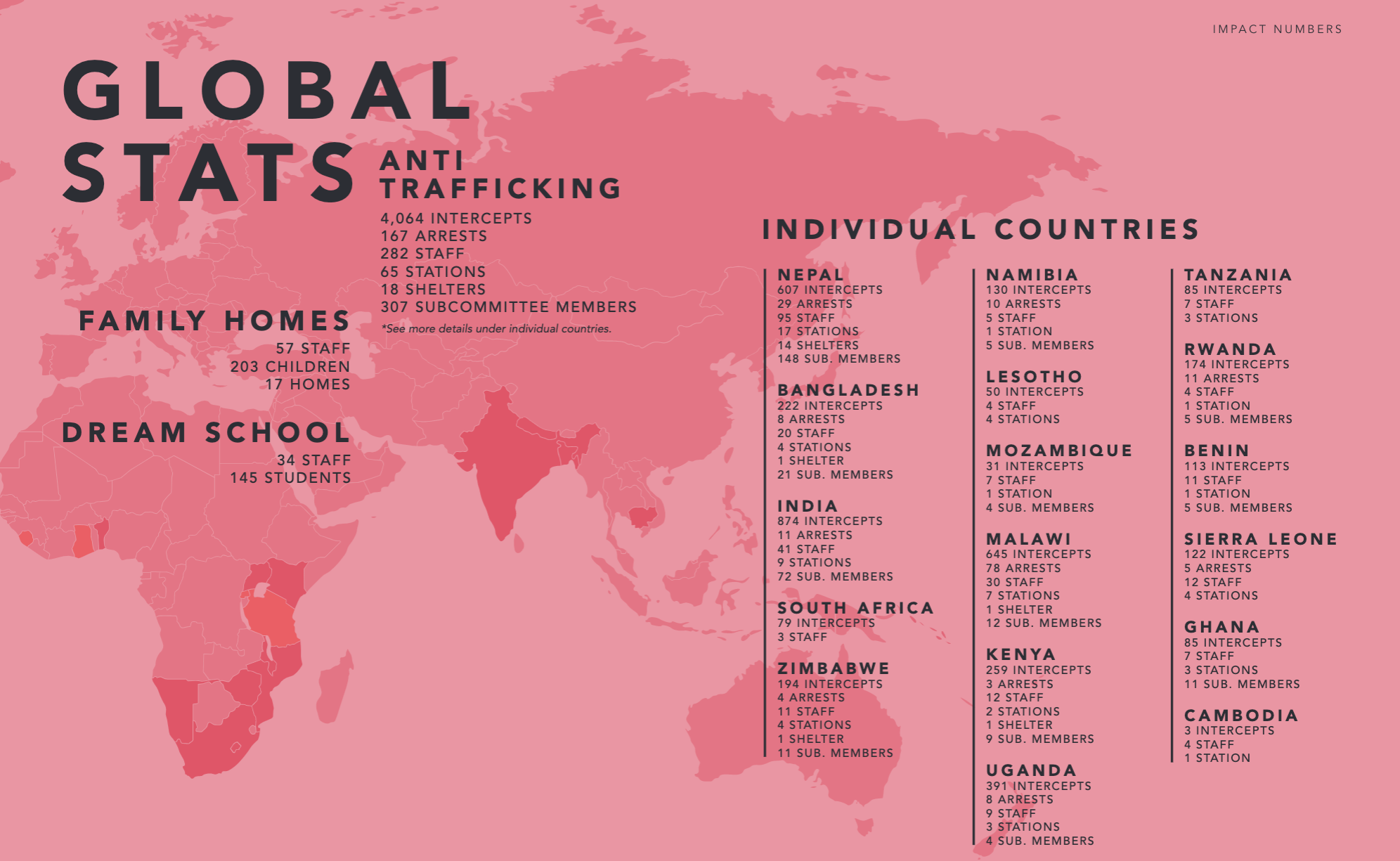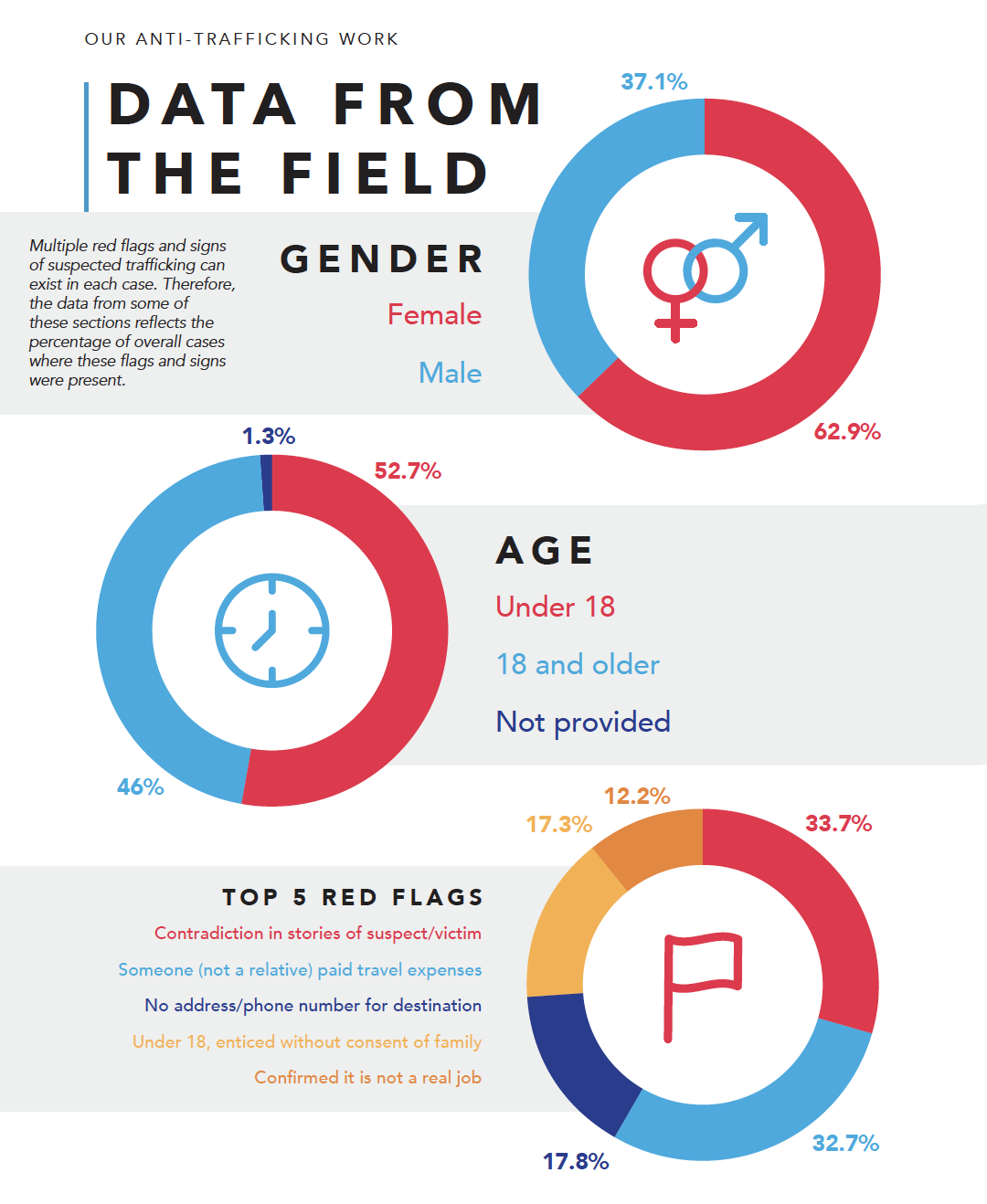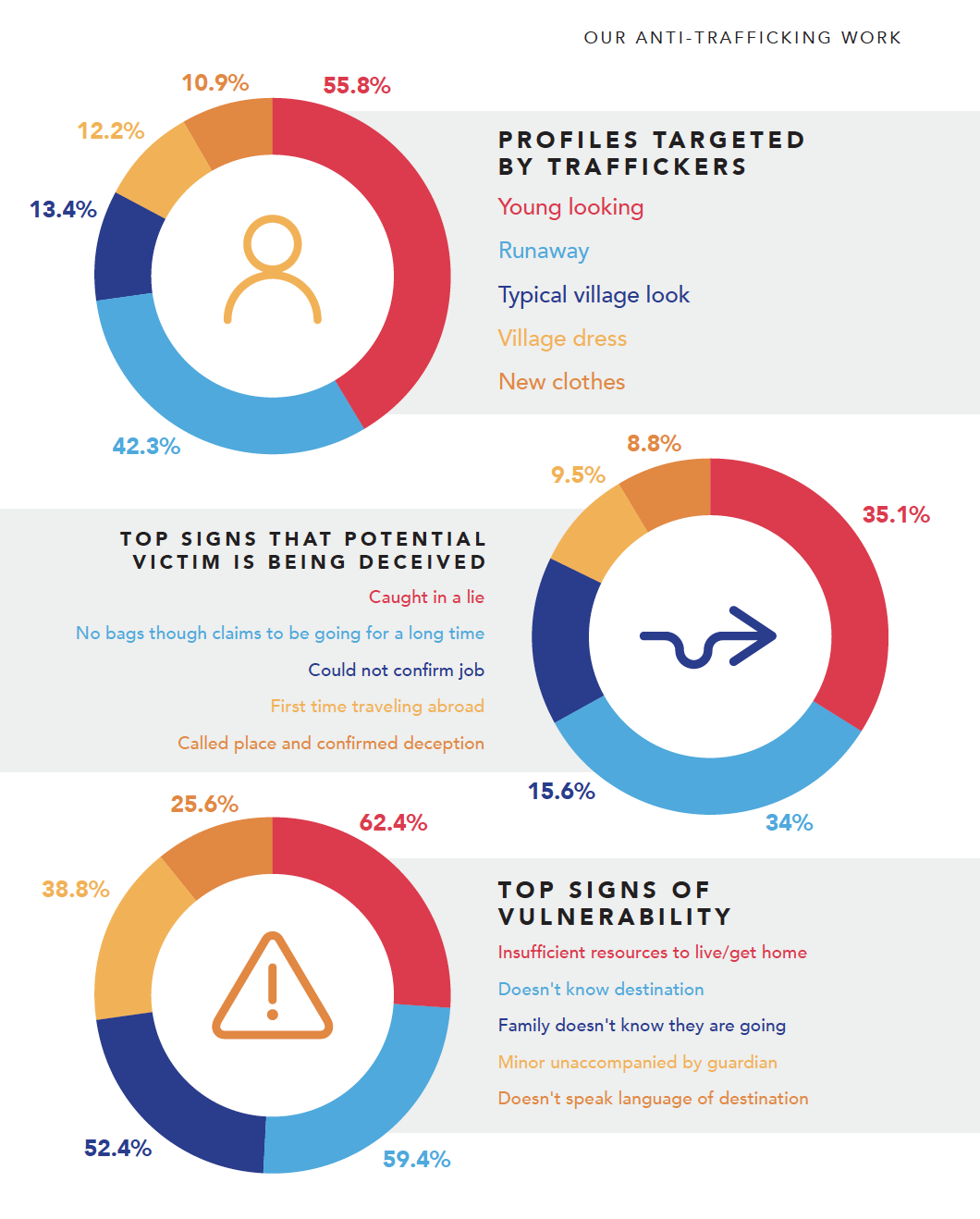 Measuring the Impact of Transit Monitoring
Love Justice's transit monitoring method is uniquely positioned to provide a human trafficking prevention strategy that is both measurable and cost-effective; it is the only tangible preventative method that we know of.
We know that donors invest their money in order to make an impact. More impact is obviously better than less. While there are many ways to measure an NGO's impact, we believe that cost per intercept serves as a concise and straightforward tool for us—and others—to judge our effectiveness.
At LJI, cost per intercept is a three-year historic calculation that indicates to program staff and donors the cost to intercept an individual to prevent them from being trafficked. It tells us—and you—exactly what the impact is and sheds light on our ability to achieve our core value: Do much with little. Lastly, it helps drive decisions about where and how dollars invested can achieve the greatest impact.
While we report a three-year rolling figure, we measure this number monthly to internally push us toward greater impact.
This number is determined through three steps:
Determine the all-inclusive (direct spending, program execution, and fundraising/administration) investment we are making in our anti-trafficking work.
Assign that investment, proportionally, between the two measurable outcomes of our anti-trafficking work: interceptions and arrests.
Divide the total number of interceptions by the assigned investment.
At the end of 2021, our three-year cost-per-intercept number stood at $363. For about the cost of a monthly car payment, our monitors can prevent the exploitation of an infinitely valuable individual. Because this three-year calculation includes disruptions associated with a worldwide pandemic, it overstates the cost we would expect in a non-COVID world, as numbers from the last non-COVID year indicate (2019 - $205).
To learn more details about the cost-per-intercept calculation, and to see how the math works, click here.

33,280
People intercepted to prevent from being trafficked

76
Active transit monitoring stations

29
Countries where we have piloted transit monitoring

26
Short-term shelters for those who have been intercepted
1,179
Arrests stemming from our anti-trafficking work

33%
Percent of closed cases resulting in convictions
Where We Work
Our core work is currently based in Nepal, India, Bangladesh, South Africa, Zimbabwe, Malawi, Kenya, Uganda, Benin, Tanzania, Sierra Leone, Ghana, Rwanda, Namibia, Cambodia, Mozambique, Lesotho, Alaska, Mexico, Liberia, Zambia, Burkina Faso, Indonesia, Moldova, Romania, Burundi, and Ethiopia.
Where our donors live
Where we're on the ground
Both
Binu's Story | How a 22-Year-Old Family Home Graduate Decided to Start Her Own Home
Before we began our anti-trafficking work, Love Justice found its beginnings in opening family homes for orphaned and..
Read More
Trafficked: Where Were You 24 Years Ago?
When Libby Swenson was in her early twenties, she witnessed real injustice and oppression for the first time.
Read More
Breaking: Investigations Team Secures Arrest of Woman Selling People into Slavery
Recently, our team in Malawi received a call from the police about a 64-year-old woman named Eunice* who was keeping 52..
Read More
Our Mission
Sharing the love of Jesus Christ by fighting the world's greatest injustices.