Benin
Benin is located in West Africa, east of Togo and west of Nigeria. It is bordered to the north by Burkina Faso and Niger, and to the south by the Bight of Benin in the Gulf of Guinea. The country is slightly smaller than the state of Pennsylvania. Benin's shore includes what used to be known as the Slave Coast, the departure point for slaves to be shipped across the Atlantic.
Benin is one of Africa's most stable democracies. Since the end of a Marxist-Leninist regime in 1989, it has peacefully organized six presidential elections, seven legislative elections, and three local elections. Presidential elections held in March 2016 were won by the multi-millionaire and cotton-sector tycoon, Patrice Talon.
On the economic side, Benin is underdeveloped, and corruption is rife. It is ranked 167 out of 188 on the UN's Human Development Index. While the country has experienced economic growth over the past few years (5.6 GDP growth in 2017) and is one of Africa's largest cotton producers, it ranks among the world's poorest countries. Its economy relies heavily on agriculture and its informal re-export and transit trade to Nigeria, which makes up roughly 20% of GDP. The service sector accounts for 50% of GDP, while agriculture accounts for about 25% of GDP and 45–55% of employment. The economy is characterized by informality, representing an estimated 65% of the total economy and over 90% of the labor force.
To the north, there have been sporadic clashes along Benin's border with Burkina Faso. The trouble has been blamed on land disputes between rival communities on either side of the border.
Sources:
World Bank, BBC
2018
Love Justice Benin is established in July with 29 interceptions and 13 assisted arrests.
2021
Benin's border begin to reopen after the COVID-19 pandemic and subsequent lockdowns. Our team returns to work, and Love Justice Benin staff grows to 10 individuals.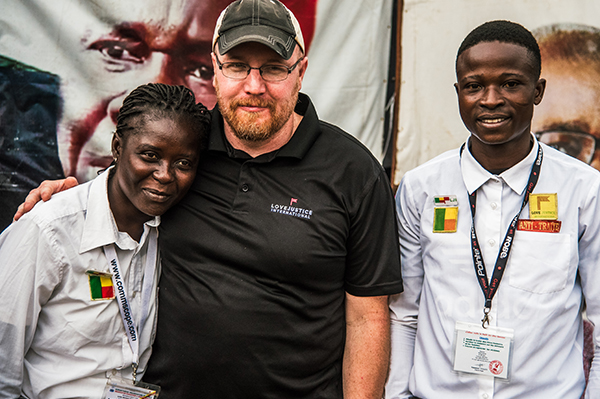 Since its inception in 2018, LJI Benin has intercepted more than 600 individuals to prevent them from being trafficked.
Two Teen Girls Safe from Traffickers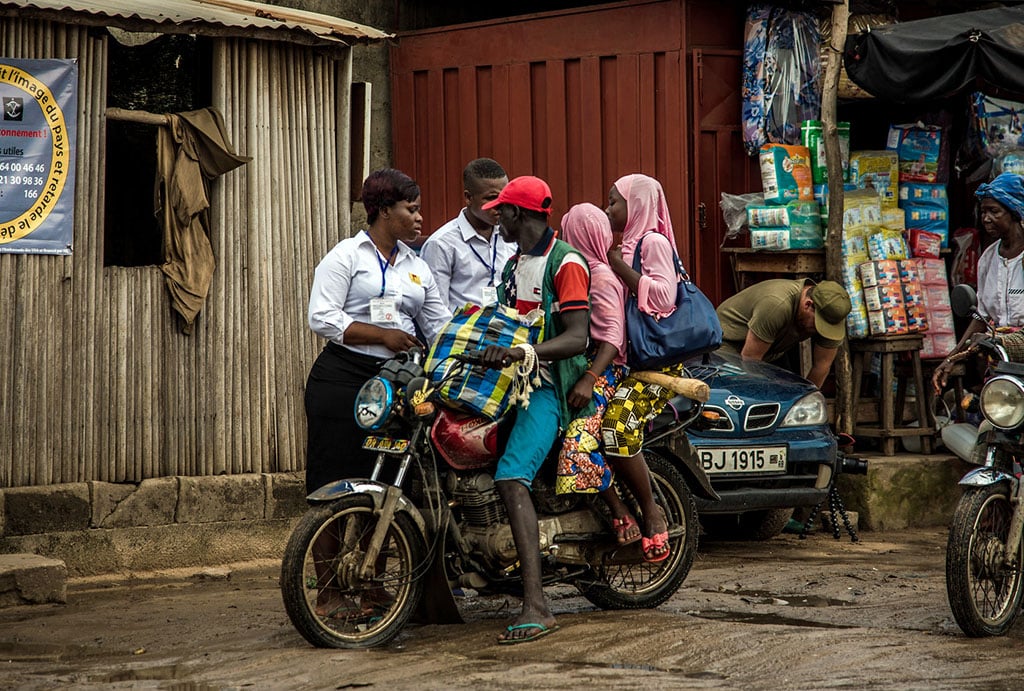 The girls (pictured in pink on the back of the suspected trafficker's motorcycle) were being taken across the border to do domestic work. Our transit monitors (in white) intercepted them and took the girls to the police station. The case is currently under investigation, and our team is actively working to uncover the whole story and ensure the girls' safety.
Human Trafficking in Benin
In 2006, a UNICEF study suggested that in that year alone, 40,000 children were trafficked to, from, and internally within Benin—the numbers of which were expected to increase with each subsequent year. Labor trafficking occurred most frequently due to families taking advantage of the traditional vidomegon system, in which the migration of children is common if a better opportunity for the child exists with a distant relative. In these cases, traffickers are typically family members or third parties working with a child's family, For instance, in the mid-2000s, the Nigerian police recovered over 200 Beninese children that were working at a sand factory in Abeokuta, Nigeria.
A common Beninese critique of anti-trafficking legislation is that the Western construction of trafficking fails to understand Benin's cultural system of internal child migration. In Benin, children become familiar with work from a young age, and work is viewed as part of the process of a child's basic development. With high levels of illiteracy in Benin, it can be difficult for rural populations to learn and comply with legal requirements for child migration. Moreover, extended family members are considered just as responsible for children as their parents, and a child will voluntarily be placed with any relative who can provide them with the best opportunities. With this context, it may be difficult to distinguish child trafficking from cultural child migration, even in cases where travel requirements are not met.
Child trafficking takes different forms in Benin. A child's family can sell the child under contract trafficking, in which a family will be paid according to the child's age and how many years the child is being sold for. A child may also be sold to pay off their parent's debt bondage, meaning that it is the parent's loan "debt" that will keep a child in a labor exploitative situation. Another method used is that an abandoned or orphaned child will be taken outside of Benin with fake adoption documents, and the child will be sold upon arriving to the destination country. Due to the religious beliefs and superstitions of many animist groups, children may be sold if they are considered to be sorcerers, meaning that they were born with some type of defect or malformation. If a child was a product of an adulterous relationship or rape, he or she may be sold. Lastly, street children are prone to being trafficked and will often be lured off the street with promises of better living conditions, only to be sold to a separate party.
Sources:
Verbeet 2000: 182.
US TIP Report
Where We Work
Our core work is currently based in Nepal, India, Bangladesh, South Africa, Zimbabwe, Malawi, Kenya, Uganda, Benin, Tanzania, Sierra Leone, Ghana, Rwanda, Namibia, Cambodia, Mozambique, Lesotho, Liberia, Zambia, Burkina Faso, Indonesia, Burundi, Ethiopia, and Ecuador.
Where our donors live
Where we're on the ground
Both