Kenya
Geographically, Kenya is a small to medium-sized country, yet with over 40 million inhabitants, it has the second highest population of all the countries in East Africa. Kenya is bordered by Tanzania, Uganda, South Sudan, Ethiopia, Somalia, and the Indian Ocean. Due to early marriage, high birth rates, and high mortality rates, 40% of Kenyans are reported to be under the age of 15, and 59% are younger than 24.
Kenya ranks 145 out of 187 countries in the 2015 UN Development Program Human Development Index. Kenya has been particularly plagued by HIV-AIDS and takes in the second highest amount of refugees out of African countries. According to a 2015 UNICEF report, 51.6% of males and 48.4% of females attend secondary school, yet there is a relatively high literacy rate of approximately 87% according to Ethnologue. Moreover, the CIA World Factbook gives Kenya an unemployment rating of approximately 40%, which is one of the world's worst. Despite this, Kenya's economy is the East African Community's (EAC) regional leader.
Sources:
CIA World Factbook 2016
UNDP 2016
UNICEF 2016; Ethnologue 2016
2018
Love Justice Kenya is established and has 51 interceptions in their first month, October, followed by their first arrest in December of that same year.
2020
By July of 2020, LJI Kenya staff grows to 10 members and two stations, and together, they have intercepted over 900 individuals to prevent them from being trafficked.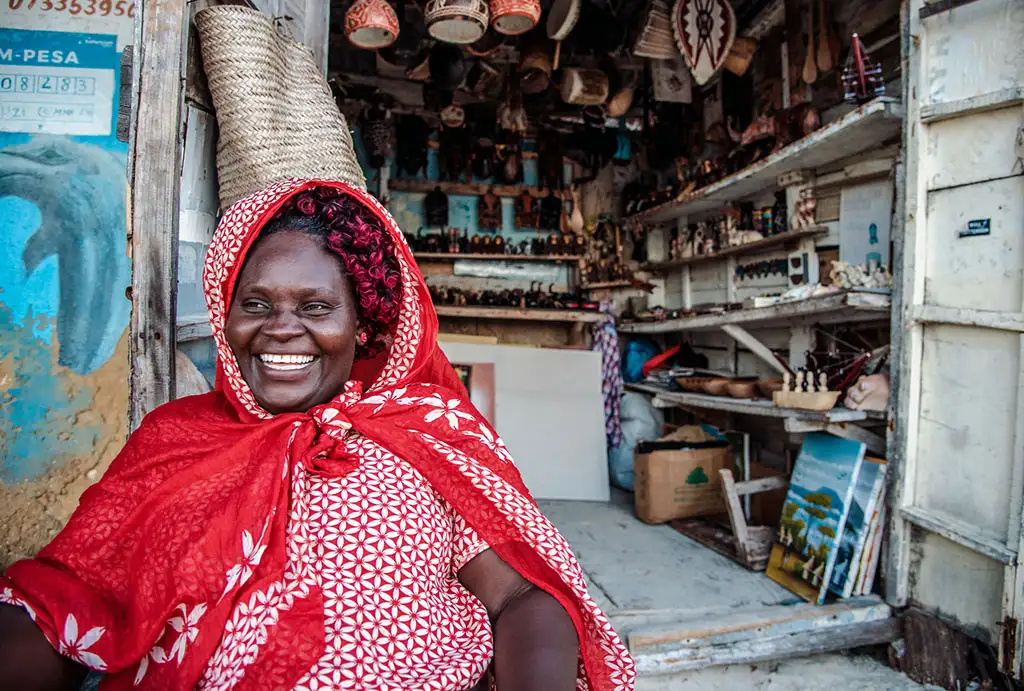 Since its inception in 2018, LJI Kenya has intercepted more than 1,600 individuals to prevent them from being trafficked.
Meet the Team
Our transit monitors in Kenya are working every day on the front lines to fight human trafficking. Watch to hear more about who they are and why they do what they do.
After Somoe's personal experience with human trafficking, she joined our team in Kenya and works every day to prevent others from enduring the horrors of being trafficked into slavery. We love her story of bravery and resilience in the face of injustice:
Human Trafficking in Kenya
Kenya is a Tier 2 source, transit, and destination country for sex and labor trafficking, having only recently been taken off the Tier 2 Watch List, according to the 2016 U.S. Trafficking In Persons report. A HAART report suggests that as many as 20,000 Kenyan children are trafficked annually. Moreover, a 2008 IOM report found that Kenya's sex industry is a common destination for women from Sudan, Ethiopia, Tanzania, and even South Asia.
The vulnerability of women and children in Kenya to trafficking is due, at least in part, to poverty and a perversion of cultural practices that commercialize and sexualize girls. As a society, Kenya is patriarchal, and historically, women have not been given a role in decision-making processes. As with many cultures, gender inequalities in Kenya have perpetuated women's vulnerability to various forms of exploitation. Early marriage (i.e. before age 18) is still a common cultural practice, especially in communities where female genital mutilation (FGM) remains a ritual. Girls are considered vulnerable to trafficking in cases where FGM has occurred. Additionally, there are other ritual practices that specifically target the use of trafficked persons.
According to one in-country contact, a socio-cultural issue that affects understanding of trafficking is that adult victims are not given much empathy by communities and law enforcement, as their situations are more likely to be considered "voluntary" and due to their own poor choices or promiscuity. Sexual exploitation is widespread, with a 2015 USAID report finding that 45% of women between the ages of 15–49 have experienced physical and/or sexual violence.
Internal Trafficking
Most commonly, internal trafficking involving forced labor is for the purpose of cattle herding; agriculture (tea, coffee, tobacco, sisal, flower farms); domestic service; begging/street shops; or the fishing industry. Labor trafficking is more common within rural Kenya, whereas sex trafficking typically entails transportation from a rural to an urban region. The coast of Kenya is reportedly a major internal trafficking destination and a cross-border site of recruitment for sexual exploitation. A 2006 Kenyan report found that most sexual exploitation clients along the coast were Kenyans, though foreign armies have also been cited as regular clients. A sexual exploitation risk indicator would be a truck driver traveling along the coast and heading toward quarries transporting rocks. One in-country contact noted that victims are transported to Mombasa and taken by boat to islands off the coast where they are subject to forcible involvement in pornography.
In addition to the coast of Kenya, other locations mentioned as sites of sexual exploitation are near Nyanza's gold mines, near areas of khat (a mild narcotic) cultivation, and by Lake Victoria fishing industry sites. The National Crime Research Centre (NCRC) in Nairobi has found that domestic trafficking victims are typically exploited in Mombasa, Nakuru, Kisumu, and Nairobi. Sites most at risk of trafficking include: Nairobi, Mombasa, Laindi, Diale, Kuale, and Kisumu. Moreover, Northern and Western Kenya are origin points for internal trafficking to agricultural and tourist sites. Internally displaced persons (IDPs) are at risk to being trafficked internally and externally; if victims are trafficked internally, they will most likely be brought to one of Kenya's major cities, specifically near local market sites.
External Trafficking
Countries cited as common migration destinations include the following: other East African countries, the Middle East (in search of employment), Europe, the United States, Angola, and South Sudan. Local NGOs have also reported that people from India and Nepal have been trafficked through cargo ships into Kenya for sex tourism. If the trafficking victim is an IDP, the most common destination for cross-border trafficking is the Middle East. Generally, approximately 15% of trafficked victims are believed to be trafficked to the Middle East, and because there are positive anecdotes of people migrating to the Middle East for work, individuals often believe the risk is worth the potential reward. The Kenyan government has taken small steps toward working more with Middle Eastern countries, such as by developing a bilateral agreement with Saudi Arabia to improve communication in trafficking scenarios.
The U.S. Department of State has found that children from South Sudan and other countries in East Africa are subjected to labor and sexual exploitation in Kenya. Likewise, Indian women are known to be kept in debt bondage in mujra dance clubs in Nairobi. Trafficking networks are predominantly small, though larger networks do exist.
Sources:
USAID 2015; Migiro 2014; US Department of State 2016; Hetzfeld 2002, US Department of State 2016; HAART 2016/2015; RMMS 2013; IOM 2008, Jones 2006, US Department of State 2016, NCRC 2014, HART 2016, US Department of State 2016, UNODC 2012, NCRC 2014
Where We Work
Our core work is currently based in Nepal, India, Bangladesh, South Africa, Zimbabwe, Malawi, Kenya, Uganda, Benin, Tanzania, Sierra Leone, Rwanda, Namibia, Cambodia, Mozambique, Lesotho, Liberia, Zambia, Burkina Faso, Indonesia, Burundi, Ethiopia, Ecuador, and Argentina.
Where we're on the ground