Zambia
Zambia, unlike most of its neighbors, has managed to avoid the war and upheaval that has marked much of Africa's post-colonial history, earning itself a reputation for political stability. The landlocked country has experienced rapid economic growth over the last decade as Africa's second-largest copper producer (after the Democratic Republic of the Congo).
Zambia is ranked 139th on the UNDP's Human Development Index, which is considered "Medium Human Development." Zambia also has one of the world's fastest-growing populations, with the UN projecting that its population of 13 million will triple by 2050. However, economic growth and massive Chinese investment have failed to improve the lives of most Zambians, with two-thirds of the population still living in poverty.
2020
Through the summer and fall, our team on the ground responds to the COVID-19 crisis by finding and feeding more than 200 of those most vulnerable to starvation amid the shutdowns.
2021
As relationships deepen with like-minded partners and contacts in the area, volunteer recruitment and transit monitoring training begin. In November, LJI Zambia officially launches transit monitoring.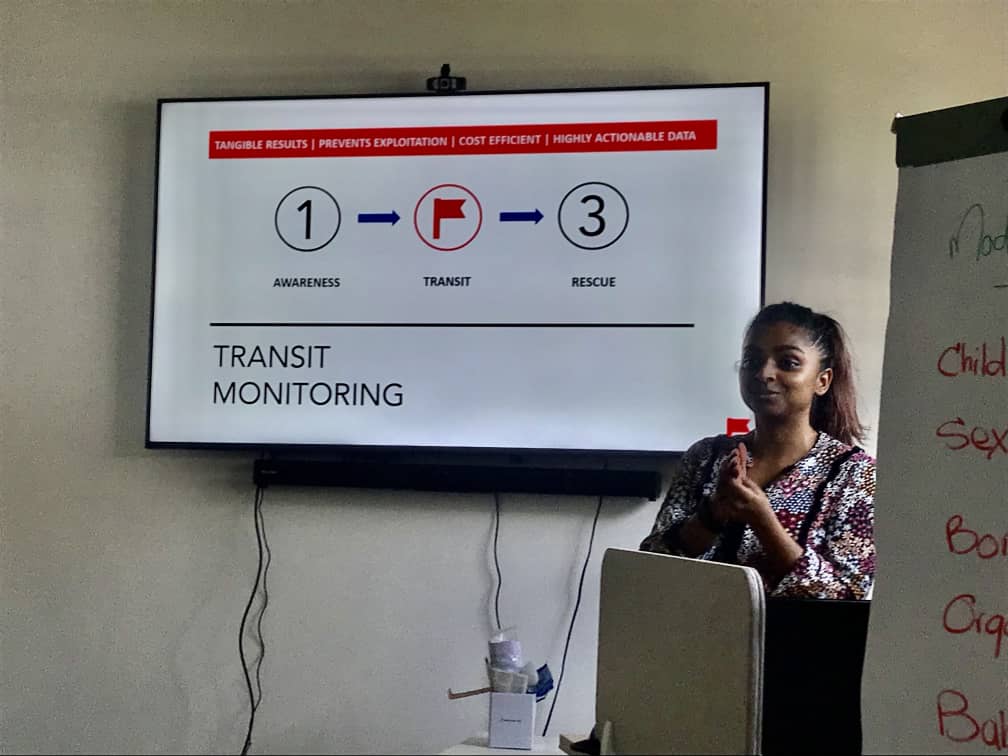 Human Trafficking in Zambia
According to the TIP Report and Plan International, most trafficking is internal and involves women and children from rural areas being exploited in cities in domestic servitude or other types of forced labor in agriculture (farming, tobacco, herding cattle, etc.), textile, mining, construction, small businesses such as bakeries, and forced begging. Parents are enticed to send their children to relatives in urban centers with the promise of education. According to the police, internal trafficking has been going on for a long time and is a lucrative and growing business, but there has been a lack of awareness and sensitization about the issue among the public.
In addition, research identified that the majority of trafficking occurs within the country's borders, in areas such as Kapiri Mposhi (near the DRC border), Chirundu (key transit point near the Zimbabwean border), and Nakond (Tanzania border district). Trafficking in Zambia primarily affects orphans and street children (but can affect children from wealthier families as well).
According to the police, cross-border trafficking involves organized syndicates and a lot of money; points are mapped out beforehand to avoid the police.
Source Country: Zambian boys and girls are exploited in sex trafficking by truck drivers in towns along the Zimbabwean and Tanzanian borders and by miners in the mining town of Solwezi (near the border with the DRC). Zambian boys are subjected to sex trafficking in Zimbabwe, and women and girls are subjected to sex trafficking in South Africa. There have also been instances of Zambians being trafficked to the Congo and Namibia.
Transit Country: Zambia is a transit country to South Africa, Namibia, the Democratic Republic of the Congo, or other parts of the world (e.g., United Kingdom and the U.S.). The transnational labor trafficking of Southeast Asians through Zambia for forced labor in construction in South Africa has been linked to criminal groups based there.
Destination Country: Women and children from neighboring countries are exploited in forced labor or sex trafficking after arrival in Zambia. Nationals from South and East Asia are exploited in forced labor in textile factories, bakeries, and Chinese-owned mines. Chinese traffickers bring in Chinese women and underage girls for sexual exploitation in brothels and massage parlors in Lusaka; traffickers use front companies posing as travel agencies to lure these Chinese victims, and then they coordinate with Zambian facilitators and middlemen. There are also reports of refugees from war-torn countries in the region (such as Somalia) being trafficked into Zambia.
Child prostitution is the most common form of commercial sexual exploitation of children (CSEC) in Zambia. Prostitution is widespread in large cities and constitutes the country's most serious trafficking problem. While the prostitution of children is prohibited under the Zambian Penal Code and penalties of up to life imprisonment for perpetrators can be imposed, in practice the law is often not enforced and, as a result, child prostitution in Zambia is quite common. Many times, it is the children who are charged and prosecuted under Zambian law, rather than the perpetrators.
Sources: https://www.state.gov/reports/2021-trafficking-in-persons-report//https://ecpat.org/wp-content/uploads/2021/08/Ex_Summary_ZAMBIA_FINAL.pdf https://africa-eu-partnership.org/en/success-stories/zambia-develops-national-plan-action-against-trafficking-human-beings
Where We Work
Our core work is currently based in Nepal, India, Bangladesh, South Africa, Zimbabwe, Malawi, Kenya, Uganda, Benin, Tanzania, Sierra Leone, Ghana, Rwanda, Namibia, Cambodia, Mozambique, Lesotho, Liberia, Zambia, Burkina Faso, Indonesia, Burundi, Ethiopia, and Ecuador.
Where our donors live
Where we're on the ground
Both