We spend a lot of time talking about fighting injustice, but at the heart of our mission statement is another key element. Our mission statement is to share the love of Jesus Christ by fighting the world's greatest injustices. Fighting injustice is merely a means to this greater end of sharing the love of Christ.
Project 58
We focus on tangible impact because we believe that a gospel of love means love in action; we cannot sit idly by while people suffer. But we also believe in the life-changing power of Christ's love through the words of the gospel.
In response to these values, to ensure that we build and maintain this environment of faith, we created Project 58. The name for this project comes from Isaiah 58:6 "Is this not the fast that I have chosen: to loose the bonds of wickedness, to undo the heavy burdens, to let the oppressed go free, and that you break every yoke?"
The chapter goes on to promise God's care, guidance, and strengthening for those who seek Him in this way. As such, we deeply believe breakthroughs in the impact of our work hinge on our faithfulness to prayer and fasting.
Spiritual Care Coordinators
As part of Project 58, we recently created a new position: spiritual care coordinators. These SCCs pray with and for our staff. They mentor and disciple them, building them up to do this difficult work with joy and endurance, and they train and inspire them in sharing the gospel with those they encounter. They also follow up with individuals who accept the gospel and help them find a church in their area. Lastly, they help call the church to works of justice, establishing subcommittees with local churches to support our transit monitoring work and to provide counseling and aftercare for any potential victims in need of additional support.
Meet these amazing new additions to our global team!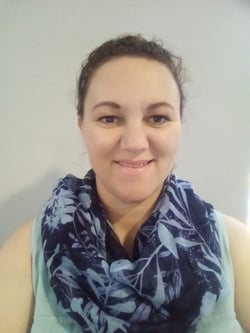 Sam is our new Project 58 implementor. She is from South Africa.
"My journey to Love Justice started as a 16-year-old girl finding herself in places that the Lord never wants His daughters to go. I met the Lord on the beach one day where He poured out His love, grace, and purpose over my life."
Sam previously worked with a ministry that supports people trapped in or coming out of the sex industry, working towards restoration. Through this organization, she heard about Love Justice and started using her skills from corporate HR to do some work, which eventually turned into this new role.
"Personally, I feel the Holy Spirit calling me deeper into relationship with Him because He has plans for all of us this year, plans that I believe will unfold and grow as we press in. I see revival of the hunger and desire for the Holy Spirit in the teams as well as a great cloud of people entering into the kingdom, being reconciled to their Father and Savior," she said.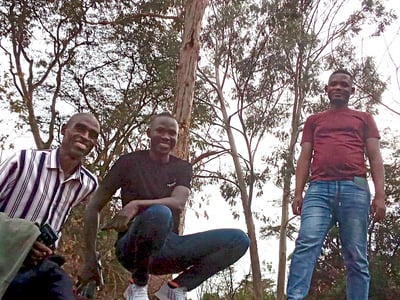 Isaac (pictured on the right) is the SCC in Malawi.
Isaac came to Love Justice after feeling his heart change toward the injustice around him and wanting to make a difference.
"I understand that when we awaken to the injustices which surround us and come together in the form of a collective action, we can challenge the very things that are making our communities ill, and we can win in the power of God," he said.
Isaac is eager to share the gospel and to bring hope to both staff and potential trafficking victims, to support the staff through discipleship, and to encourage and inspire them to do their best.
"I will labor to show them God's heart for the vulnerable—how it is broken for them and how in the same sense it should break ours," said Isaac.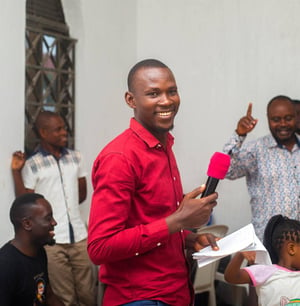 Edigar is the SCC in Uganda.
He started with Love Justice in March 2023 when his pastor recommended him for the job.
"I love sharing the love of Christ because I have personally experienced it … when I'm sharing it, it's real. And in this role, I've come to learn that things that are real are very easy to share. When I share my story and what Jesus helped me through, they want to listen," he said.
As an SCC, Edigar gets to share the gospel with someone every day, and he loves encouraging people and being a listening ear.
"This job is about Christ. It's not about anything else," said Edigar.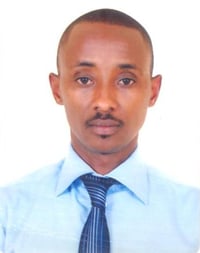 Eugene is the SCC and spiritual director in Rwanda.
Eugene came to Love Justice through his spiritual mentor, Gary, who passed away last year. Gary supported Eugene through Bible college and knowing Eugene's passion for missions and evangelism, introduced him to one of the directors at Love Justice as they were searching to fill this role.
"As for this year, we have set a goal of searching God's heart in prayer and obedience to the Holy Spirit. We are availing our bodies, spirits, and souls to be used by God to serve everyone that is facing injustice of any sort," he said.
Eugene feels inspired by the story of James and his brother John in the Bible. Jesus nicknamed them "Sons of Thunder," and their actions were sometimes rough, aggressive, or even senseless. Yet Jesus pursued them in love, and each became a great hero of the faith. James went on to become the first Christian martyr, and John went on to write several powerful books of the Bible.
"Wow! What a change! He can still transform us all and use us as His vessels for the glory of the kingdom of heaven. Hallelujah!" said Eugene.
Glen is the SCC in Kenya.
He started with Love Justice back in 2019 doing data entry and acting as prayer champion and project assistant before stepping into this new role. He came to Love Justice through the Kenya country champion, whom he met while he was serving his church as a youth leader and encountering cases of child trafficking there.
"I was drawn to Love Justice. I was profoundly interested the more I realized they are vocal about sharing God's love to end injustice, which is rare in many organizations. My passion to see people live in truth and freedom edified by the Word of God led me to serve in the organization," he said.
As Glen worked with Love Justice over the last few years, he visited transit monitoring stations and saw people reunited with their families, children brought home to safety; he prayed with people who had been intercepted and saw some of them receive the joy of salvation.
"As for me this year, I feel called to spend much time with God in prayer, reading the Word, fasting, befriending the Holy Spirit, and being sensitive to God's voice. In all that we shall do this year, my desire is for God to be reflected and seen in our hearts, actions, and conduct," he said.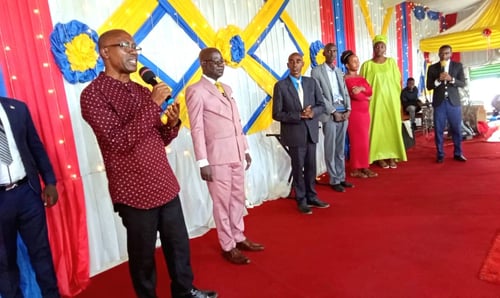 Impact
Since implementing Project 58 and bringing these SCCs into this role to provide spiritual guidance and support, our impact has already increased exponentially. Malawi and Kenya have both doubled their average number of intercepts per month since bringing on an SCC. Uganda has nearly tripled their numbers.
We currently have eight SCCs, and the goal is to have at least twelve. Because our monitors face many challenges and emotional heaviness day to day as they work to prevent human trafficking, we want to support them and care for them as much as we can. We believe that Project 58 will continue to directly impact the health of our staff, the people we intercept, and the long-term fruit of our work.
Our spiritual director, Nikki Still, said this about the impetus for the project:
"Living in a developing country, I have spent the majority of my working life trying to find solutions to all the injustices I see around me. I have eventually come to the conclusion that Jesus is the only hope for the world because He is the only one who can change the human heart. In Him, people receive a Savior who is committed to loving them and capable through His death and resurrection to set them free. And as He starts to work out His salvation in them, their lives will be transformed, and they will start to right the wrongs that they see around them."
As an organization that highly values the message of the gospel and the transformative power of Christ's love, we are excited to put this love into action in a new way!
If you share these values and would like to specifically help provide spiritual and mental care for our monitors and potential victims, click the button below to give.
*All data and statistics current at the date and time of publishing. Names changed and some specific locations excluded for privacy and security purposes.