Every day, we have teams working on the front lines across the globe, taking action to prevent vulnerable people from becoming victims of human trafficking. Here are some of those breaking stories for the month of March 2022.

Liberia: Female Kidnapped by Suspect and Abandoned in Unfamiliar Area, Intercepted
While our monitor was en route to his normal monitoring station, a high-value contact called him, informing him of a vulnerable-looking female named Mary*. Our monitor quickly went to the area where the female had been spotted to meet with her and to offer his assistance.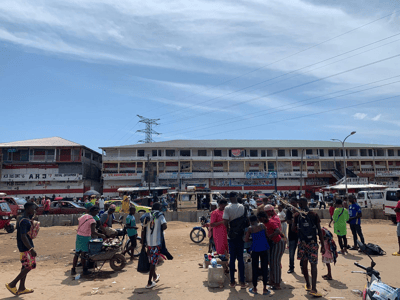 During the interview, Mary shared that a motorcyclist had approached her in her hometown, asking if she knew where a hairdresser named Hawa* lived. Mary knew the location and agreed to go with the motorcyclist to direct him to the place. Unfortunately, however, the motorcyclist ignored her directions and proceeded to take her to an unknown destination.

Upon arrival, the suspect left Mary by the side of the road with a woman named Esther*, promising he would return soon. Thankfully, our high-value contact noticed Mary standing by the roadside, and he immediately called our monitor to inform him of the suspicious situation.

During questioning, Mary shared that she did not know where the suspect was taking her, and she revealed that he had confiscated her phone before leaving. She also mentioned that she lacked sufficient resources to return home and she was traveling without her family's permission or knowledge. Based on all of these red flags, our monitor immediately intercepted Mary to prevent any further exploitation.
---
South Asia: Team Intercepts Minor Victim of Labor Exploitation

Our team was monitoring at a busy train station when they noticed Sonu*, a shabbily dressed 15-year-old boy who was wandering around a platform. After observing him for a few minutes, they decided to approach him for questioning.

Sonu said he was traveling by himself and was trying to return home to his village. He shared that a month earlier he had been lured away from his home by his cousin Nazir* who had arranged a job for him working at a luggage factory in another city in the western part of the country with a promised weekly salary of $7 USD. After Sonu accepted the job offer, he left home and traveled with his cousin without informing his parents.


Nazir's brother-in-law, Rahul*, was Sonu's boss, and he treated him very cruelly. He forced Sonu to work up to 15 hours each day, and he only paid him a weekly salary of $1.30 USD. According to Sonu, Rahul also frequently beat him and woke him up each morning by kicking him. As he shared his story, Sonu started weeping and showed our team the scars on his body.


After several weeks of experiencing this abuse and the inhumane working conditions, Sonu was able to escape from the factory, carrying a bag of clothes and a small amount of money. He made his way to a nearby station and was able to sneak onto a train without purchasing a ticket. However, when he got off at the next station, he was unable to sneak onto another train without being noticed, and he did not have enough money to purchase a ticket home. He told our team he had been stranded at the transit station for about a day. When our monitors called Sonu's mother to inform her of the situation, she was relieved to hear that her son was safe. Our team arranged temporary lodging for Sonu at a trusted shelter home until his parents could come pick him up and help him return home.
---
Rwanda: Minor Girl Lured Away from Home with Promised Job, Intercepted Prior to Exploitation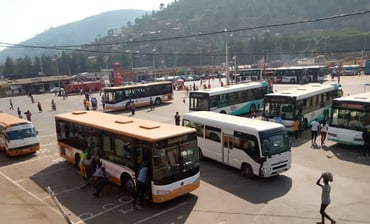 Kito* is a 13-year-old girl who was approached by a man in her village offering her a job with a monthly salary of 10,000 Rwf ($10 USD). Kito accepted the job offer and traveled with the man from her village to the city where her employment would be. Upon arrival at their destination, Kito unexpectedly lost contact with the man at the bus station. Our team believes that he noticed a police presence in the area and abandoned Kito to avoid arrest.
Thankfully, our monitor noticed Kito and approached her for questioning. During the interview, Kito shared that she had left her home without informing her family of her plans. Our monitor reported the case to the police and then educated the young girl about the dangers of human trafficking. Later that day, our team arranged Kito's safe travel back home, and she is now in the safe hands of her family.
---
Uganda: Team Intercepts Two Minors Being Lured with Promised Work; Suspect Arrested

Brian*, a suspected trafficker, was arrested at a bus terminal while attempting to lure Pricilla* (14) and Suzan* (17) into going with him to work as attendants at his bar. Brian had instructed the girls to wait for him at the bus station while he went to run a few errands.

Thankfully, our monitors noticed Pricilla and Suzan standing alone in the terminal. They seemed nervous and afraid, so our staff approached them for questioning. During the interview, the girls shared that they were traveling in the company of a man who had promised them jobs working at his bar. When Brian returned to the transit station to pick up the girls, he was arrested and taken into police custody. Later that day, a case of human trafficking was filed against him. Our team provided Pricilla and Suzan with counseling about human trafficking, and then they facilitated their safe transportation home.

---
South Africa: Team Redirects Female Seeking Suspicious Job Advertised on Facebook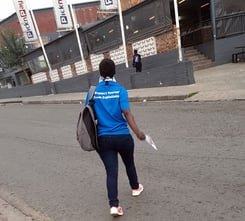 A 22-year-old South African woman recently spoke to one of The Freedom Project monitors, seeking advice about a job she had seen advertised on Facebook. She and her daughter were living with her grandmother, and she told our team she was desperately searching for a solution to improve their lives. She had never had a job before, but she had seen an advertisement seeking females ages 19–26 years old to work in a warehouse with a promised monthly salary of R6000–R10000 ($400–$670 USD).
Our monitor immediately knew that the job posted was too good to be true because a warehouse worker earning more than triple the minimum wage is unheard of. Moreover, the fact that young people—specifically young women—were being recruited for a warehouse job was strange enough on its own, but it also indicated that the suspect was targeting a specific group of people known to be targeted by traffickers.
Our team phoned the suspect who concealed their identity, posing behind the name of a well-known company in a completely different industry. Our staff then spoke to the young female about the dangers they had uncovered, explaining her vulnerable position and warning her of the potential risks. After listening to their advice, she decided not to pursue the job out of fear for her life. When she realized just how close she had been to danger, she told our team she never thought it was possible for human trafficking to happen to normal people like her.
---
Sierra Leone: Monitor Uncovers Contradictions and Intercepts Female Traveling Across Border with "Aunt"


Recently, our staff intercepted Makula*, a 20-year-old female who was attempting to cross an illegal border point on the back of a motorcycle. When stopped for questioning, Makula initially claimed to be going to Pamelap, but she was unable to provide any more details about her travel plans. The driver transporting her said he had been instructed by someone else to take Makula across the border. When our monitor asked the driver where that person was, he said that she had already traveled across the border by car and was waiting for them in Pamelap.

Our monitor instructed the driver to go across the border and return to Sierra Leone with the female suspect. While waiting for them to return, our monitor spent some time counseling Makula and educating her about the dangers of human trafficking. When he asked her again where she was planning to go, she shared that she and her "aunt" were traveling together to Conakry for the holiday. Our monitor assured her that if everything seemed okay and safe after he had the opportunity to question her aunt, then he would allow her to leave with her. They continued to talk, and he asked Makula for her ID. She didn't have one, so he went with her to the immigration office for further assistance.


While they were there, the motorcycle driver returned to pick up Makula. The female suspect was not with him, so immigration officials ordered him to bring her back to their office for questioning. He left and returned later with the aunt who was very angry. She demanded to know why they were not allowing the girl to travel. Officials explained that it was because of multiple safety concerns, including Makula's lack of ID. Makula went inside for additional questioning while our monitor was able to spend some time talking to the aunt. During her interview, the aunt said that she and Makula would be traveling to Mali together. She claimed to have a sister who lived there, and she said Makula was going to work in a restaurant. Our monitor explained that Makula had told him they were planning to travel to Conakry for a holiday. The woman denied this and insisted they were on their way to Mali.


Due to their contradictory statements and several other red flags, our monitor intercepted Makula to keep her safe. This investigation is ongoing, and our staff intends to follow up as it proceeds.
---
Kenya: Three Girls Lured with Overseas Work, Intercepted Prior to Exploitation
Our staff received an early morning phone call from an informant about three young girls, Perpetual*, Eunice*, and Femline*, who were heading to Saudi Arabia and were in a vulnerable situation. Our team managed to find the girls and interview them. During questioning, they revealed that they had come to Nairobi with their broker, a woman named Lillian*. The girls shared that Lillian had organized and paid for their traveling expenses, promising them domestic helper positions in Dubai with salaries of 40,000 ksh ($350 USD).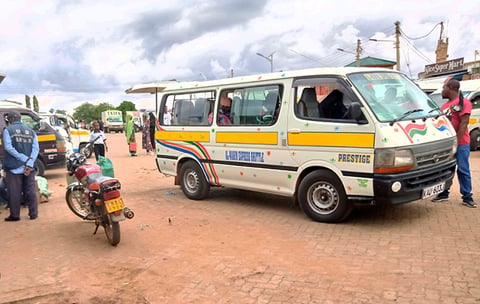 They were en route to their new place of employment when Lillian suddenly changed the job details, informing them that they would be working in Saudi Arabia, not Dubai. The three girls did not have identification documents to be able to process their passports, so Lillian obtained fake IDs for them and then took them to a house in downtown Nairobi where they stayed for three days along with another group of girls. Their movements were closely monitored, and none of the girls were allowed to leave the house.
While staying there, the girls learned that Lillian had been promised a payment of 15,000 ksh ($130 USD) for each female she delivered. Shortly after they arrived, an agent paid Lillian 45,000 ksh ($390 USD) for bringing Perpetual, Eunice, and Femline to the home. As soon as Lillian received her money, she left. This agent then took pictures of the girls and sent the photos to someone else so they could choose which girls they wanted. Shortly after that, the agent realized that the girls had fake IDs. He tried to call Lillian to ask her about it, but she did not pick up her phone. The agent kicked Perpetual, Eunice, and Femline out of the house, suggesting they find men to sleep with so that they could earn enough money to pay for their transportation home.
Thankfully, our monitors received a tip-off from an informant and were able to intercept the vulnerable girls. They provided them with safe shelter for the night and then took them to the police station the next morning so they could record their statements. The police investigated Lillian but ultimately decided not to press charges against her. Meanwhile, our team organized the girls' transportation home.
---
To learn more about the countries where we work and the impact of our anti-trafficking strategy, visit here.
*All content, data, and statistics current at the date and time of publishing. Some locations omitted and names changed for the security and privacy of those involved.