Each month, we receive inspiring stories from the field about beautiful people being intercepted from slavery. Here are just a few of this month's breaking updates from the countries where we work to stop human trafficking and help empower vulnerable lives with freedom.
Nepal: Minor Female Cautioned Not to Travel Abroad for Foreign Employment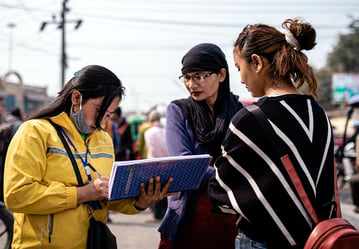 Rupa* is a 17-year-old female who was pursuing foreign employment. One of our staff members heard about her situation and contacted her, informing her that she was underage according to the Nepal government's requirements for seeking foreign employment. Rupa told our team member that she and her friends were in the process of planning to travel abroad for work, but they hadn't determined the type of jobs they would be doing or which country they would be traveling to.
Our team asked Rupa for her father's contact information. Then, they called him to explain the potential danger of sending his daughter abroad without any specific job skills at such a young age. They warned him that she would not be able to obtain government labor approval, and they cautioned him about the potential difficulties she would be facing.
After listening to our staff, Rupa's father decided not to send her abroad for foreign employment. He promised to wait until she was at least 18 or 19 years old, and he agreed to verify the manpower agency and check all the required documents prior to letting her travel outside of the country.
---
India: Team Assists Minor Runaway Fleeing Abusive Home Situation

Our team spotted a minor female who seemed hesitant and afraid. Based on her young appearance, they stopped her for questioning. She stated that she had traveled to Delhi to visit her mother and that she was being accompanied by her father. After further observation however, the team discovered that her father was nowhere in sight and was not accompanying the female.


Concerned for her safety, they intercepted her and then retrieved her mother's contact information. Our staff tried to phone the mother, but the calls went unanswered. Unfortunately, the girl could not provide her mother's address, as it was her first time in Delhi. While the team was counseling the victim, she initially shared that she had taken a bus from her village in Uttar Pradesh to Prayagraj, and from there, she had taken another bus to Delhi.

During further questioning, the girl eventually admitted that she was not going to visit her mother as she had originally claimed. Instead, she was running away from home because she was being sexually assaulted and harassed by her 22-year-old neighbor, Bhola*. Although she had reported him to the police in her village, Bhola was not held accountable for his actions, and he continued to verbally harass and physically abuse both her and her mother. She shared with our team that one day he had taken her to a nearby forest and sexually abused her while capturing the whole incident on video. After that day, he continued to threaten her that he would upload the video on social media if she ever went against him. Several days later, Bhola sexually abused her again. Desperate to escape the abusive situation, the minor victim decided to run away to meet up with an acquaintance that she had met and befriended seven months earlier on Instagram.


During the interview with our team, the victim shared that her father had died, and she was earning a living through tailoring while her sister was working at a cosmetic shop. She gave them her sister's contact information, and when our staff called her, the sister confirmed the incident and asked them to take the victim to the nearest police station. During counseling, the victim told our team that she was unwilling to return home, so they reached out to the Delhi Commission for Women (DCW) for assistance. Staff from the DCW escorted the young female and our interception team to the local police station for further procedures. After the victim's official statement was recorded, she was handed over to the care of the DCW staff. This case is still under investigation.
---
Malawi: Team Intercepts Three Potential Victims of Labor Trafficking
The suspected trafficker in this case was a secondary school teacher who, through a series of events, began working as an agent who would recruit people from his home district of Dowa and then ferry them to the district of Rumphi to work on farms.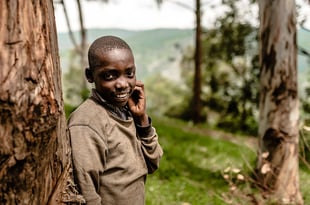 On the day of this interception, the three potential victims were traveling from Dowa to Rumphi because they had received a call from the suspect. As they passed through a bus station, our team overheard them trying to communicate with the suspect regarding their transportation. Based on this conversation, our team stopped the group for questioning.
The victims were initially reluctant to disclose the true purpose of their journey, but eventually, one of them opened up and told our monitors that they were headed to a farm for labor work under the instruction of the suspect. After hearing their story, it was clear that these three individuals were in the process of being trafficked, so our monitors intervened and intercepted them.
---
Rwanda: Four Minor Children Intercepted; Two Suspects Arrested

This case involved four children who were taken from their homes without their parents' consent. They were taken by two traffickers who are related to them. Our monitor saw the children looking confused and crying, and she became suspicious. She approached the group to assess the situation, but the traffickers were unwilling to answer any of her questions. Recognizing this as a red flag, our monitor immediately asked the police for assistance.


When the police arrived, they spoke with the two suspects and asked them about their relationship with the children. At first, they lied, but then one of the children, a 9-year-old, told the police that the adults were not their parents and that they did not know where they were taking them. Based on this information, the police immediately took the group to the police station for further questioning. The two suspects were eventually arrested, and the children's parents were contacted. The parents told our team that they had been frantically searching for their children and had informed the local radio station that they were missing. The parents confirmed that the suspects were related to them but said they had no idea why they had taken their children without their permission.


Later that day, the parents arrived at the station to pick up their children. They were so grateful our monitors had intervened to keep their children safe, and they thanked our team for their assistance. After our staff educated them about human trafficking, they all returned to the safety of their homes.
---
Kenya: Monitors Intercept Young Female Being Lured to Saudi Arabia with Suspicious Job Offer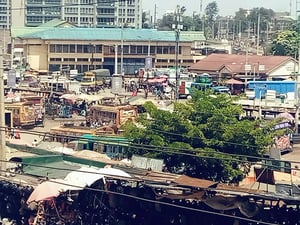 Recently, our staff was monitoring at a busy bus station when they noticed a young female clutching a small bag who seemed disoriented and upset. They moved closer to her and noticed she was talking to someone on her phone, giving them directions to her location. Concerned for her safety, our monitors approached her for questioning.
During the interview, she said that her name was Gladys* and she was 22 years old. She shared that the poverty levels at her home had pushed her to search for work anywhere. She explained how an agent had organized a job for her where she would be working in Saudi Arabia. This particular agent organized the job through another agent in Nairobi. Gladys stated that this agent was on his way to pick her up at the station and take her to a hostel where she would be staying until she could be transported to Saudi Arabia for her new job. As Gladys was sharing the details of her future employment, our staff recognized multiple red flags and immediately intercepted her to keep her safe. They forwarded all the information she had shared with them to officials for further investigation, and they plan to follow up on this case as it proceeds.
---
Zimbabwe: Team Intercepts Man Traveling to South Africa for Suspicious Job

James*, a 33-year-old man, was recently spotted by our staff. Our monitor first noticed him because he was carrying a small bag, indicating that he was traveling somewhere. During questioning, James mentioned he was waiting for his boss who was traveling from South Africa. Our staff continued to ask more questions, and James shared that he had secured employment in South Africa through a Facebook ad. He said his primary responsibility would be taking care of pigs on a farm, and he revealed that he had been promised a salary of 4,000 rand ($260 USD).

Our staff explained to James that he did not have the proper requirements and paperwork to legally work in a foreign nation, and they informed him that he would have to travel to South Africa through illegal routes since the border is currently closed. After talking with our team, James realized he was in a potentially dangerous situation and agreed to return to the safety of his home.
---
Uganda: Team Empowers Sex Trafficking Victim with Start-Up Business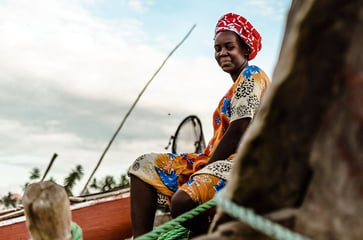 This month, our team in Uganda supported a victim who had been previously rescued during a raid in September at the landing sites in Kaiso. Jacline*, a 17-year-old female with a baby, had been trafficked into prostitution, and she left the sex trade when she realized that she was pregnant. She had nowhere to go, so she begged people for enough money to survive.

During her time of forced prostitution, Jacline's one dream was to go back home to her mother; so after she gave birth to her child, it became her main priority. Sadly, she found out that her mother had died during the time she was away. Our team was able to assist Jacline with a start-up business selling fresh produce at a local market. She was so thankful for the assistance that she broke down crying. Our team plans to follow up with her and continue to provide her with counseling and care.
---
Tanzania: 13-Year-Old Girl Stranded at Bus Station, Intercepted Prior to Exploitation

A 13-year-old female was sent by her father to Dar es Salaam to work as a housemaid. Her future employer sent bus fare to facilitate the young girl's transportation from her village to Dar es Salaam and promised to meet her at the bus station when she arrived. However, when the girl arrived at the station, no one was there to pick her up and take her to her new place of employment. The young female was stranded at a transit station in an unfamiliar city, and she did not have any money to purchase a return ticket home.


Thankfully, our team noticed her, and after talking with her, they intercepted her and took her to the social welfare office for further interview and assistance. Shortly after that, she was connected to one of her relatives who lives in Dar es Salaam.
---
Sierra Leone: Team Intercepts Female en Route to Suspicious Job; Suspect in Custody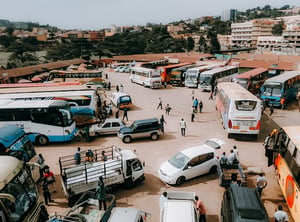 Recently, an informant contacted one of our monitors about a young female named Fatmata* who had been taken to Freetown with the promise of working as a domestic helper. The promised salary was unusually high, and Fatmata was reported to be unable to talk properly and seemed extremely sleepy, almost as if she had been drugged.

When questioned by our team, the suspect who was traveling with Fatmata provided some information that contradicted what Fatmata had already told our monitors. In a private interview, Fatmata had mentioned that she had given her cell phone to the male suspect; however, when he was questioned, he claimed he did not have her phone. Based on multiple discrepancies and red flags, our team determined there was enough evidence of trafficking to involve the police. The suspect was taken into custody for further investigation, and Fatmata was safely reunited with her sister and returned home.
---
Ghana: Minor Siblings Intercepted After Four Years of Forced Labor on Lake Volta

Philip* (10) and Kobi* (8) are siblings from the Greater Accra Region in Ghana. From their narrative, they were brought to the community four years ago by their aunt Cecilia*, who is the wife of their suspected trafficker. According to the young boys, Cecilia approached their mother in their village, offering to take custody of the children and enroll them in a reputable school. At the time, Philip was in class one, and Kobi was in kindergarten. Excited about the prospect of giving her sons a better education, the mom accepted Cecilia's offer, and she allowed the young boys to travel to their aunt's home.


When they arrived, the brothers were not enrolled in a reputable school as promised. Instead, their uncle immediately introduced them to the fishing industry on Lake Volta. For the past four years, the siblings have been forced to fish on the lake from 4:00 a.m.–10:00 a.m. Sometimes their uncle goes with them, but other times, they are unaccompanied. Depending on the season, they are also expected to fish in the evenings from 7:00 p.m. to as late as 1:00 a.m. While they endure unbelievably harsh conditions on the lake, their cousins remain at home, sleeping in their beds. Because he is the oldest, Philip does most of the hazardous work and suffers more compared to his younger brother, Kobi. Philip paddles the canoe over long distances on the lake and casts the fishing nets. The labor is extremely strenuous and dangerous, requiring Philip to haul pounds of fish and swim the depths of the lake to untangle the nets. In addition to enduring their difficult work, the brothers receive little food or rest and are regularly beaten.

The siblings suffered under this slavery for four years until our monitoring team was able to carry out a rescue operation. Philip and Kobi were placed with trusted caregivers until they could be safely reunited with their mother.
---
South Africa: Female Redirected After Contacting Team Through The Freedom App
A South African female contacted our team after she had received The Freedom App pamphlet. She shared that she had applied for a cleaning position on Facebook. She said that she had heard about human trafficking and false job offers before, especially in Johannesburg, and she admitted she was concerned because she could not differentiate between false and legitimate job offers.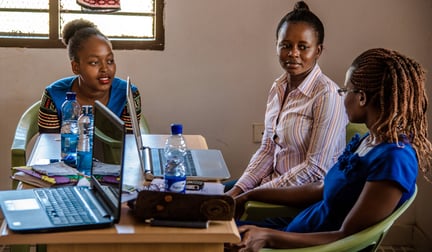 During questioning, the potential victim shared that she had finished studying in grade 12 and did not have any post-grad education. She was a single mother of two children, and she was living at her parents' house. Since her parents were also unemployed, they were all surviving through temporary jobs and government grants that supported the children. When our team asked her specific details about the job she had applied for, she shared that she had not been asked to submit a visa and no job experience was required. Furthermore, when she had sent them a WhatsApp message, a man had responded through a call on a private number, so she was unable to save the phone number. The man had only asked her where she lived and her age. He then promised to contact her later to give her the physical address of where the interview would be held.

After talking with the potential victim, our team determined that the company did not exist, the pay offered was higher than normal, the post was not clear about the location of the job or the company details, and the contact number was suspicious as it always went directly to voicemail. After listening to our team's warnings about the potential red flags, the female felt strongly that she should no longer pursue the job opportunity because she was convinced it would put her at high risk of exploitation.
---
Namibia: Team Uncovers Multiple Red Flags and Intercepts Man Traveling Abroad for Suspicious Job

A 24-year-old Namibian male was recently profiled and intercepted in the departures area of the Hosea Kutako International Airport. He was initially approached for questioning because it seemed as though he was trying to avoid our staff as well as several of the immigration authorities.

During the interview, it was discovered that he had been made to believe he was en route to London; however, the ticket that had been purchased for him by his host listed his final destination as Glasgow, Scotland—a change in destination that the young man was not aware of! He shared with our team that he had been promised a job earning a salary of 3,800 pounds ($5,160 USD). Our staff immediately realized this was an unrealistic salary based on his educational background. Furthermore, he was from a poor community and impoverished family, and he could not speak English very well.


When he revealed that this was his first time traveling abroad, our team determined he did not have enough money in his possession to safely sustain himself during his stay in the UK. Furthermore, the young man was unable to prove the legitimacy of his promised job, as he had not been given a contract or any other confirming documentation. Another red flag in this case was that the young man was traveling with very little luggage; however, according to his flight ticket, he was expected to be abroad for a long period of time. Our team contacted his family to verify his story, and they learned that they were unaware of his travel plans.


Based on all of these red flags, our team determined the young man would be extremely vulnerable to debt bondage to the suspected trafficker who had already paid for all his travel expenses. Because the young male fit the known profile of someone who could be trafficked, our team intercepted him and helped him safely return to his family in Namibia.

---
Visit here to learn more about our work in the fight to end human trafficking and serve the most vulnerable across the globe.
*All content, data, and statistics current at the date and time of publishing. Some locations omitted and names changed for the security and privacy of those involved.