Last month, we intercepted 421 people from the threat of being sold into human trafficking. Here are just a few of those compelling stories from the field.

South Asia: Staff Intercepts Two Minor Girls Attempting to Cross the Border for Work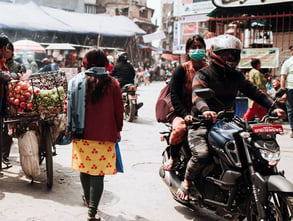 Our staff recently noticed two young girls, Nigam* (16) and Ramkali* (14), traveling toward the border. Upon questioning, the girls said they were leaving the country for household jobs, but our monitors noticed they were not carrying any bags with them. Concerned for their safety, our staff continued to question them to assess the situation.
During the interview, our team learned that Nigam and Ramkali were not sure about the type of work they would be doing or the exact location of their workplace, and they were unable to provide any specific details about their future place of employment, including a contact number for their employer. Our staff also discovered that the girls were unable to speak the local language of their intended destination. Based on all of this information, our team determined Nigam and Ramkali were at high risk of being exploited during their journey, so they intercepted them to keep them safe. After receiving thorough counseling, Nigam and Ramkali were sent back to their homes with their families.
---
South Asia: Minor Runaway Female Intending to Marry Boyfriend, Intercepted

Our South Asia team was monitoring at a transit station when they spotted a minor girl who was empty-handed and accompanied by an 18-year-old man named Rohan*. The couple had just stepped off a train and were walking toward a gate. The girl was following closely behind Rohan, and she seemed disoriented and unfamiliar with her surroundings.

Our staff observed them for a while and then approached them for questioning. When asked about their relationship to one another, the girl remained silent. Meanwhile, Rohan claimed they were siblings who were going to their older brother's home in another city.


Based on the girl's frightened demeanor, our staff separated them for individual questioning. During this time, the girl shared that it was her first time traveling away from home, and she revealed that she did not know where Rohan was taking her. When asked about her relationship with Rohan, she said he was her older brother. Our staff asked to see their identification cards to verify their stories. Through cross-checking, they noticed differences in their father's names, proving they were not siblings. They asked both of them to provide the contact information for the girl's parents. However, Rohan called his older brother, Deepu*, instead.


Our staff spoke to Deepu and informed him of the situation. When they asked him about the girl, he told them that he was unaware that his brother had run away from home with a girl. He requested that our team not take them to the police station, and then he hung up the phone. Through further investigation, our team confirmed that Rohan and the girl had run away from their homes and were not related to one another.

Armed with this new information, they counseled the girl and made her aware of human trafficking and its consequences. After listening to our team, the girl eventually admitted the truth. She said that she and Rohan were in love with each other and were on their way to get married. She said they had left their homes the previous day and boarded a train. She also revealed that Rohan had paid for all their travel expenses. When our staff asked if she had any information about their destination, she admitted she did not know exactly where they were going to.


Our team then asked Rohan where he was planning to take her. He said he was taking her to one of his friend's homes. Although he insisted he was planning to marry her, upon further questioning, it was clear that he was constantly changing his story to evade arrest. Based on their experience, our team strongly believed he was behaving like a trafficker. They contacted Deepu for additional questions, and he gave them the contact information for the girl's father.


Our staff called the father, and he told them that his daughter had run away from his home with a boy named Rohan. He and his family had been searching for her throughout their village. Our staff asked if he wanted to file a complaint against Rohan, but he refused to do so. He then sent one of his relatives to the station to pick up his daughter and bring her back home.
---
Malawi: Staff Intercepts 10-Year-Old Boy Abandoned at Transit Station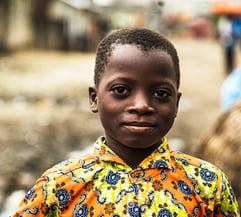 Our team in Lilongwe recently met a 10-year-old boy who lives with his uncle in a village in the Ntcheu district. During questioning, he shared that both of his parents had gone to Mozambique several months earlier, leaving him behind in the care of his uncle.
He recounted that a few days earlier, he had been taken from his home by a Mozambican man who planned to take him out of the country. However, when they arrived in Lilongwe, the suspect abruptly abandoned the boy when he found out that he was sick. The young boy explained to our monitors that he has epilepsy, and he showed them his medical book for proof. Our team immediately intercepted the young boy to keep him safe; then they provided him with temporary lodging until appropriate next steps could be determined.
---
Zimbabwe: Pregnant 16-Year-Old Intercepted and Returned Safely Home

Achiro* is a 16-year-old female who was recently intercepted by our staff in Rutenga. During the interview, she revealed that she was six months pregnant and was planning to marry the baby's father, a man named Etornam*.

Achiro told our team that Etornam's parents had chased her away when she went to their home to marry their son. Etornam took her to his aunt's home and asked the aunt to take care of her. He promised Achiro that he would come back to get her as soon as he secured a job.


Achiro stayed with Etornam's aunt for about a month. Then, one day, the aunt told her that Etornam had called to say that he had found a job in Rutenga and would now be able to take care of Achiro. The aunt told Achiro to pack her belongings and prepare to travel to Rutenga to meet him. She paid for Achiro's transportation to Rutenga and wrote down Etornam's contact information on a piece of paper.


When Achiro arrived in Rutenga, she asked the transporter to call Etornam for her. The transporter contacted him and told her that Etornam wanted her to wait for him at the shops. She waited all day, but he never came to the station. With no other options, she was forced to sleep on the floor of the transit station, which put her at high risk of being trafficked or abused. Her desperate situation increased her vulnerability since she did not have any money to take care of herself or to find a safe place to stay.


Thankfully, our monitors noticed her and intervened. When they tried to call Etornam, a woman answered the phone and told them they had the wrong number. Our staff counseled Achiro, advising her to return to her home. After listening to our team's warnings, Achiro agreed she was in a dangerous situation, and she opted to go back to the safety of her grandmother's house.
---
Kenya: 22-Year-Old Female Lured for Work and Stranded at Station Is Intercepted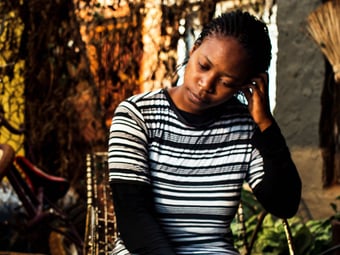 Penina*, a 22-year-old female, traveled from her village to Mombasa to meet an agent named Mutuku* who had promised her a job as a domestic helper in Saudi Arabia. This agent had paid for her transportation expenses to Mombasa. When Penina arrived in the city, she was unable to reach Mutuku even after repeated attempts. It was her first time in Mombasa, and she was very unfamiliar with her surroundings. Without any money in her possession, she was unable to purchase a return ticket home and did not know what to do.
Thankfully, our staff was monitoring at the transit station and noticed Penina's distress. They approached her to see if she needed any help and then intercepted her after hearing her story. It was late in the evening, and due to curfew restrictions, no more transportation was available for the night. Our monitors escorted Penina to a shelter where she was provided with counseling, education about human trafficking, and safe lodging. The next day, our staff helped her return safely home.
---
Sierra Leone: Three Boys Traveling with Suspected Trafficker, Intercepted at Border!

Last month, one of our monitors received a tip-off from an informant about three boys between the ages of 13 and 16 who were wanting to travel to Liberia to meet a friend in Foya. This friend, a suspected trafficker, had come to their village on several different occasions and had been very kind to them. The boys trusted this man and considered him to be a friend, so they agreed to travel to Liberia with him.

The suspect told them to travel without telling their families of their plans, and shortly after they left their village, he confiscated their cell phones, promising to return them later. He paid for their travel expenses, and they traveled together to the border. Once they arrived at the border, he told them to cross over by themselves, promising to meet up with them on the other side.

The three boys were close to the Yenga border when our informant saw them and stopped them to ask about their travel plans. When hearing about their "friend," he became increasingly worried for their safety because he knew the suspect and was aware that he had taken other children to Liberia in the past. These children had never returned to Sierra Leone, and the suspect claimed they had died in an accident. The informant immediately called our staff to seek their assistance and to ask them to question the children for further investigation. After our team conducted a thorough interview, they returned the three boys to the safety of their own homes.
---
Namibia: Woman Traveling to Brazil to Meet Facebook Friend for Work Advice, Intercepted!
A 33-year-old Namibian woman was approached by our monitors at the Hosea Kutako International Airport. During the interview, she told our staff that she had been invited to Brazil by a man she had met on Facebook. He had told her that he could help her start a clothing business as he had recently opened a similar one in Brazil.
Our monitors asked the woman if they could look at the man's Facebook page and attempt to contact him. They quickly discovered that the man was using a phone number from Argentina, not Brazil, and shortly after they called him to ask some questions, his Facebook account was deleted.
During further questioning, our staff learned that the young woman did not have enough money to sustain herself while in Brazil. Furthermore, her Facebook "friend" had purchased her flight ticket for her. The woman was completely unaware that she was being deceived, so our monitor educated her about human trafficking and then arranged her safe transportation home.
---
Bangladesh: Minor Female Lured with Promise of Marriage, Intercepted Prior to Being Sold into Prostitution

Last month, our team was monitoring at a busy train station when they intercepted Rabeya*, a 17-year-old female. During questioning, they discovered that she was eloping with a 24-year-old man named Mosum*. She had run away from her parents' home to meet him. They had traveled by bus from her village to Dhaka where they stayed in a hotel together.

Rabeya was unaware that she was staying in a dangerous area notorious for prostitution. She told our team that she had been waiting for Mosum to return to the hotel. He had told her that they would be going to his friend's home later that day. She had been waiting for him for a long time, but he still hadn't come back for her. She had tried to call him several times, but his cell phone was turned off. Our team later learned that Mosum had gone to a nearby brothel area to sell Rabeya into prostitution.

Our staff counseled Rabeya, providing her with education about human trafficking and warning her that Mosum was most likely a trafficker who was planning to sell her to the owner of a brothel. After listening to our team's warnings, Rabeya was very upset and started to cry. Our staff comforted her and shared the gospel with her. Later that day, Rabeya agreed to go back to her own house. Our team contacted her parents and arranged her safe transportation home.
---
South Asia: Team Uncovers Red Flags and Intercepts Five Females Traveling to Hong Kong with Forged Documents
While monitoring at a border checkpoint, our staff noticed three females entering the crossing the border in a suspicious manner. The team stopped them and started questioning them about their travel plans. The young women claimed to be visiting a nearby shopping market for the day, but our team noticed they were carrying luggage with enough clothing for an extended trip.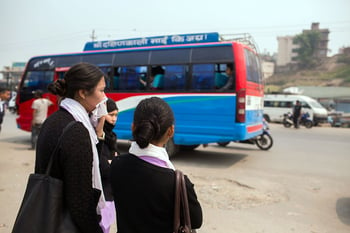 Our transit monitors grew suspicious and didn't believe their statements, so they contacted one of their family members to assess the situation. From this phone call, they learned that the three females were actually planning to travel to Hong Kong. This contradiction led our team to believe that they were dealing with a potential trafficking situation, so they took the three females to their booth for further questioning.
Eventually, the young women admitted they were traveling to Hong Kong. They stated that someone in Hong Kong had arranged for their passports and made them some forged travel documents. During this interview, two more women arrived at the border, and our team learned that they, too, were planning to travel to Hong Kong with the other three females. The five females were intercepted by our team and handed over to another NGO for further investigation. This case is ongoing.
---
These stories of freedom are a direct result of our donors standing with us to stop modern-day slavery! To date, with the vital support of our faithful donors, we have successfully intercepted over 25,000 people to prevent them from the threat of being sold into human trafficking! Would you like to join the passionate network of people dedicated to the fight to end human trafficking? Visit here to learn more.
*All content, data, and statistics current at the date and time of publishing. Some locations omitted and names changed for the security and privacy of those involved.