Last month, we intercepted 461 people from the threat of being sold into human trafficking. The following are just a few of those stories of impact that were only made possible because of people like you partnering with us in the fight to end modern-day slavery.

South Asia: Team Intercepts Young Female Attempting to Cross Border for Marriage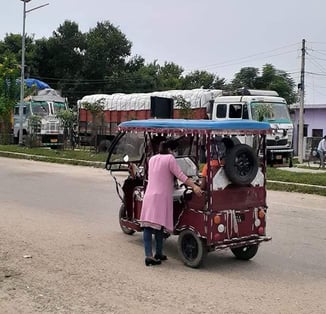 Kabita* (22) lost both of her parents during her early childhood. When they died, her older sisters were already married, so Kabita and her younger sister started living with their grandmother. The three of them survived off the senior citizen's allowance their grandmother received from the government, but over the past few years, they had been struggling to make ends meet.
Through Facebook, Kabita came into contact with a man named Sagar*. They chatted online for about one month, and during this time, they fell in love. Sagar told her that he wanted to marry her, and he asked her to meet him at a town near the border. Kabita accepted his proposal and left her grandmother's home to meet him. When Kabita arrived, Sagar was waiting for her with his friend Tajmul*. The three of them were preparing to cross the border when our staff intervened and intercepted Kabita.
The two boys were taken into police custody for further questioning. Meanwhile, our team counseled Kabita, explaining the dangers of human trafficking to her. They then contacted her family and arranged for her brother-in-law to come pick her up and take her back to the safety of her grandmother's home.
---
Malawi: Team Intercepts Five Young Boys Traveling to Mozambique for Promised Work; Suspect Sentenced to Prison!

Our team recently came across five young boys who had boarded a train headed to Mozambique. Upon arrival at Nayuchi Station, they were approached by our monitors for questioning. During the interview, our staff discovered that the travelers could not state their destination, and their stories were all contradictory. Some said they were going to visit their brother while others said they were going to attend an initiation ceremony and would return in two days. They were being accompanied by a Malawian man named Useni*.


During further investigation, our staff discovered that Useni had made an agreement with another man in Mozambique, promising he would bring him boys to work on his farm. Useni convinced the five young boys to accept the job offer, and they were on their way to the farm when they were intercepted. The matter was reported to the police, and Useni was immediately arrested. Soon after, Useni was convicted and sentenced to three years in prison with hard labor for the offense of trafficking in persons.
---
Rwanda: Team Intercepts 15-Year-Old Girl Lured with Education and Forced into Prostitution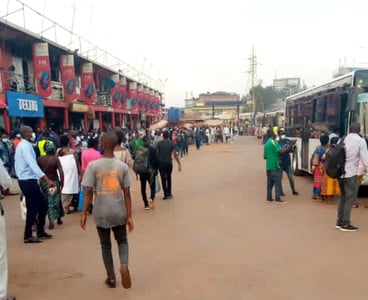 Solange* is a 15-year-old girl who lives with her family in a village in Huye District. She was approached by a woman who promised to sponsor her and help her continue her studies. Due to her family's financial problems, Solange had been forced to drop out of school, so this was an incredible opportunity for her to be able to pursue her education. She eagerly accepted the generous offer and then traveled from Huye to Kigali to meet her new host.
Shortly after she arrived at her host's home in Kigali, she was sexually abused and then forced into prostitution. Several days later, the female host decided to take Solange to Musanze. They were waiting in the departure area of the bus station when our staff first noticed them and intervened. Our monitor observed Solange's young age and frightened appearance, and he became suspicious. He requested assistance from the police and then continued his questioning.
Based on multiple red flags, the woman was arrested and taken into police custody, pending further investigation. Our team comforted Solange, provided her with counseling about human trafficking, and shared the gospel with her. They then contacted her family to inform them of the situation. Shortly after that, Solange's brother came to the station to pick her up and help her return home.
---
Uganda: Teenager Lured with Job in Oman Intercepted by Staff at Border; Suspect Arrested!

A young teenager from Sironko District in eastern Uganda was approached by Senoga*, a man originally from his village who is now a suspected trafficker based in Lwakhakha. Last month, Senoga went back to his hometown to visit some family members, and while there, he approached the potential victim and talked to him about a job opportunity in Oman.

Senoga told the young man that he had a friend in Nairobi who helped young teenagers secure good jobs. Then, he offered him a lucrative job working as a security guard in Oman, promising him a monthly salary of USh 2,000,000 ($555 USD). The teenage boy readily accepted the offer and agreed to travel with Senoga to Oman.


The two traveled together to the Lwakhakha border, but upon arrival, Senoga told the boy that they were going to use a different route instead of the main border point. LJU staff were monitoring the area in conjunction with the local police, and they stopped the pair for questioning when they saw them approaching the porous border-crossing point.


In the process of the interview, Senoga became defiant and rebellious, and he eventually tried to flee the scene. He was arrested and taken to the police station for further questioning and the recording of his statement. Meanwhile, the young teenager shared with our team that Senoga had paid for all of his travel documents and passport. After talking with our staff, the boy realized that he was in a dangerous situation and agreed to stop his journey and return home.
---
Tanzania: Team Assists Minor Runaway Victim of Labor Exploitation
Chausiku* (14) is a victim of unsafe migration and labor exploitation. She had traveled from her village to Dar es Salaam to work as a domestic helper, earning a promised monthly salary of Tsh 25,000 ($11 USD).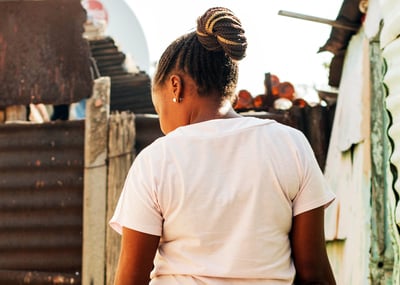 Our team found her wandering around a bus station in Dar es Salaam, and they approached her to assess the situation. During the interview, Chausiku explained how she had been recruited for the position, sharing that an unknown man had come to her home and introduced himself to her parents. He told them that he needed a domestic helper, and he suggested that their daughter would be the perfect fit. Her parents were very poor and struggling to make ends meet, so they eagerly accepted the offer. Chausiku was excited about the opportunity to help her family and looked forward to being able to ease their financial burdens.
Chausiku traveled from her village to Dar es Salaam to go to her new place of employment. Her future employer had provided her with enough money to cover her transportation costs. He had also given her his phone number, instructing her to call him as soon as she arrived at the bus station so that he could come pick her up. Chausiku arrived in Dar es Salaam at night. Although she attempted to contact her future employer, she was unable to reach him, so she slept in a waiting area at the bus terminal. The next morning, she was able to contact him by phone. Shortly after that, he picked her up and took her to his home to start her new job.
Chausiku worked in his home for five days. During this time, she was not given enough food to eat, and she was verbally and physically abused. When Chausiku asked to return home, her boss refused to allow her to leave. Chausiku managed to escape the home and ran to the bus terminal, determined to find a way to return to her own village. Thankfully, this is when our team noticed her and intervened.
Unfortunately, Chausiku did not know the name of her hometown, and she couldn't remember exactly how she had traveled to Dar es Salaam. Our team arranged safe lodging for her at a shelter, and they are currently in the process of attempting to locate her family so she can be reunited with them.
---
Namibia: Team Coordinates with Staff in the Congo to Meet Minor Trafficking Victim at Airport and Ensure His Return Home

A teenage boy recently arrived in Namibia. He was accompanied by a woman, and they were both from Brazzaville, Congo. Immigration refused them entry and referred them to Love Justice. Two of our team members who speak French and Portuguese interviewed both of them to assess the situation.

During the interview, the boy shared that he had left his home and was living on the streets when he was offered a better life in another country. Meanwhile, the woman shared that she did not know the boy at all. She told the monitor that she was simply being paid to deliver him to Namibia where another man would pick him up.


During questioning, our monitors were able to get to the truth: The boy was indeed being trafficked through Namibia into South Africa. After being denied entry into Namibia, they were preparing to board a return flight to Brazzaville. The boy shared that he didn't want to wander from place to place again when he got back to Brazzaville.

Our team was concerned that the boy would arrive and land back in the same hands that had trafficked him to begin with. Using our international network of staff, they got in touch with a team member in Brazzaville who agreed to meet the boy at the airport when he landed. He coordinated efforts with the airport police and was accompanied by them in case he needed any assistance. He personally ensured that the boy was received by his mother and felt safe to go back to his own home.
---
For more news and stories of our work being done to stop human trafficking and make a life-changing impact in people's lives across the globe, visit here.
*All content, data, and statistics current at the date and time of publishing. Some locations omitted and names changed for the security and privacy of those involved.