As many countries where we work remain in various levels of shutdown due to COVID-19, our anti-trafficking teams are continually looking for innovative ways to stop human trafficking. One way they have been able to identify potential victims is through contact tracing on Facebook job sites.
Through contact tracing, our staff members scour through Facebook job pages and ads, looking for people who have publicly posted their phone numbers in an effort to express their availability for employment. Our staff members then reach out to these individuals and educate them about the dangers of human trafficking and how traffickers often use public forums like this to advertise false employment opportunities. The specific ads that our monitors are targeting, along with the comments being posted by the recruiters, seem highly suspicious and indicate a very real potential for ulterior motives.
Recently, our staff contacted four women who shared screenshots of conversations they were currently having with recruiters for jobs that turned out to be too good to be true—indicating a potential trafficking situation. Our monitors, not wanting to prevent anyone from pursuing a legitimate opportunity, educated the women on the red flags that raised considerable concern, and the women all decided for themselves not to pursue the opportunity because of the high risk of trafficking.
Red Flags
For one of the women, our team noticed specific red flags and contacted her for follow up. They explained who they were and the nature of their work. Then, they asked her a few questions about the various jobs she was pursuing and educated her about the dangers of human trafficking, explaining how traffickers often target women like her via social media.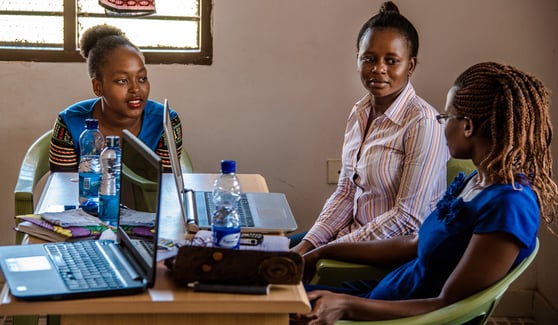 The woman had not heard of human trafficking before, and she immediately shared with our staff that someone was offering her a job for $28,000 Namibian dollars ($1,500 USD).
Our team member continued educating her on the red flags of human trafficking, and the woman proceeded to share more details about the proposed employment. She said a Nigerian man was offering her a job as a secretary in Benin, and he was willing to pay for her flight and her accommodations. This type of offer is highly suspicious, and due to a combination of many factors, our staff determined she was at a high risk of human trafficking.
In the days that followed, the man continued to try and contact the woman and was extremely persistent, even though she stopped responding to him. Since then, our staff member has checked in on her, and she is doing fine.
Suspicious job offer
During another instance, our team reached out to a woman they were concerned might be vulnerable to trafficking. Again, our staff explained about their work and educated her about human trafficking and specific red flags to watch out for. They also asked about her health and if she had experienced any COVID-19 symptoms. The young woman said no, but before hanging up, our staff member encouraged her to save their number in case she did begin to experience any of the COVID-19 symptoms or needed any help in general.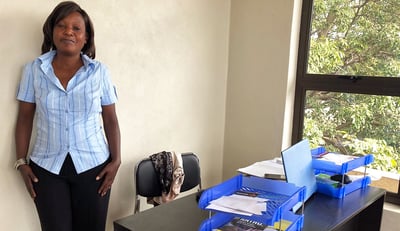 Later that evening, the woman contacted our team and shared that someone was attempting to contact her on WhatsApp, offering her a job working as a cashier at a bakery, where she would be paid $3,800 Namibian dollars ($200 USD).
Our female staff member asked the woman to forward those messages directly to her, and then she began to cross-check the information based on training she had received from one of our lead investigators. Ultimately, she determined that a bakery by that name did not exist in Namibia and the promised salary was an unrealistic amount. Additionally, due to the current lockdown from COVID-19, bakeries are not even operating, let alone hiring new employees.
Our staff member called the woman and told her that this offer was highly suspicious, especially because of the advance deposit they were requesting to pay for her uniform. The woman took our team's advice and did not pursue the job any further. Since then, our staff has checked in on her, and she is doing well.
As people become more desperate than ever to survive and provide for their families during this pandemic, traffickers will prey on the most vulnerable. Join our work to be there to protect the beautiful lives we fight for and stop trafficking before it occurs.
*All content, data, and statistics current at the date and time of publishing.