Human trafficking is an extremely complex and destructive industry. It is the third largest international crime (behind illegal drugs and arms trafficking), and the International Labour Organization estimates that it generates annual profits of $150 billion worldwide. Here are some of the most common misconceptions concerning human trafficking:
Myth #1: All victims are either women or children.
TRUTH
The reality is that anyone can fall victim to human trafficking. Although it is true that women and children are the most susceptible due to their gender and age, men living in adverse or poor circumstances can also be targeted. Traffickers prey on the vulnerable, often with promises of a better life that can include, but are not limited to, a well-paying job, help furthering an education, or any number of opportunities that offer a way out of a desperate situation. A few of the most common risk factors for trafficking include the following: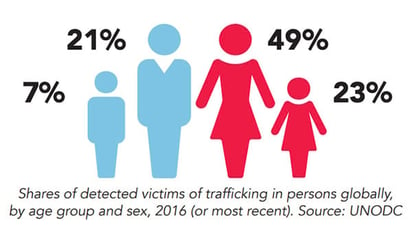 A prior history of abuse or sexual violence
Generational trauma
Poverty
Unemployment
Unstable living situations
Homelessness
The Global Report on Trafficking in Persons notes there are "considerable regional differences in the sex and age profiles of detected trafficking victims." For example, in West Africa, most of the victims are children, both boys and girls; while in South Asia, victims are equally reported to be men, women, and children. In addition, in Central Asia, a larger share of adult men is detected compared to other regions, while in Central America and the Caribbean, more girls are recorded.
Myth #2: All trafficking is sex trafficking.
TRUTH
Although sex trafficking is a common form of trafficking, it is not the only type of human trafficking. Forced labor is another type of trafficking where victims are found working in legitimate and illegitimate labor industries, including sweatshops, massage parlors, farms, restaurants, hotels, and domestic service, to name only a few. Human trafficking for organ harvesting and human sacrifice
also exists in various parts of the world. It's important to recognize that all forms of human trafficking are a crime against an individual's most basic human rights and individual freedoms. The horrific physical, emotional, mental, and spiritual consequences felt by a person who is trafficked are immeasurable.
Each stage of the trafficking process can involve physical, sexual, and psychological abuse and violence; deprivation and torture; the forced use of substances; manipulation; economic exploitation; and abusive working and living conditions. One of the things that differentiates the consequences of trafficking from the effects of singular traumatic events is that trafficking usually involves prolonged and repeated trauma.
Myth #3: We know the number of slaves in the world.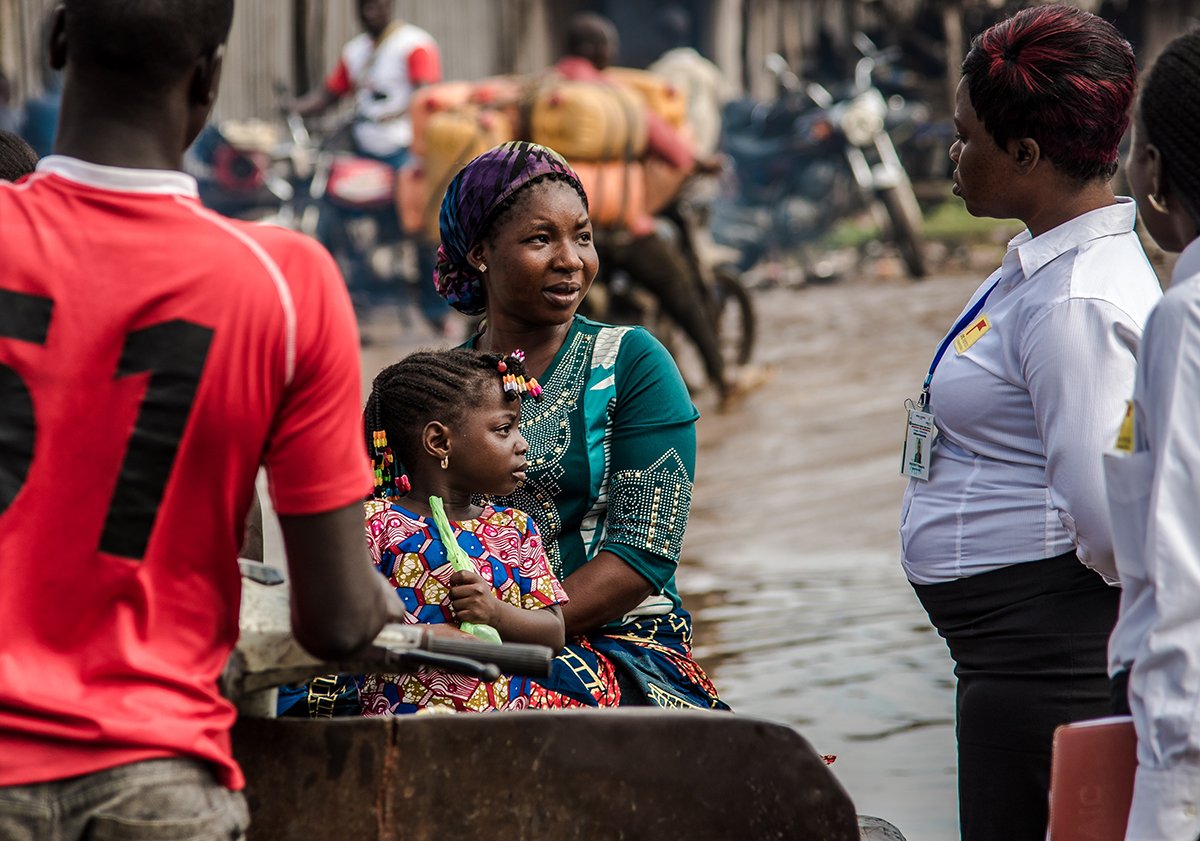 TRUTH
Trafficking is a global issue, and its networks can be vast and formidable to investigate. Conversely, trafficking networks can also be loosely connected and small in nature. The United Nations reports that there are around 40 million modern-day slaves in the world. And the U.S. State Department cites that 600,000 to 800,000 people are trafficked across borders every year. However, the reality is that due to the hidden nature of human trafficking, it is difficult to pinpoint the exact number of people victimized by this horrible industry. Concrete statistics prove to be elusive, and reports can only give us a rough estimate of how many lives have been exploited by this crime.
"While urgency has always marked the fight against human trafficking, the implications of the COVID-19 pandemic have magnified the need for all stakeholders to work together in the fight more than ever. We know that human traffickers prey upon the most vulnerable and look for opportunities to exploit them. Instability and lack of access to critical services caused by the pandemic mean that the  number of people vulnerable to exploitation by traffickers is rapidly growing." (2020 Trafficking in Persons Report)

To unlock the seven remaining myths, click the button below to download your free copy of The Truth Behind Human Trafficking: Debunking 10 Common Myths.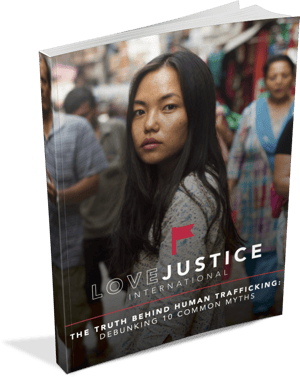 To date, Love Justice International has intercepted over 45,000 individuals to prevent them from being trafficked. Our success of empowering and impacting lives with freedom and hope is a direct result of people like you who have joined us in this crucial fight.
Visit here to learn how you can change the story from slavery to freedom for vulnerable people across the globe at risk of being sold into a life of unimaginable exploitation and abuse.
*All content, data, and statistics current at the date and time of publishing.