We train and place monitors at borders and transit points to identify and stop trafficking as it is occurring, BEFORE beautiful lives are exploited and sold into slavery. To date, we've intercepted over 23,000 lives to prevent them from being trafficked. We are determined to protect the most vulnerable, to see their value, and to recognize their worth. Here are this month's featured interception stories:
Nepal: Awareness Programs Conducted During Lockdown Lead to High-Value Contact and Recent Intercept
Seventeen-year-old Saraswati* was carrying a bag full of clothes and traveling with a man toward India when one of our contacts became suspicious of them and notified our team that was monitoring nearby.
When our staff located the duo, they approached them for questioning. Initially, Saraswati claimed that the man was her relative. However, during cross-questioning, our team discovered that their castes did not match, and they also uncovered multiple inconsistencies in their stories.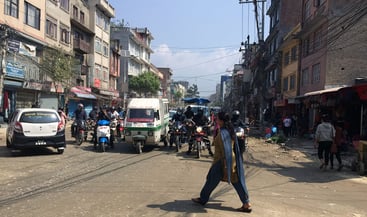 Eventually, Saraswati revealed that she was running away from home with a man that she had known for around four months. She told our team that he had asked her to marry him and had persuaded her to travel to India with him, promising that they could live and work together in Delhi. Concerned for her safety, our staff contacted her family and informed them of her situation. Saraswati's parents asked our team to stop their daughter from traveling. The minor girl was counseled about human trafficking and then later sent back to the safety of her home.
In this interception story, it is important to note that the contact who informed our staff about Saraswati is from the local area. During lockdown, our team conducted several awareness campaigns in the community. This man became interested in our work and started giving our team information about various suspicious situations. He has pledged to continue to help in the future, too. We are so thankful that the awareness programs our staff initiated during lockdown have started to bear fruit in our work!
India: Team Intercepts Vulnerable Runaway Stranded at Bus Station

During this interception, our team was informed about a strange man who was trying to lure a young female into leaving a bus station with him. During the interview, the victim shared that she had accidentally traveled to Delhi instead of her intended destination in Rajasthan, where her parents were staying. She explained that her cousin, who resides in Bangalore, was supposed to pick her up. Upon further questioning, the female admitted that she had run away from her home at 4:00 that morning, as her family members were fighting among themselves. Our team later learned that she had attempted to run away on one other occasion.

She left home with her backpack and Rs. 300 ($4 USD) which she spent to take a bus to Anand Vihar Bus Terminal. She reached Delhi at 8:45 a.m. and had planned to travel on to Odisha with her cousin. She added further that a man had been following her ever since she had arrived at the bus station; he told her that he was heading to Agra (Uttar Pradesh) and could help her meet her cousin. When asked to provide her parents' contact details, the victim could not recall their information, but she did provide her cousin's cell phone number.


When contacted, the cousin informed our team that he was on his way to the airport in Bangalore, and he refused to provide the contact information for the victim's parents. When the team searched the victim's bag, they found a notebook that had two contact numbers that belonged to one of her teachers. They called the teacher and informed him of his student's situation, and then he immediately contacted the female's parents.


Shortly after that, the parents contacted our interception team. They confirmed the identity of the cousin but clarified that he had enticed their daughter to run away with him. The parents assured the team that they were going to come to Delhi to pick up their daughter. Upon meeting the parents, our team counseled them and assisted in the documentation and ID verification process. After the formalities were completed, the victim was handed over to the care of her parents.
Rwanda: Team Assists Orphaned Boy Potentially Being Trafficked by Relatives
The potential victim from this interception is an 11-year-old orphaned boy named Assuman*. Based on the information provided during questioning, our team determined that there was evidence that his own family was selling him into trafficking. According to Assuman's narrative, his extended family was cruel to him after his parents died, and his grandmother eventually forced him to leave her home, telling him that she had arranged for him to meet someone in Kigali who was going to take care of him. Traumatized by his grandmother's cruelty, Assuman traveled to Kigali, and when he reached the bus station, he waited for the stranger that his grandmother had promised would come pick him up.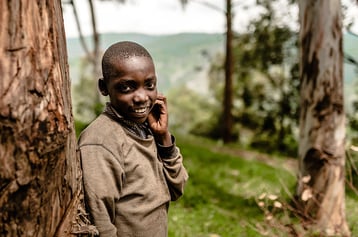 Our monitors became suspicious because they noticed this young boy standing at the station for many hours. Concerned for his safety, they approached him for questioning, and he shared his story with them. He told them it was his first time to travel to Kigali, and he revealed that he had no address or contact information for the person who was supposed to be meeting him.

Our monitors comforted Assuman, and then they educated him on human trafficking. They then coordinated with the National Commission of Children (NCC) to provide Assuman with shelter while they looked for his family so that he could be returned home. Our team continued to stay in contact with Assuman, and through a police investigation, his family was located.

Due to Assuman's claims that he was not treated well by his family before, there was a discussion about which relative he should stay with, and after a thorough investigation, one family was selected. They came to pick Assuman up, and prior to leaving, they provided an official statement to the police, promising to take full responsibility for his care and well-being. Our team has followed up with Assuman and can confirm that he is now happy with the family he is living with.
Zimbabwe: Monitor Intercepts Runaway Boy and Reunites Him with Family

Kofi*, a 13-year-old boy from the Mwenezi District, was recently spotted at a popular hiking spot in Zimbabwe. Our monitor became concerned when he overheard the minor boy asking for free transportation to Beitbridge. Upon interviewing Kofi, the monitor found out that he is the second-born child in a family of seven children with different fathers. When Kofi's mother remarried, he was left to stay with his grandmother.

With younger children living in this home, Kofi was in charge of the difficult household chores, including fetching water four kilometers away, gathering firewood, and herding cattle. To make the situation worse, when schools reopened, Kofi was not allowed to attend because he was needed for labor in the home. He told our staff that he had complained about the unfair treatment and the heavy burden he felt from all of his household chores, but no one listened to his complaints.


Eventually, Kofi ran away from his grandmother's home to go look for his mother. The only information he knew was that she was living somewhere in Beitbridge. Based on Kofi's extremely young age, his lack of information about his mother's whereabouts, and his lack of funds for transportation, our monitor determined that he was at high risk of being trafficked or exploited. He educated Kofi about the issue of human trafficking, explaining that he would be an easy target for traffickers—especially during the rainy season when he could be trafficked for labor on farms. After listening to the monitor's warnings, Kofi understood that he was in a potentially dangerous situation and agreed to be reunited with his uncle.
Uganda: Team Intercepts Man Being Lured by Friend with Suspicious Job Offer in Tanzania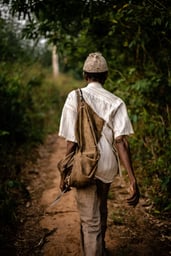 Shafik* was being lured with an offer of employment from his friend Mubiru*, a suspected trafficker who lives in Tanzania. Mubiru promised Shafik a job as a taxi driver and sent him money for transportation to Kampala. Our team intercepted Shafik at a bus station in Kampala, where he had been stranded for three days while waiting for Mubiru to send him additional money to purchase his bus ticket to Tanzania.
Although Shafik claimed to be a driver, he admitted that he did not have a driving permit. Mubiru's phone was turned off, so our monitors were unable to reach him to verify Shafik's story. Concerned for Shafik's safety, they convinced him to stop his travels. After talking with our team, Shafik understood that he was in a potentially dangerous situation and agreed to return to his home.
Kenya: Staff Intercepts Female Victim Lured by Friend with False Job Offer

Stella* is a 19-year-old female who was unemployed for a long time. Frustrated by her lack of employment, Stella decided to inquire and search for opportunities through several friends. Eventually, a friend named Rose* offered her a good job working in Mombasa.


Stella boarded a bus from Eldoret to meet Rose, who had promised to take her to her new place of employment. When they arrived in Mombasa, Rose took Stella to her home, offering to let her stay there until she could arrange the meeting with Stella's new employer. While staying at Rose's home, Stella was forced to do all the household chores, and whenever she would question the situation, Rose would yell at her. As days passed, Rose attempted to recruit Stella into prostitution, but she adamantly refused.


Faced with Stella's refusal, Rose vacated the home, taking all of her belongings with her. Abandoned and alone, Stella attempted to make her way back to her own home. Eventually, she found herself stranded at a bus station, without enough resources to buy a return ticket home. Our staff noticed her and approached her for questioning. When they heard her story, they determined that she was at high risk of further exploitation, so they promptly intervened and intercepted her. She was offered shelter services where she was provided education about human trafficking, safe accommodations, food, and thorough counseling before she was repatriated home.
Sierra Leone: Female Pursuing Job in Oman Through Facebook Contact, Intercepted!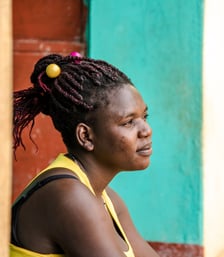 A young female named Fatou* was intercepted at the border. During the interview, she shared that she had hoped to travel to Oman last February. However, due to COVID-19, she had been forced to postpone her trip. She was all set, with her flight and visa already paid for by her contact that she had met on Facebook. He had arranged a lucrative job for her, working as a domestic helper with a promised monthly salary of $1,000 USD.
When our team intercepted her at the border, she was returning from Guinea where she had picked up her new visa, and she was preparing to travel to Oman via the airport in Sierra Leone. Our monitor, along with with several immigration officials, talked to her and educated her about the risk of human trafficking. They warned her that the job was too good to be true and that she would be in debt to the contact (who had paid for all of her travel expenses)—putting her at high risk of debt bondage and trafficking. After listening to their warnings, she decided not to go and instead chose to return to her home.
Ghana: Team Intercepts Minor Female Victim of Labor Exploitation

Florence* is a 15-year-old female from the Accra Region who was recently intercepted in Dambai. She shared with our team that her father frequently traveled from their home in Accra to the market in Dambai. About two months ago, he and Florence had traveled there together. Unfortunately, he didn't have enough money to pay for her transportation to return to Accra, so he left her in the care of a woman named Akua*, a local restaurant attendant in Dambai. He made an arrangement that Florence would work for her until she was able to earn enough money to travel back to her family in Accra. According to this agreement, Florence would be paid GHc10.00 ($1.70 USD) on market days and GHc7.00 ($1.20 USD) on the other days.

Florence then entered into servitude under the custody of Akua. According to Florence, she typically worked about 18 to 20 hours a day, seven days a week (from 2:00 a.m. until as late as 10:00 p.m.). She was never paid any wages, so she was unable to return to her own home. She slept in the work kiosk along with two other employees who eventually ran away from the abusive environment, leaving Florence behind. When Lake Volta flooded her sleeping place, Florence was forced to look for other lodging. She begged the owner of a nearby business if she could sleep in the hallway of his shop after she stopped working each evening.

For several weeks, Florence had been sleeping in this hallway until a security man informed our monitors of her situation. They found Florence and intercepted her. She has been placed with a caregiver until her parents can be located. The suspected trafficker is in custody, awaiting further interrogation, and this case is ongoing.
South Africa: Female Uses The Freedom App; Team Determines Job Offer Is Not Legitimate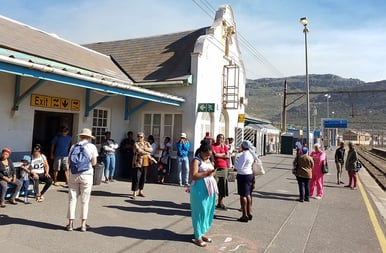 A young South African female contacted our team because her best friend had recommended The Freedom App to her. The potential victim had left her village at the beginning of the year to travel to Bloemfontein to look for a job, and her friend was concerned that she might have found herself in the wrong hands due to her desperation and pressure to find a job.

While talking with our team, she shared that she was a single mother of a 5-year-old boy, and she said that she and her son had been surviving on government grants that her child received. The young female explained that she had applied for different jobs on Facebook, and after several attempts, she found one that looked promising. She noticed there was a discrepancy in the ad; although it mentioned "December staff wanted" in the text, the agent she had contacted about the job assured her that it was a permanent position.

After our staff conducted a thorough investigation into the matter, they discovered that the ad was the same as many others listed by the same "agent"—a scam for sure. However, other red flags of trafficking included the following: the agent did not list any physical location for the job, the agency did not exist, and there were multiple inconsistencies listed in the job details. Based on all of this information, our team concluded that the job was not legitimate, and they convinced the female to stop pursuing it.
Namibia: Female Traveling Abroad to Meet Fiancé She Met on Instagram, Intercepted!

A 25-year-old Namibian female was intercepted at the departures area of the airport while en route to meet her fiancé in the UK. During the interview, she said that she had met him online through Instagram. Initially, she claimed that they had known each other for about a year and that he had come to visit her in Namibia in December of 2019. Upon further questioning, however, she later changed her story and said they had only known each for about three months and had never met in person before.

During the interview, she revealed that her fiancé had paid for the flight ticket in full and had spent over 40,000 Namibian dollars ($2,700 USD) on her over the last three months that they had known each other. Also, he had promised to marry her as soon as she reached the UK. Through further questioning, our team learned that the young woman came from an impoverished background and would be unable to support herself in the UK if she found herself in trouble and needed to return home. She was unable to provide the address of where she would be staying in the UK. Furthermore, she revealed that it was her first time traveling abroad, and our team determined that her documents had been forged.


Since the young woman fit the known profile of someone who is vulnerable to being trafficked and did not have enough resources to stay safe, our team intercepted her so that she could remain in Namibia.
Cambodia: Team Intercepts Minor At-Risk Female and Reunites Her with Family
Our monitors were working at a busy bus station in Phnom Penh when they stopped a 15-year-old Cambodian female for questioning. She shared that she had traveled from Thailand to Cambodia three days earlier. This made our monitors suspicious because the border is currently closed due to COVID-19 lockdowns. Upon further questioning, they learned that the police may have played a role in getting her across the border; however, this suspicion has yet to be confirmed.
They also learned that she had traveled to Phnom Penh with two people she claimed were her family members. After spending one night in a guest house, her two relatives abandoned her, leaving her with no phone, no money, and no passport or ID. Our team found this to be suspicious because it would be very unusual behavior for a Khmer family. Our monitors were concerned for the young female's safety; however, she insisted on remaining on the bus and refused to go with them at that time.
Our youngest monitor was determined and spoke with the manager of the bus drivers about the vulnerable woman's safety. He agreed to stop the bus for 20 minutes, which gave our monitor enough time to get the police to come to the bus station for further assistance. The police were quick to act, and they pulled the young female off the bus and told her to come with our monitors for questioning. She complied, and our team was able to conduct an interview and then ultimately secure her interception.
The monitors are convinced she was in the process of being trafficked because they observed a male with her, and during questioning, she changed her story and was caught in a lie about who he was. Furthermore, she was left with no money, phone, passport or ID, so she would be unable to return home on her own accord. Through further questioning, our monitors eventually learned she was fleeing an exploitative situation where she had been sexually assaulted and forced to work for no pay. After intercepting her, our monitors arranged a safe place for her to stay for the night while they traveled to her home province to connect with the local police and district leaders who knew her family well. They were able to confirm that it would be safe for her to return home, and then they helped reunite her with her family members.
---
Visit here to learn more about our work in the fight to end human trafficking and serve the most vulnerable across the globe.
*All content, data, and statistics current at the date and time of publishing. Some locations omitted and names changed for the security and privacy of those involved.