Last month, we intercepted 333 people to protect them from the threat of being sold into human trafficking. The following update includes just a few of those impact stories, plus a video explaining what human trafficking actually is and our strategy to stop it.

South Asia: Team Intercepts Minor Girl Crossing Border for Promised Work; Three Suspects Arrested!
Recently, our staff intercepted Phulmaya*, a 14-year-old girl. During questioning, Phulmaya shared that her parents were divorced and had remarried other people when she was very young. For many years, she has been living in a small village with her father and her stepmother.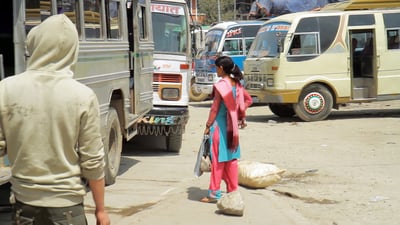 She told our team that one of her neighbors, a man named Mukesh*, lives with his son in a rental house near her home. For the past few months, Mukesh and his son have been luring Phulmaya with the promise of a better life. They repeatedly offered to arrange a better job for her in a bordering country, promising she would be paid a good salary. Since they were her neighbors, Phulmaya trusted them and accepted their offer of help. She was preparing to cross the border with Mukesh, his son, and another suspect when our staff noticed and intervened.
After hearing Phulmaya's story, our monitors intercepted her and then helped her file a human trafficking case against the three suspects. The three men were promptly arrested, and they are currently being held in police custody as the investigation continues.
---
South Asia: Team Intercepts Minor Girl Eloping with Facebook Boyfriend; Suspect Arrested!

Our team recently intercepted a 15-year-old girl named Parul* at a busy train station. When they first noticed her, she was sitting next to Sani*, a 20-year-old man. She was empty-handed and seemed confused and tense, so after observing her for a while, our staff approached to assess the situation.

When asked about their travel plans, the pair claimed to be going to a nearby city, and Parul eventually admitted she was traveling without her parents' permission. She explained that she had originally met Sani on Facebook and had been in a relationship with him for six months. Upon further inquiry, our team discovered that they were eloping to get married. Sani had picked her up from her village and was paying all of her travel expenses.

Our staff informed them of the legal age for getting married, explaining that Parul was too young and warning them not to make a hasty decision. Sani seemed to agree with them; however, he tried to escape from the train station along with Parul. In the meantime, our team informed the police of the situation and asked for their assistance. The police caught Sani and Parul and took them to the station for questioning. Parul was handed over to a child welfare organization, and Sani was held in the police custody for further investigation.

In a recent follow-up call, our team learned that Parul has been staying at a shelter until appropriate next steps can be determined. Sani is currently in jail, and a case has been filed against him.
---
Malawi: Team Intercepts Young Men en Route to Zambia for Promised Work; Three Suspects Arrested!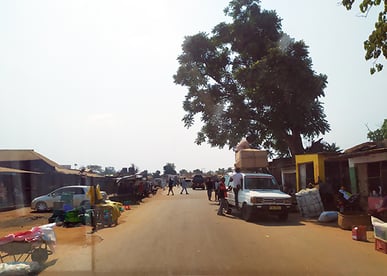 A group of young men ages 18 to 21 were promised jobs by three Zambian suspects. The suspected traffickers had come to their villages searching for people to work on their farms in Zambia. The next day, the group started to travel together to Zambia. Along the way, they stopped in Mchinji, and an informant noticed them at a transit station and sought assistance from our team.
One of our monitors called the police to inform them of the situation and to request their help, and then he went to the transit station to question the group of travelers. During questioning, the three suspects attempted to bribe our monitor, and he went along with it to buy enough time for the police to arrive on the scene. Thankfully, the police responded quickly and arrested the suspects. The potential victims were kept at a shelter, but after two days, they left of their own accord. The suspects were granted bail, and the matter is expected to be heard before the court soon.
---
Rwanda: Team Intercepts Minor Victim of Labor Exploitation and Reunites Her with Family.

Our team recently intercepted a 15-year-old girl whose neighbor had connected her to a broker for work. The broker promised her a job working as a domestic helper and earning a monthly salary of 10,000 Rwf ($10 USD). The young girl accepted the offer and took a bus from her village. When she arrived at the next station, the broker picked her up and took her to her new place of employment.

She worked for two months and never received any payment. During this time, she was forced to do extremely heavy work, and she was always locked in the house, unable to leave. When she asked her boss about her missing wages, he started to torture her. The young girl desperately wanted to leave the home, and one day she managed to escape. She ran to the bus station, and this is when our staff noticed her and intervened.


She was distraught and crying, and she told our monitors that she was unfamiliar with the area and had no resources to stay safe. Our staff comforted her and prayed for her and then contacted her family to arrange her transportation home. Her parents expressed their gratitude and thanked our team for protecting their daughter.
---
South Africa: Female Reads The Freedom App Pamphlets, Contacts Staff, and Stops Pursuing Job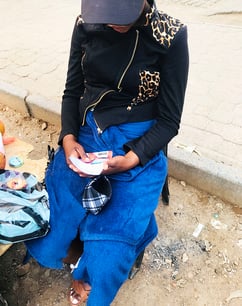 A Zimbabwean female recently contacted our team for advice, explaining that she had just read the pamphlets about The Freedom App. She mentioned that she had been living in South Africa for the past four years, working as a domestic helper. During the first lockdown of the pandemic, she lost her income, and ever since then, she had been working part time for different people.
She indicated that she recently applied for a cleaning position at a bank that was posted on Facebook. She was very interested in the position because the monthly salary package was R 7,000 ($440 USD), an amount that is much higher than a typical cleaning salary. She shared that she received a call from the recruiter shortly after she sent a WhatsApp message. The recruiter told her that she did not need any specific cleaning experience, reassuring her that he could make sure she was placed at the right job as long as she was a hard worker. Before ending the call, he told her that he would follow up with her soon and send her the address that she would need to go to for an interview.
After talking with the woman, our monitor did some research on the company and the job offered, and he eventually determined that the job did not exist. He contacted the female and explained the risks to her, and she agreed to stop pursuing the suspicious job.
---
Tanzania: Minor Female Being Lured with Promised Job, Intercepted Prior to Exploitation!

Tiofike* (14) recently completed her final exam at her primary school. Her parents are separated, so she has been living with her aunt while awaiting the results of her examination. Her cousin asked Tiofike's father for permission to take her to Dar es Salaam. The father agreed, and the two cousins traveled together to the city.

Shortly after arriving there, Tiofike's cousin started trying to find work for her. Someone connected them to a woman who needed a housemaid in Zanzibar. The cousin arranged all of the details for Tiofike to accept the position and start working in Zanzibar.


Tiofike traveled to Zanzibar by herself. When she arrived at the port, one of our monitors noticed that she seemed unfamiliar with her surroundings, so he stopped her for questioning. Tiofike shared that she had traveled to Zanzibar for a promised position working as a housemaid with a monthly salary of Tsh 50,000 ($22 USD). Upon further questioning, she revealed that she had never met her boss before and did not know any specific details about the position.


After about an hour, a young man arrived to pick up Tiofike and take her to her new place of employment. Concerned for the young girl's safety, our monitor asked the man to contact Tiofike's future employer and ask him to come to the port so that he could verify the legitimacy of the position. The man promised he would contact the boss and have him come; our monitor waited with Tiofike for over four hours, but the boss never showed up.


Our monitor then contacted Tiofike's father to inform him of the situation. The father was completely unaware that his daughter had traveled to Zanzibar for work. He told our monitor that she was too young, and he asked him to keep her safe and help her return home. Based on the father's request, our monitor contacted a social welfare officer who reported the case to the local police. A human trafficking case was filed, and Tiofike was taken to a shelter until she could be safely reunited with her family.
---
Watch the following video to learn more about what human trafficking is and how we are working to stop it.
For a closer look at our work being done to stop human trafficking across the globe, visit here.
*All content, data, and statistics current at the date and time of publishing. Some locations omitted and names changed for the security and privacy of those involved.