Our staff is continually strategizing new methods to combat human trafficking and prevent lives from being enslaved. As countries begin to slowly reopen and operate in the wake of COVID-19, we are evaluating innovative ways to keep people from being lured by the deceitful tactics of traffickers. Recently, our Love Justice South Africa team launched The Freedom App—a mobile app designed to empower people with an informational tool to help determine if a job opportunity or offer is legitimate.
The statistics in South Africa due to the COVID-19 lockdown have been sobering. The shutdown of the economy caused an almost immediate loss of 3 million jobs in the country, and 47% of households ran out of money to buy food in April. With livelihoods in South Africa at an all-time low, many vulnerable people are at high risk of being deceived by traffickers. Out of desperation to make an income, they are more likely to pursue opportunities that seem too good to be true—only to find themselves sold into modern-day slavery.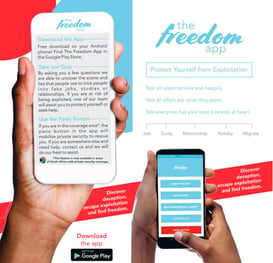 The Freedom App has amazing potential to help its users quickly determine whether or not a job opportunity is legitimate and safe. Additionally, it offers the person the option to talk to someone at Love Justice South Africa to ask any questions they might have. It can be downloaded from the mobile play store at no cost, and it offers the following features:
Information on modern-day slavery
A questionnaire to help users identify if they are at risk
A chat function to reach our team of monitors for advice
A panic button to mobilize private security if someone needs to be rescued from a dangerous situation
The primary hope and purpose of The Freedom App is to help prevent individuals from continuing on a journey that shows a high risk of resulting in trafficking. It allows users to quickly assess a job opportunity or travel plans, and then if needed, it redirects and educates them on the dangers of trafficking so that they will change any habits associated with traveling unsafely. Those most vulnerable to falling victim to trafficking in South Africa often include the following:
People who are unemployed
Children being sent away by parents to gain an education
School graduates looking for promising job opportunities

Young women (16–25) who have met a boyfriend who has promised them a job or holiday in a foreign country
Young, unskilled men (18–35) looking for jobs in the construction, mining, or fishing industries
Young women (16–35) who are looking for jobs in the hospitality or modeling industries or who are interested in working as domestic helpers
Young men and women (16–25) who are wanting to study abroad
People traveling for a job, relationship, study program, or even holiday that seems too good to be true
Traffickers are master manipulators and are able to deceive even the most unlikely person who may think something like this could never happen to them. We are hopeful that this app will help reach people vulnerable to being trafficked and encourage them to evaluate their plans and verify that they are traveling safely. If individuals are at high risk of being trafficked, this app will help us to intercept and redirect them before they reach their destination.
We are confident that The Freedom App can educate and empower people to be more aware of the dangers of trafficking and to share their knowledge with others who might need it. Visit here to learn more about how you can join us in fighting modern-day slavery and preventing people from being exploited and abused.
*All content, data, and statistics current at the date and time of publishing.