This week, we would like to introduce you to our guest blogger Gabi Morris and express our heartfelt gratitude for her willingness to share her passion and partner with us in the fight to end human trafficking!
Did you know, right this very second, there are actually more slaves across the globe than at any other time in history? And did you know that 81% of these innocent lives include those imprisoned by human trafficking—young women and children being sold into the sex trade and men being forced into labor?

See, this isn't your "Cinderella sweeping the floor for the ugly stepsisters" kind of slavery. This is a dark and dire world of drug trade, downright rape, and diseases due to deprivation. I hate to even use that vocabulary, but the harrowing, heart-wrenching accounts that I've read since teaming up with Love Justice have profoundly impacted me. So, if I have to, I'll scream these people's stories from the rooftops because I believe it's time to talk MORE—to create MORE conversation, which builds a human connection that is key to conquering this injustice.
Part of a life-saving work
I feel both proud and privileged to be a part of Project Beautiful—one of the ever-growing branches of Love Justice's life-saving work. By partnering with them, I'm raising my voice for vulnerable people who have no voice. I'm standing up for individuals who have no control in their lives and who are being sold as if they're not even people but rather expendable items that can be easily bought off a shelf. I'm speaking up for the innocent who have been tricked through coercion and deception and who have been drawn in by the false promises of predatory, power-hungry people.
I am raising awareness about those already looking for liberty—those who are already struggling with poverty and harsh living conditions. They are being lied to about the opportunity for a better life. They are being lured in by falsehoods of unimaginable luxuries. They are promised open doors to new adventures, open arms of acceptance from others, and hope-filled futures full of occupational opportunities. Strangers who are searching for slaves and preying on precious humans tempt them with promises of safety, unimaginable financial security, and a sense of self-worth that they never thought they'd experience.
Trafficking can happen anywhere
And another horror of human trafficking is that it can occur anywhere. It's a cruel crime that could be happening in the seemingly innocent places you walk past on your way to work or school, as well as in Third and Fourth World countries. But in those latter locales and on some poverty-stricken streets, most of the people living there don't even dare to have dreams. They are already too overwhelmed by living conditions that are incomprehensible for most of us, and they hunger for things that we would define as basic human rights.
We're constantly complaining, comparing, criticizing, catcalling ourselves and others, and concocting this culture of competition among us. We're obsessed with playing this continual game of who gets the most "likes" or the most comments on our social posts; when instead, we could be creatively and candidly collaborating with organizations like Love Justice to see how many lives we could save collectively—TOGETHER.
Taking a stand against injustice
And for all of this, here's what I'd say: An attitude of gratitude for the "things" you have simply isn't enough. How grateful would you be if someone saved your LIFE? Or—switch it up a little—how thankful would you be if you could be a part of saving someone else's pricelessness as a human being? NO life should be taken for granted, so please take advantage of this amazing opportunity to become a member of Project Beautiful and join a community that takes a stand against this horrible injustice inflicted upon innocent lives.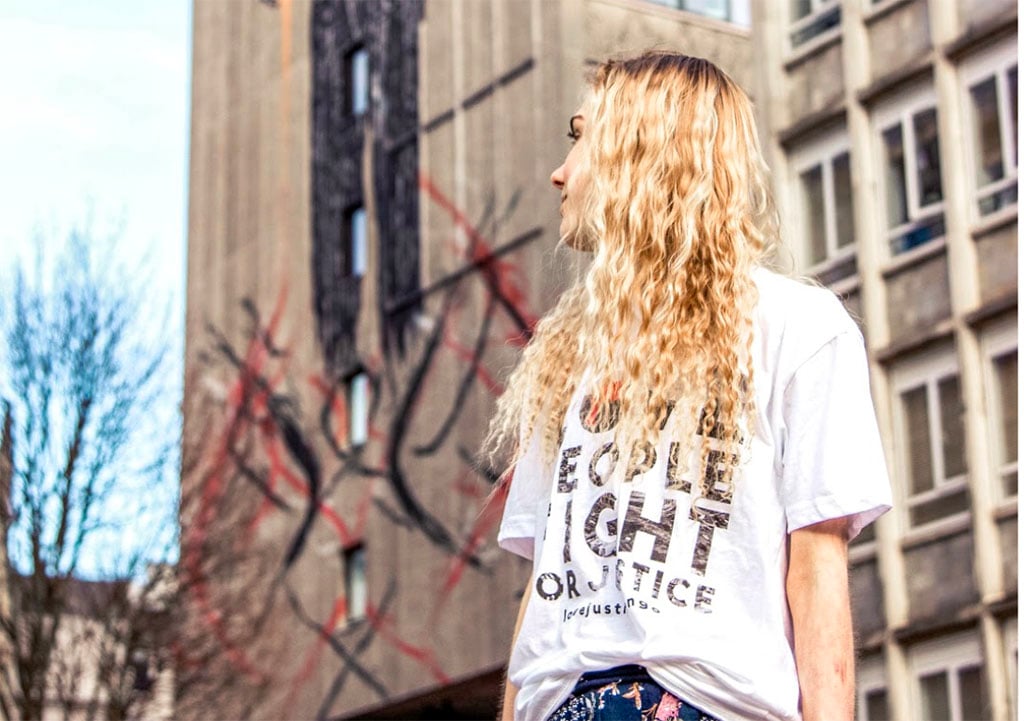 **Click here to order your own Love Justice T-shirt! Fifty percent of all purchases directly funds their anti-trafficking work and continued expansion efforts.
As an ongoing and true-blue partner with Project Beautiful, I'll be sharing more about their statistics and strategies soon. But for now, I'll leave you with these simple yet profound words from Love Justice to encourage you to take action and join the movement to end human trafficking: "Because every life is beautiful and worth fighting for."