---
As I stepped into that "other world," the weight of a mind-numbing sadness quickly gripped my heart. From a distance, this place didn't look all that much different than most of the other poor areas I had experienced in Bangladesh. However, once I stepped inside, the impact was profound. The darkness was overpowering and the despair truly palpable.
The horror known as Daulatdia
A repulsive stench greeted me as I walked down row after row of numerous dark, narrow alleys lined by concrete rooms. As difficult as it was to think about, I quickly realized this place was home to a myriad of young girls and women attempting to hide their deep sadness with masks of made-up faces and painted on smiles. For them, this was just another day in a darkness and horror known as Daulatdia. For me, it was a taste of hell.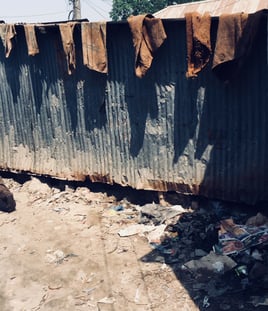 Daulatdia is Bangladesh's largest brothel—home to over 1,500 young girls and women. It's not a building; it's an enormous compound. In many cases it has become the destination point for girls who have been caught in the insidious evil known as sex trafficking. For the over 2,000 children born to these victims of "legalized" rape, they will experience nothing else. And for the vast majority of those who live in this place, it will be their final destination.
The urgency
Before I left on this trip, I had been asking God to open my eyes wide to see what He wanted me to see. I wanted Him to remind me again, in a powerful way, why we do what we do through the ministry of Love Justice. He did that and more. It wasn't that I was unaware of the importance and critical aspect of the work we do, but rather I needed to be reminded of the urgency of the work we do.
Oftentimes, when I speak about our anti-trafficking work, I cite the mind-boggling statistics of young girls who are being trafficked annually throughout the world. It's no secret that there are more sex
slaves in the world today than at any other time in human history. But as I walked the alleyways of Daulatdia, faces were quickly being attached to those statistics. That was an important moment for me.
For people who really know me and get me, they know that I feel deeply and cry easily. I've finally come to terms with the way God created me, and I'm comfortable now in my own skin. However, that comfort was challenged as I walked through the dark, dank alleys of Daulatdia; I spent most of my time diverting my eyes away from those very same faces which I had hoped to connect those statistics to. It was just too painful. Their pain was quickly becoming my pain, and it was hitting me head-on. It was a pain that I was wishing would just go away!
In America, we normally don't experience this kind of in-your-face pain. We are either protected from it, or we simply choose to ignore it. I'm convinced that should each one of us spend any time at all in a place like Daulatdia, we wouldn't be able to give enough or pray enough to see this evil disappear. It's that awful.
A far-reaching evil
Now, when I talk about our work of interception, I will be reminded of this place. I will be forever thankful that my four daughters and eight granddaughters have never, and will never, experience the evil that exists in a place like this. I will also be reminded that there are hundreds, if not thousands, of mothers and fathers of the girls who live there who will never again feel the warmth of their daughter's voice or the tenderness of her embrace. They most likely will live out the remainder of their lives not knowing if their daughter is dead or alive. They will always be wondering, forever searching, and continuously hoping. This evil has far-reaching tentacles, and those tentacles suck the very life out of all those they touch.
The mission of Love Justice International is to intercept girls BEFORE they end up in places like Daulatdia. Love Justice stops the evil before it happens. We are encouraging you to become a part of this essential work of interception by joining a very special giving community called Project Beautiful.
NOW is the time to join together! Indifference just can't be an option. The urgency is real, and the need is great!
Your gift protects and serves the most vulnerable people across the globe.