Recently, our team in Malawi received a call from the police about a 64-year-old woman named Eunice* who was keeping 52 people on her property under the false promise of finding them good jobs and safe accommodations.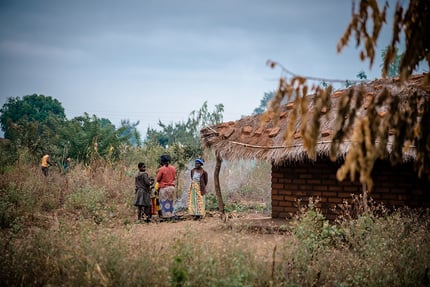 With the help of the police, our team went to the compound where these people were being kept and interviewed them. During questioning, the individuals appeared to be stressed and confused, and some of them shared that they did not know exactly where they were going or what they would be doing. Some of them also revealed that Eunice had organized and paid for their traveling expenses.
When questioned, Eunice was unable to provide our team with any official documentation proving the legitimacy of her work; instead, she gave them a fake business certificate. Upon further investigation, it was discovered that she had gone to several different districts and convinced people to come with her, luring them with the promise of a better life. She would accommodate and feed them at their own expense and then release them to buyers once she had secured an amount she was satisfied with. Often these transactions would be done without the victims' knowledge or consent.
The information gathered during questioning was shared with our investigations team. They confirmed the situation and then worked with the police to secure Eunice's arrest. Many of the victims were immediately repatriated, but seven of them were taken to a safe house until they could be reunited with their families.
---
South Asia: Team Intercepts Minor Boy Being Trafficked into Exploitative Labor Situation

While monitoring at a train station, our team noticed Akash*, a 12-year-old boy. He was empty-handed and seemed to be following five men. After observing the group for a while, our monitors approached them for inquiry.

During the interview, they asked Akash who he was with and where he was going. Before he could respond, one of the men named Rakesh* said that the young boy was traveling for his studies. Our staff asked the man to show them the necessary documents required for admission, but Rakesh said that the boy was going to be admitted without those papers. When our team asked what school he would be attending, Rakesh was vague and merely said he would be admitted to a nearby school. They asked about his relationship to the child, and he claimed to be his neighbor. However, when our staff asked him to call Akash's parents so they could confirm the story, he said that he didn't have their contact information.

Our staff asked the group to accompany them to their booth for further questioning. Initially, they were hesitant to follow our team, but they eventually agreed to do so. Our monitors separated the child from the group of men and started counseling him. They comforted him and convinced him that they were there to support him and did not want to get him into any trouble. They reassured him that he was safe and encouraged him to tell the truth.

When they asked Akash if he had come to the city for work instead of school, he initially lied; however, after continued counseling, he admitted that he had come there to work in a keychain manufacturing factory. He said he would be working 12 hours every day and he had been promised a monthly salary of Rs 5,000 ($63 USD). He also shared that Rakesh had given his father Rs 500 ($6 USD) and had paid an additional Rs 500 ($6 USD) for his travel expenses, with the understanding that Akash would pay him back as soon as he started earning money.

When our monitors asked Akash if he knew Rakesh, he said that he lives near his village. He also added that a month ago Rakesh had come to his house to speak with his father about a job for his son. The father trusted Rakesh and agreed to let his son travel with him.

Our team asked Akash to give them his parents' phone number so they could talk to them. He said that he didn't have any contact information for his family. Our staff counseled him and made him aware of child trafficking and its consequences. Then, they handed him over to a trusted child welfare organization for further assistance.

The boy's parents were eventually located. They were not willing to file a case against Rakesh, so he was released after receiving a stern warning from the police. Akash has been safely reunited with his family.
---
South Asia: Monitors Intercept Five Minor Boys at Risk of Potential Organ Trafficking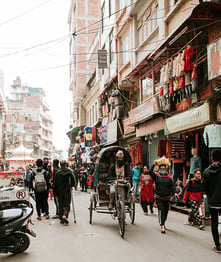 Our staff recently noticed a middle-aged man with five minor boys at a bus station. Upon questioning, our monitors found out that they were headed toward the border. The boys used to work with the man as laborers in their village, and he was taking them to a big city, with the promise that they would find better job opportunities there.
During the interview, it was revealed that the man had recently fallen sick and had undergone a surgery, but his surgery scar seemed like a kidney operation. Our staff was suspicious that the man had been a victim of organ trafficking, and they were concerned that the young boys might be at risk of organ trafficking as well. Our team contacted the boys' families and provided them with counseling about human trafficking and the risks associated with traveling to an unknown location. They eventually convinced the boys to return back to their homes with their families.
---
Rwanda: Monitor Intercepts Two Minor Boys Lured Away from Refugee Camp

Dzingai* (13) and Claudius* (15) are two young boys who had been living at a refugee camp in Kirehe District. Someone had lured them away from the safety of the camp with the promise of good jobs in Kigali. This suspect had paid for their travel expenses and given them a contact number to call when they arrived in Kigali.

Dzingai and Claudius were excited to have the opportunity to earn money, so they eagerly left the refugee camp without their parents' knowledge or consent. When they arrived in Kigali, they attempted to call the broker, using the number that had been given to them, but they were unable to connect with him. With no funds to stay safe, the vulnerable boys suddenly found themselves stranded in an area known for slavery.

Thankfully, our monitor noticed them crying, and he immediately approached to offer assistance. He comforted them, prayed with them, and educated them about human trafficking. He contacted their parents, explained the situation, and then helped Dzingai and Claudius return to the refugee camp. Their parents expressed their appreciation for the work of Love Justice, and they promised to educate others about human trafficking.
---
Zimbabwe: Police Ask Staff to Help Two Sisters Evicted from Home and Traveling Alone
Recently, our monitor received a call from a police officer in Ngundu pertaining to a case involving two minor siblings who were at high risk of being trafficked. The interview revealed that Tania* (16) and Stelia* (3) had traveled alone from Beitbridge and were attempting to go to Rutenga to find a relative who lived there.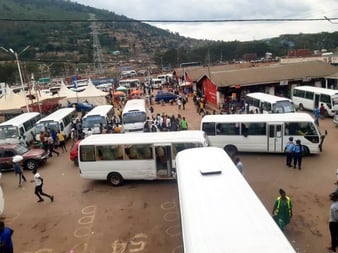 Tania explained that their mother's source of income was assisting travelers and helping them carry their goods to a nearby border town. Their mother had left home to do her job, leaving Tania in charge. However, their mother never returned, and after several days, their landlord started pestering Tania about paying rent, which was normally paid on a daily basis.
Without a steady source of income, Tania was unable to pay the landlord any rent, so the two minors were asked to vacate the premises. Knowing of relatives in Rutenga, they tried to find free transportation there. They were picked up by a stranger who dropped them off at a police roadblock in Ngundu. After talking to Tania and Stelia, the police called our monitor to inform her of the vulnerable minors.
Our monitor took Tania and Stelia back to Rutenga and called a man who was a neighbor of the relative that the sisters intended to visit in Rutenga. He confirmed knowing the two girls, and then he offered to contact their relative. Shortly after that, the relative came to our shelter in Rutenga to pick up the two sisters. Before they left, our monitor provided them with counseling about human trafficking, explaining the danger of traveling alone at such a young age without adequate resources to stay safe.
---
Uganda: Monitors Intercept Minor Girl Traveling to Kenya for Work; Suspect Arrested!

Prista*, a 17-year-old girl, was on her way to Nairobi, Kenya, when she was intercepted by our team at Namayiba bus terminal. She had been promised a domestic helper job by a female suspect named Faida*. The suspect had offered her a monthly salary of USh 90,000 ($23 USD) and had paid her transportation costs from her village in northwestern Uganda to Kampala. Our staff immediately noticed that the promised pay was significantly less than the typical amount earned by domestic workers in Kenya: Ush 200,000 ($51 USD). Upon further questioning, Prista shared that she did not have the necessary travel documents to go to Kenya, and she mentioned that she had not been given any specific details about the promised job or the exact destination where she was headed.

When Prista was stopped for questioning, she was traveling with the suspect, Faida. The suspect was hesitant to allow our team to interview Prista, and she kept interfering and answering questions on her behalf, which increased our staff's suspicions that something was wrong. They pulled Faida aside for a one-on-one interview. During this time, she initially told them that Prista was going to Mombasa for a visit, but then she later changed her statement and said that she was going to Nairobi for domestic work.

Based on several red flags, our monitors did not believe that Faida was taking Prista to the job destination in good faith. They intercepted Prista to keep her safe and then educated her about human trafficking before reuniting her with her parents. Later that same day, Faida was arrested and charged with the offense of human trafficking.
---
Sierra Leone: Acting on Tip-Off, Monitor Intercepts Vulnerable Minor Traveling Alone
Kadiatu*, a 14-year-old girl, was recently intercepted by our team. An informant had noticed Kadiatu walking alone on one of the community's back roads, and he had contacted our team to inform them of the young girl's vulnerable appearance.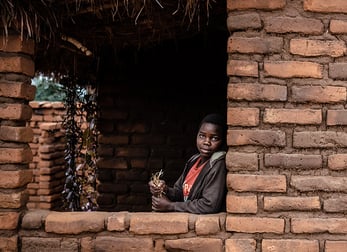 One of our monitors immediately went to the area and approached Kadiatu for questioning. During the interview, the young girl shared that she was traveling to Senegal to meet her aunt who owns a hair salon there. Kadiatu said she was planning to stay with her and learn how to become a hairdresser.
According to her statement, she was supposed to meet a female in Pamelap who was going to travel with her to Senegal. When our monitor asked Kadiatu if she knew the female, she said she didn't. Our monitor immediately warned her that she would be putting herself at high risk of being trafficked, and he explained the potential danger she might face if she continued to travel.
Our monitor asked for her family's contact information, and she gave him her aunt's phone number. When he called and talked to Kadiatu's aunt, she told him not to let her niece travel, and she promised she would come soon to pick her up. According to the aunt's statement, a relative had persuaded Kadiatu to travel to Senegal. That same day, the aunt traveled to Kambia to pick up Kadiatu. In the presence of immigration officials and police officers, our staff handed Kadiatu over to her aunt's care.
---
Namibia: Monitors Intercept Ethiopian Female Traveling for Suspicious Job

A 25-year-old Ethiopian female was recently intercepted by our team at the airport. She had traveled to Namibia from Ghana on a business visa. During questioning, she shared that she had been on a student visa in Ghana and had been approached by a man with a potential job offer. He told her that he had a business interest in Namibia, and then he asked if she would go there to attend some business meetings on his behalf.

The young woman was under the impression that she would be discussing electronic business deals; however, the person who was picking her up at the airport had a different story and said the business was related to agriculture. During the interview, the woman mentioned that she had been instructed not to tell her family that she was traveling to Namibia. Furthermore, she had been told that she would only be in Namibia for about a week, but her ticket indicated that she would be there for one month.
---
South Africa: Staff Redirects Young Boy Pursuing Suspicious Soccer Opportunity
A young South African boy was profiled on Facebook after he posted that he needed help with his soccer trials. He and his little sister were living with their older sister who was taking care of them and trying to provide for their needs. When our team spoke with the older sister, she mentioned that she was trying to support her little brother in his dreams, and she had taken him to his soccer trials. However, he was unable to continue the process because they were asking for a large sum of money.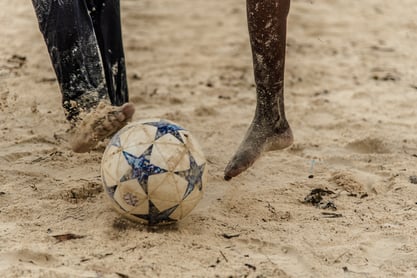 The young boy had left his phone number on a circulating Facebook post that stated that a soccer academy needed players ranging in ages from 9–17 years old. Our monitors contacted the boy and asked if they could help him by verifying that the advertised soccer academy was legitimate. When the boy agreed, one of our monitors contacted the person associated with the Facebook post and pretended to be interested in the trials. Through this phone call, the monitor discovered that the trials were being hosted next door to a well-known South African premier league football organization, and the academy was asking for a small amount of money to be deposited into their bank account.
When the monitor asked about other details, the amount suddenly doubled, and the date of the trials inexplicably changed. The suspect said this new fee would cover accommodations, food, refreshments, transportation, uniform, and school. Then, the suspect said all other details were confidential and would be revealed after the trials. It seemed like a once-in-a-lifetime offer that was far too good to be true. However, our staff is familiar with this tactic and recognizes it as a common modus operandi in many African countries, where suspects lure young boys and unsuspecting family members into a cycle of debt, slavery, and extortion with false promises of fame and fortune.
On further investigation, the name of the soccer academy could not be found online, and the club that the academy was supposedly linked to said they were not doing trials and that any information for future trials would be listed on their social media pages. When the sister heard about the contradictions and signs of deception, she decided not to allow her little brother to attend the trials because she was afraid that his life would be at risk.
---
Benin: Monitors Uncover Red Flags and Intercept Man Traveling to Cote d'Ivoire for Work

Our team recently intercepted Sossou*, a 26-year-old man. Our monitors were working at a bus station that offers transportation from Cotonou to Ghana and then on to Cote d'Ivoire when they noticed Sossou sitting alone. When they approached him to discuss his travel plans, he shared that he was going to Cote d'Ivoire​​ because he had been offered a job working on a farm there.

Upon further questioning, Sossou explained that a man named Mr. Kone* had come to his village seeking farm laborers. Excited about the opportunity to earn money and explore Cote d'Ivoire, Sossou eagerly accepted the offer even though he knew nothing about the type of work he would be doing, his salary, or his working conditions. None of the specific details were discussed before he left for Cote d'Ivoire. Furthermore, when our staff asked to see Sossou's ID, he said that Mr. Kone had it, along with his cell phone.

Our team immediately recognized this to be a red flag because without his cell phone, Sossou would be unable to communicate with anyone if he started to feel unsafe. They warned Sossou about human trafficking and explained the potential danger he might face if he continued on his trip. After listening to our team, Sossou agreed that it would not be safe for him to go to Cote d'Ivoire, and he decided to return to his home village.
---
Ghana: Three Minor Children Intercepted to Prevent Labor Exploitation
Three young children were recently intercepted from various communities near Lake Volta. James* is a young boy whose father is often away on business. His father does not have enough time to properly care for him or provide him with an education. He often sends him out on the lake to catch fish or engages him in various business tasks he needs help with. When our team intercepted James, he had been staying with his older brother for several days. His brother had asked him to travel with him across Lake Volta to work for an unknown person in a village in the Bono East Region.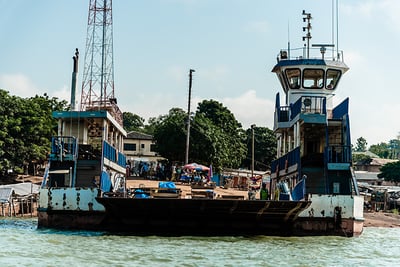 The siblings were about to board the ferry when one of our monitors approached them for questioning. Thankfully, the monitor recognized multiple red flags and intercepted James to keep him safe. Our team launched an investigation into the matter and contacted James' relatives for questioning. After providing the family with thorough education about human trafficking and labor exploitation, they were able to reintegrate James safely back with trusted relatives. Our staff intends to continue to follow up on James to ensure his ongoing safety and well-being.
Meanwhile two other children, Adwoa* and Kumah*, were also intercepted by our team. They had been sold to someone because their family was unable to provide for their basic needs. These children were being used for domestic chores and hard labor like fishing and farm work. Our monitors were stationed in the area and noticed the two children busily working. While they were talking to Adwoa and Kumah, the man who had bought them arrived on the scene and began to interfere with their questioning. When our staff threatened to call the police, the man fled. Our team intercepted the children, located their parents, and reintegrated them safely to their homes.
---
Visit here to learn more about our global impact and the countries where we work.
*All data and statistics current at the date and time of publishing. Names changed and some specific locations excluded for privacy and security purposes.