Four Love Justice family home participants started work abroad programs this summer as part of their education through LCC International University in Lithuania. Two students are working on a farmhouse in Sweden, while two others are working at a Chick-fil-A in Ohio.
In order to be eligible for this work and travel program, the students needed to be in good academic standing at the university and pass an interview process. Of their earnings, 70% will be used to pay for next year's tuition at the university, and 30% will be for them to use as they please. While working abroad, the students stay in the care of trusted chaperones who help them experience as much of Sweden and America as possible.
We're celebrating with these students as they get to broaden their horizons through these programs! These work and travel opportunities help accomplish Love Justice's goals to give them the best education and experiences possible so they can become difference makers for Christ after returning to their home countries.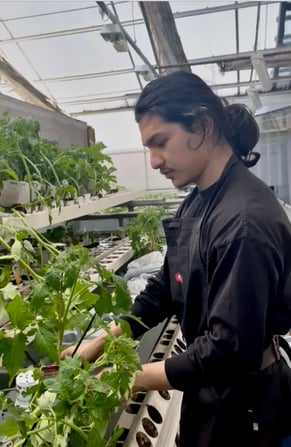 A Swedish farmhouse
Ashok Singh and Min are both working at the farmhouse in Sweden.
Min taught at The Dream School before continuing his own education at LCC University. He's excited to be learning new teaching techniques to bring back to his country.
"The most exciting thing about this opportunity is that I'm the only person in my family to study abroad," he said.
Ashok Singh loves being a part of the football team at LCC. He's been challenged by the language barriers in Lithuania and Sweden and has been working hard to maintain good grades. He is especially excited about working on the farmhouse so that he can learn useful farming techniques to bring back to his home country.
Both students commented on the difficulties of adjusting to a different culture.
"Every day, I am learning and adapting to a new culture and new things. I am blessed to be a part of an international environment," said Ashok Singh. (Pictured: Ashok Singh at work in the farmhouse)
Ohio Chick-fil-A
Meanwhile, Peimeichon, or "Chon-Chon," and Chingmi are both working at the Chick-fil-A in Ohio.
Chon-Chon lived in a family home for 11 years before transitioning out in 2018. She just completed her second year of a four-year international business administration program at LCC before moving to America for the summer work program.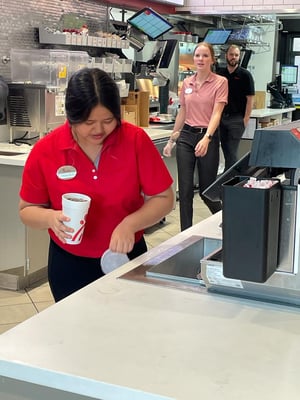 When she finishes her studies at LCC, Chon-Chon plans to attend graduate school for business administration and then return to her home country to use her skills to serve her community. (Pictured: Chon-Chon at work at Chick-fil-A)
Chingmi spent 10 years in a family home, moving out in 2017. He finished a vocational school program in flight attendance and hotel assistance and then went to live with his sister for four years. In 2021, he was able to enroll at LCC due to a generous family in Ohio who offered to support him financially in furthering his education.
"This opportunity has been very helpful because it will help me in my future workplace," he said.
Both students commented on the challenge of being on their feet for an eight-hour work day and communicating with people from different cultures. Both students also expressed surprise over American eating habits—particularly the consumption of a lot of sweets!
Chon-Chon was surprised that Americans greet everyone even if they don't know them, but she said she loves the social aspect of the job.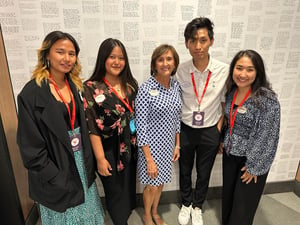 "I get to meet and greet and communicate with a lot of people, and I love doing that. And one of the best things about Chick-fil-A is that you are not alone and everyone is here to help each other." (Pictured: Chon-Chon, second from the left, and Chingmi, second from the right, with Trudy Cathy, the daughter of the founder of Chick-fil-A, in the center)
Growing up
We are thrilled and proud to watch our students grow up and pursue their dreams through higher education and work and travel programs! We are excited to see how these bright, young individuals go on to impact their communities with all the things they are learning now.
Please also join us in praying for them as they learn to navigate a new environment, culture, and language.
Learn more about our Family Homes Program and view children still in need of sponsorship by clicking the button below:
*All data and statistics current at the date and time of publishing. Some specific locations excluded for privacy and security purposes.