January is Human Trafficking Prevention Month. Maybe you've known about this issue for a while but aren't sure what you can do to help. We want to suggest something that is really simple but can be very powerful.
We invite you to join us in a share challenge.
How to participate:
During the month of January, we will post four images of real people (altered for their protection) that our monitors prevented from finishing their journey into slavery. Each image will come with a brief snippet of that person's story along with a fact about the reality of human trafficking.
Then all you have to do is repost or share it to your story and tag us on your preferred social media channel. Feel free to add to your post about why you care about stopping human trafficking, or just share as is. If you share two or more of the four images, we would love to send you a free T-shirt for participating!
Why this matters:
There are plenty of awareness months and days dedicated to various causes. Some get a lot of attention; some pass by relatively unnoticed. People in slavery deserve attention. They deserve to have a voice. And you have a powerful one through your social media.
It's true that simply being aware of a problem isn't going to change anything, but change won't happen unless people are aware. You never know who might be inspired by your post and end up making waves in this fight against slavery.
The problem:
The current estimate is that 50 million people are trapped in slavery today. The most common way this happens is when people are offered an opportunity that is too good to pass up. Maybe they are struggling to feed their families, and someone offers them a good job; maybe they are lonely, and someone offers them love and companionship. They might be aware that there are risks in accepting, but the possibility of escaping their current suffering seems worth taking the risk. By the time they realize they were deceived, they are trapped in harsh labor or sold to a brothel without any means of returning home.

What we do:
Love Justice places monitors at busy points of transit like railway stations and border crossings and trains them to watch for signs of trafficking. If the monitors suspect someone may be at risk of being trafficked, they will begin questioning them as well as the suspected traffickers to determine if any red flags are present. If deemed that trafficking is likely, the monitors intervene, educate on the danger, and assist with taking the at-risk individuals to safety and filing a report against the suspected traffickers. By this method, which we call "transit monitoring," we have intercepted over 36,000 people to date to prevent them from being trafficked.
Pasted below are the images and captions we plan to share on each day. You can download them from here or just check our page on the days listed and share from there!
Will you join us in helping spread the word about this violation of human rights? Awareness is the first step to change. We're in this together.
—
Images and stories: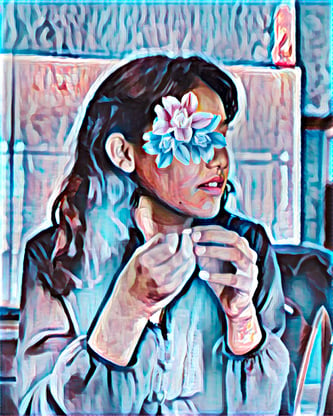 Caption: This 15-year-old girl doesn't have a family. When an acquaintance invited her to come with him to South Asia, she thought she might find better fortune in a bigger city.

Our team educated her on the high risk of danger in her situation and housed her in a shelter home until they could determine safe next steps for her future.

Fact: People without family are much more vulnerable to being trafficked than someone with both parents.

January 11 is Human Trafficking Awareness Day, and we have donors matching every gift given! Our teams work to protect people who are at high risk of being trafficked all over the world. Just $29 a month can fund our work to intercept one more girl each year. Join Project Beautiful, our monthly giving community, by the end of today and your first gift will be TRIPLE matched! Visit here to learn more.
Caption: This 16-year-old girl left Uganda with four other teenagers for a job as a hotel waitress in Kenya, the promised pay more than double the typical salary of that job. She had never traveled out of the country before, did not have travel documentation, and her parents did not know she had left.


Our team found the teenagers waiting for the suspected trafficker at the border and dialed the number they had for the man. He denied knowing them, disconnected the call, and turned his phone off. The teenagers returned safely home.


Fact: Traffickers make big promises for a better life. To someone living in extreme poverty, the hope that those promises might be true—that this job might be the key to ending years of financial struggle—is too great a hope to turn down.


Project Beautiful is our monthly giving community committed to the fight against human trafficking. Just $29 a month can help keep a life FREE from slavery. Learn more at ProjectBeautiful.org.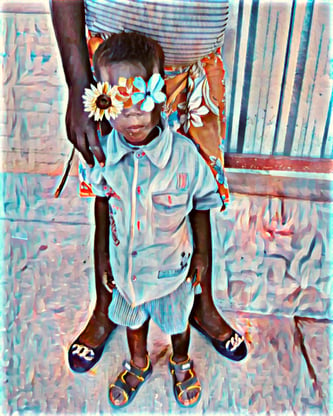 Caption: This little boy is only two years old, traveling with his mother and another mother/child duo. These families were promised domestic labor jobs in Namibia, but they didn't speak the language and didn't have any information for the promised job.
Our team concluded they were at a very high risk of being trafficked since they did not have the resources to get around or communicate without the aid of the suspected trafficker. They returned safely home.
Fact: Traffickers use deception to prey on vulnerabilities. The more vulnerable a person is—say, a young mother with a child to care for—the more susceptible they might be to believing a lie about a better life.
We invite you to partner with us to protect boys like him by joining Project Beautiful, our monthly giving community. Just $29 a month can protect one more life each year from being trafficked! Learn more at ProjectBeautiful.org.
Caption: A member of the community approached this 15-year-old boy along with three other teenagers and offered them jobs in Kenya working on a tea plantation. The boy had no travel documentation, and his parents did not know he was going.

Our team talked with the teenagers at the border and educated them on the high risk of trafficking in that particular industry and area. The teenagers returned home safely.

Fact: Often a trafficker is not a complete stranger, but someone the person already knows and trusts.

Join Project Beautiful with a monthly gift of $29 and YOU can help keep one more person free from modern-day slavery each year. Visit ProjectBeautiful.org to learn more.
Together we can help keep vulnerable lives from being exploited by human traffickers. Will you join us?
*All data and statistics current at the date and time of publishing. Names changed, and some specific locations excluded for privacy and security purposes.