Every day, our teams in the field work tirelessly, looking for signs of human trafficking. They are determined to find every one life that may be in danger of becoming a victim, and they take action to prevent exploitation. Here are a few of this month's breaking stories from the front lines in the fight to stop modern-day slavery.
Nepal: Staff Intercepts Three Minor Girls Being Lured with Promise of Jobs
Recently, our staff intercepted three young girls who were pursuing suspicious jobs. They claimed to be traveling for a long time, but they didn't have any bags with them. During questioning, they were unable to provide the address for their final destination, and their answers weren't matching up with each other.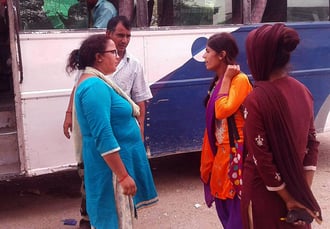 The suspect was an Indian man, but he had introduced himself as a Nepali to one of the girls and had promised to provide her and her friends good job opportunities in Nepal. He had enticed the three girls to run away from their homes without informing their families, and he told them to lie about their ages and claim to be much older if anyone stopped them for questioning. Our staff later learned that he was trying to take them to India without their knowledge.
When their families were contacted, they asked our staff to stop the girls from traveling. Hence, the three minors were intercepted and brought to our shelter where they were provided counseling regarding about trafficking.
---
India: Staff Intercepts Two Females Traveling to India for Job Offered on Facebook

During a routine watch at a busy border checkpoint, our staff stopped two young women traveling to India who claimed they didn't know each other. Based on several red flags, our team separated them for individual questioning and then contacted their families to verify their stories. Through further investigation, they discovered that the two women knew each other and had made plans to travel to Siliguri for work.

The females eventually shared that they had met a man on Facebook who offered them jobs working in a hotel with a promised monthly salary of INR 8,000 ($110 USD). The females were unable to provide any specific details about the job, including the name or address of the hotel in Siliguri. Since they were traveling to India for the first time and their jobs could not be confirmed, our staff determined they were at high risk of being exploited or abused. They intercepted them and handed them over to Nepali police personnel for further investigation and placement at a temporary shelter.
---
Malawi: Two Traffickers Arrested and Sentenced to Prison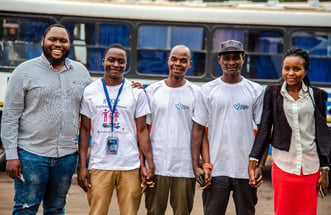 Recently, the Mwanza police called our team in Malawi to inform them that they had intercepted two suspected traffickers. These individuals had come from Lilongwe and were attempting to take three people across the Malawi/Mozambique border, with plans to continue on to South Africa. The matter was heard before the court, and the suspects were convicted of their crimes. One was sentenced to three and a half years in prison with hard labor, and the other was sentenced to three years with hard labor.
---
Zimbabwe: Staff Intercepts Two Boys Planning to Travel to South Africa for Work

Our monitoring staff noticed two boys, Edson* and Twanda*, and approached them for questioning. Initially, they told our team they were waiting for a delivery truck to receive goods that were being sent to them by their relatives in South Africa.

The next day, our monitor noticed the same boys, and he found it suspicious that they were roaming around an area located by a highway going to South Africa. Upon interviewing them, our monitor learned they intended to travel to South Africa to find work. After talking with them, the monitor determined they did not have enough money to travel to their intended destination and their lifestyle compromised their safety. Because the borders are currently closed, Edson and Twanda were planning to travel to South Africa using illegal routes. Furthermore, they did not have passports or essential security documents and did not know exactly where they would be staying in South Africa. Based on all these red flags, our monitor concluded they were at high risk of being exploited.


The monitor provided counseling about human trafficking and explained that their safety would be compromised if they continued with their travel plans since many individuals are being exploited across the borders in South Africa, and male victims are particularly vulnerable to being trafficked for hard labor. After listening to our monitor's warnings, Edson and Twanda agreed they were in a potentially dangerous situation and decided not to travel to South Africa to find work.
---
Uganda: Team Intercepts Minor Female; Suspect Arrested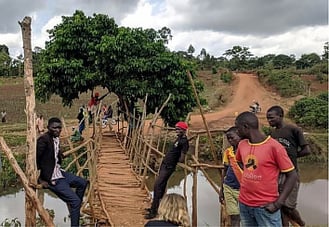 In this particular case, a minor girl was sent to the market by her mother to buy packing bags. Along the way, she met a stranger who deceived her, promising that he knew a better place where she could purchase the bags at a cheaper price. The young girl trusted him and agreed to follow him to this other shop. However, instead of taking the minor female to buy the packing bags as promised, the suspect took her to Kampala.
Meanwhile, the young girl's parents waited for their daughter to return from the market. Growing more concerned with each passing hour, the parents finally reported her disappearance to the Gulu Police Station in northern Uganda. The Gulu Police informed the Riverside Police about the missing child and the suspected trafficker. Riverside Police then collaborated with the LJU team on the matter.
Later that same day, our team was monitoring at a transit station, and from a distance, they could observe all the buses arriving from Gulu. Thankfully, they spotted the young female getting off a bus, and they immediately informed the police. The suspected trafficker was promptly arrested and taken to the police station for further questioning. Our team intercepted the minor girl and helped reunite her with her parents.
---
Kenya: Team Helps Vulnerable 4-Year-Old Girl Lost at Transit Station

Recently, our monitors were working at a bus station when they noticed a 4-year-old girl wandering around unaccompanied. She was crying and calling out for her mother, so they immediately went up to her to offer their help. The little girl indicated that she lived in Nairobi and had traveled to the city center with her mother to buy clothes. She shared that she got separated from her mother and did not know where she was.


Our staff comforted the young child and then took her to the child protection unit at the Kamukunji police station for further assistance. The officer tried to find the child's mother but was unable to locate her. The little girl was taken to a nearby children's home for temporary lodging until appropriate next steps can be determined.
---
Sierra Leone: Monitor Intercepts Minor Female at Border and Helps Her Return Home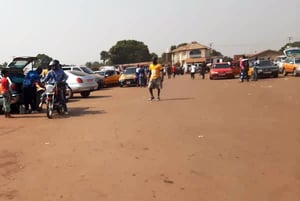 Rugiatu*, a 17-year-old female, was on her way to Guinea to meet someone who had promised her a job. To reach her destination, this person had given her 100,000 GNF ($10 USD)—which is a large sum of money for a young girl from a rural village.
One of our monitors was stationed at the border crossing when he noticed Rugiatu standing around. He asked her where she was traveling to and why. When she explained the details to him, he determined she would be at high risk of trafficking since she did not know the address of her final destination and did not know the person she was meeting. Our monitor counseled Rugiatu about the potential dangers she might be facing in Guinea, and after listening to his warnings, Rugiatu agreed to return to the safety of her home.
---
Ghana: Team Rescues Siblings Abandoned by Parents and Trapped in Labor Exploitation

The potential victims in this case are siblings. Their parents had traveled to Accra in search of a better life, leaving them behind in the care of a woman in the Volivo Oti Region of Ghana. This woman later handed the siblings over to a man named Baba* who used them for fishing and hard domestic labor. One of our informants observed how the kids were being mistreated and called our staff to notify them of the situation.

Our team went to Baba's home to investigate the matter and rescue the victims. Upon learning of our staff's investigation, the suspected trafficker fled the scene and evaded arrest. However, our team was able to get the young boys out of the house. They then contacted the siblings' uncle who agreed to pick them up and take them back to his home.
---
Bangladesh: Victim of Forced Prostitution Intercepted; Case Filed
Recently, our transit monitoring team was working at a railway station when they first noticed a 28-year-old woman named Bibha* who was crying and seemed very afraid. She told them she had traveled to Dhaka from her village to find work because her family was in a financial crisis.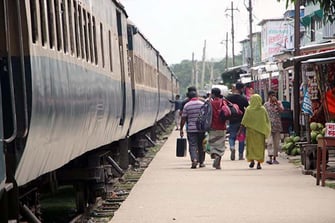 Shortly after arriving in Dhaka, she met a woman who offered her a good job. Desperate for any type of work, Bibha accepted the offer and followed the woman to her new place of employment, a brothel. Bibha did not know what a brothel was, so she was confused about what she would be doing. The owner of the brothel fed her dinner and told her that if she did good work, she would earn a lot of money. After the meal, Bibha was shown to a bedroom where she quickly fell asleep.
The next morning, Bibha woke up and discovered she was locked inside her bedroom. Confused, she called out for help and demanded to know where she was. A woman explained she was in a brothel area and had been purchased by the owner for sex work. Horrified, Bibha shouted for help, screaming that she had not agreed to work as a prostitute. No one answered her cries, and for almost a year, Bibha was locked inside her room and forced into prostitution, servicing many customers every day. She tried to escape the brothel several times, but she was always unsuccessful.
She told our team that a customer had left her room early that morning, and when he left, Bibha noticed that her owner was not around. She followed the customer out of the brothel and fled to the railway station, which is where our staff noticed her and intervened.
After hearing Bibha's story, our monitors comforted her and reassured her she was safe. Then, they took her to the nearest police station for further assistance. A case was filed against the suspects, and Bibha provided her official statement. Our transit monitors arranged her safe transportation back to her home, and Bibha called them when she arrived to let them know she was safe and to thank them for their assistance.
---
Namibia: Monitor Intercepts Young Woman Traveling to Turkey to Visit "Friend"

Our monitor noticed a young woman as she approached the temperature checkpoint at the airport. She seemed nervous, and she was carrying only one small luggage bag. During questioning, the monitor observed that the female's passport had been recently acquired.

When asked about her travel plans, the 26-year-old woman initially said she was traveling to Turkey for vacation, but later she changed her story and shared that a friend she had met in Namibia several years earlier had invited her for a job opportunity. When the victim was asked for more information about this friend, she was unable to provide any specific details, including what the friend did to earn a living. Upon further investigation, our monitor determined that the female had been given fraudulent documents, and it became clear that someone else was helping her to ensure she got to Turkey.


Our monitor was able to talk to the young female about trafficking, explaining the red flags in her situation and stressing that it was very likely that her "friend" was recruiting her under false pretenses of a job. The woman was very upset because she had borrowed a lot of money from her family to make the trip. However, she agreed that she was at risk of being trafficked, so she decided to turn around and go back home.

---
Cambodia: Monitors Intercept Vulnerable 16-Year-Old Female and Help Her Return Home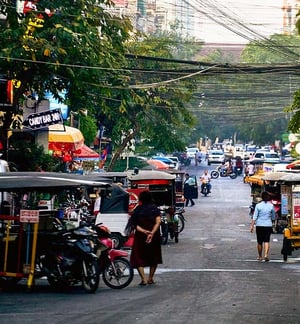 Our monitors recently approached a 16-year-old Cambodian female who was initially sitting alone. During questioning, she seemed nervous and afraid, and she revealed that she had never traveled outside of her home province before. She explained that her family was poor and she needed to work to support them.
Suddenly, an older Cambodian woman approached and began asking questions about the monitors. During this conversation, our team learned that the young female had a different version of the story compared to the older woman. Recognizing the discrepancies in their stories, our monitors separated the two women and conducted independent interviews.
Our team eventually discovered that the older woman was well known to the people in the community, and she "always came and offered jobs to the young women." The young girl told the monitors that over the past four days, she had been taken to several different homes where people had taken pictures of her. She also mentioned that she had been given some new clothing and a pair of brand-new shoes. Based on multiple red flags, the young female was intercepted and safely returned to her family.
---
To learn more about our anti-trafficking work being done across the globe, visit here.
*All content, data, and statistics current at the date and time of publishing. Some locations omitted and names changed for the security and privacy of those involved.