Last month, with the vital help of our donors, we successfully intercepted 434 people to protect them from the threat of being sold into human trafficking.

South Asia: Woman Escapes Trafficker Prior to Being Sold; Case Filed
Gayatri* is a 34-year-old married woman who was about to be sold by a trafficker. Thankfully, she managed to escape and seek help from our staff in South Asia. They helped her file a case against her trafficker, a man named Dipesh*.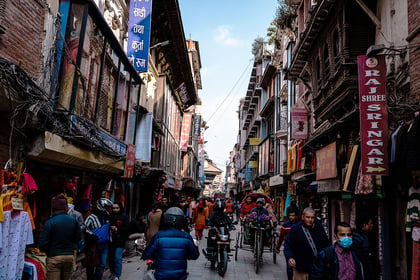 The suspect, Dipesh, was from Gayatri's village and used to come to her home from time to time as he was a close friend of her husband's. He knew that Gayatri and her husband were struggling financially and working hard to provide for their family. Preying on their struggles, Dipesh lured Gayatri away from her home, promising he could provide her with a better job in Kuwait where she could earn a substantial salary and be able to support her family.
Desperate to improve her family's situation, Gayatri trusted Dipesh and accepted his generous offer. Dipesh then helped her travel to a nearby city to apply for a passport. While there, they stayed at a hotel for two days, waiting for her passport to be processed. During this time, Dipesh pressured Gayatri to stay in the same hotel room with him, but she refused. Two days later, Gayatri's passport was ready and Dipesh picked it up; however, he kept it in his possession. He then told Gayatri it would take some time to obtain a visa for her, so he suggested they should go back to their village and wait for it there. However, as they were traveling back to her home, Dipesh abruptly changed the plan. He informed her that her visa was ready sooner than expected and instead of returning to their village, they would go directly to an airport in a neighboring country to board a flight to Kuwait.
Gayatri became suspicious about this new plan and asked Dipesh why they had to fly to Kuwait from a different country. However, he told her several lies and eventually convinced her that everything was fine. He also instructed her to lie if anyone stopped her at the border to ask questions about her travel plans; he told her she should say she was going to a neighboring country for a medical treatment.
After Dipesh and Gayatri crossed the border, they met up with a minor girl who was waiting for them on the other side. From there, the three of them traveled by taxi to another town. Along the way, Gayatri started to feel uneasy about what was happening. She told Dipesh she wanted to go home and asked him to return her passport, but he refused. Shortly after that, they arrived at a hotel, and Dipesh escorted the two women to a room and forced them inside.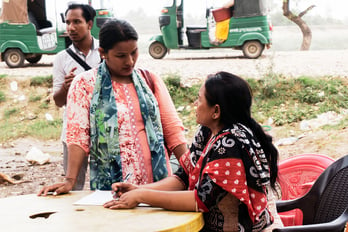 Gayatri was terrified of what might happen to her. Later that night, she managed to escape her hotel room without anyone noticing. She found the hotel owner and desperately asked him for help. He said that he didn't know exactly what was going on and mentioned that Dipesh had previously brought other girls to his hotel. For the rest of the night, the owner helped Gayatri hide in his hotel, and then early the next morning, he returned her to the border. Gayatri met with our staff there and asked them for their assistance. Our team helped her file a case against her trafficker. This case is currently under investigation, and the police are working to apprehend Dipesh and secure his arrest.
---
Malawi: Team Assists 12-Year-Old Victim of Labor Exploitation Lured with Promise of Education; Two Suspects Arrested

Our investigator received information from the local police about a human trafficking case. The police identified Natasha* (12) from Mozambique as the victim.


Natasha had been offered the opportunity for a good education in Blantyre, Malawi, so she traveled there from her village in Mozambique. Although the suspect had promised to enroll her in a good school in Blantyre, this never happened. Instead, Natasha was forced to do all of the household chores.


During the investigation, it was discovered that Natasha had originally been approached by the father of the suspect, and he was the one who lured her away from her home with the promise of a good education. Natasha's parents allowed her to go, and they were excited that she would have the opportunity to pursue a brighter future. However, instead of taking Natasha to a reputable school as promised, the man transported her to his son's house where she was forced into domestic servitude without her parents' knowledge.


Our investigations team collaborated with the police to apprehend and arrest both suspects. Our team reunited Natasha with her mother and arranged their safe transportation back to Mozambique.
---
Rwanda: Minor Boy Traveling for Work and Abandoned in Unfamiliar City, Intercepted and Returned Home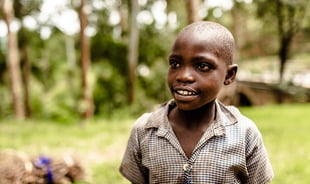 Chihera* is a 14-year-old boy who lives with his mother in a village in Nyamasheke District. They are extremely poor and are unable to meet their most basic daily needs. A man recently approached Chihera, offering him a promising job with a monthly salary of 70,000 Rwf ($70 USD).
Chihera accepted the generous offer and traveled to Kigali with the broker. Shortly after they arrived, Chihera started to become ill, and the broker abandoned him and ran away. The police found Chihera and called our staff. Our team offered their assistance and took Chihera to the hospital for medical treatment.
Later, they educated him about human trafficking, explaining the danger of blindly trusting a stranger and counseling him about how to find safe employment. They then arranged for his transportation home. His mother was overjoyed to have her son returned home safely, and she thanked our staff for their help.
---
Kenya: Team Intercepts Young Female and Baby Stranded at Transit Station

Phanice* is a 20-year-old female who met a man named Bakari* while working at a road construction site. During their initial meeting, Phanice mentioned that she was in desperate need of a better job where she could earn more money. Bakari told her to come to Mombasa, where he promised he could find her a lucrative job working at a massage parlor in Diani.

Phanice traveled to Mombasa with her baby, intending to meet Bakari who would take her to her new place of employment. Upon arrival, however, Bakari was shocked to find out that Phanice had a baby. He walked away, abandoning Phanice and her infant in an unfamiliar area. Thankfully, our monitors were working at the transit station that day. They noticed Phanice's vulnerable condition and approached her to offer their assistance. After hearing her story, they took her and her baby to their shelter for counseling, food, and safe lodging. They educated Phanice about human trafficking, explaining the typical tactics that traffickers use to deceive their victims. They then repatriated her back to her own home where she was safely reunited with her family.

---
Ghana: Acting on Tip-Off, Team Intercepts Four Brothers Traveling for Work on Lake Volta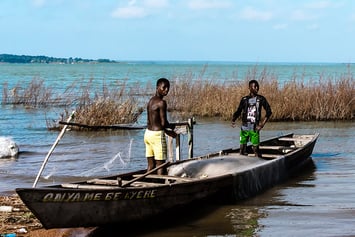 After receiving a tip-off from an informant, our staff intercepted four young brothers who were traveling from the Oti Region to a town near Lake Volta. During questioning, the boys shared that they would be working for a man they had never met before. They did not know many specific details about their promised jobs, only that they would be fishing and working on the man's farm. The brothers explained that they had left their home against their parents' wishes because they were extremely poor and struggling to survive. After intercepting the siblings, our team provided them with education about human trafficking and then helped them return to the safety of their home.
---
Tanzania: Staff Intercepts Vulnerable 14-Year-Old Girl Traveling for Promised Work

Khadija*, a 14-year-old girl, traveled from her village to Kongwa for a domestic helper position. She had been promised a monthly salary of 50,000 Tanzanian shillings ($22 USD)—with the understanding that her wages would be sent directly to her parents.

Upon arrival in Kongwa, Khadija was handed over to a woman she did not know who transported her to Dar es Salaam without any explanation. When Khadija arrived at the bus station in Dar es Salaam, she was told to wait for her host, another person she had never met. The next day, Khadija was transported to Zanzibar and was told that her future employer would be at the port to meet her there.


When she arrived at the port in Zanzibar, our monitors noticed her and intervened. Thankfully, they were able to stop her from traveling, and they took her to a safehouse for temporary shelter until they could arrange her transportation home.
---
To date, we have intercepted over 27,000 people to prevent them from being trafficked. Visit here to learn more about our anti-trafficking strategy and our work to empower vulnerable lives across the globe with freedom and hope.
*All content, data, and statistics current at the date and time of publishing. Some locations omitted and names changed for the security and privacy of those involved.