Last month, our teams in the field intercepted 1,341 vulnerable people from the potential of being sold into modern-day slavery. Makula* and Kedi* are two teenage girls who were intercepted by our team in Freetown after being lured away from their families with the false promise of receiving an education.
Sierra Leone: Two Teenage Girls at Risk of Being Forced into Prostitution, Intercepted!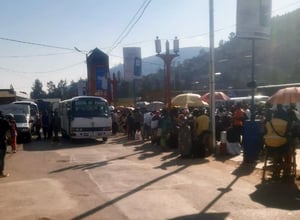 A woman had approached them in their village and asked them to travel with her to Freetown, promising to send them to a school where they would receive an excellent education. The woman was a frequent visitor to their village and was known for offering parents who were struggling in extreme poverty the opportunity to provide their children with a good education and a better life. However, instead of enrolling them in a reputable school, she would allegedly force them into prostitution.
After intercepting these two young girls, our monitoring team took them back to their village and handed them over to their parents. They educated the parents about the risks associated with sending their children to an unknown location and then warned them about human trafficking and its consequences. The parents thanked our staff for intervening to keep their daughters safe.
---
South Asia: Female Files Case Against "Boyfriend" Luring Her Across Border; Suspect Arrested!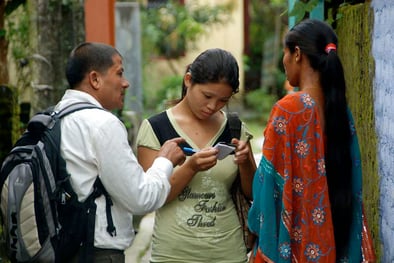 Recently, our staff intercepted Ashika*, a 22-year-old female. During questioning, she shared that her parents had died when she was young, and since that time, she had been staying with her brother's family. A few years ago, she got married, but her husband's family mistreated her, so she left them to move back into her brother's home.
She told our team that she had met a man a few months ago who claimed to be from a good family. He said that he had been working in Kuwait and had only recently returned to South Asia. They continued to talk with one another, and he eventually told her he wanted to marry her. The two of them were traveling together to cross the border into a neighboring country when they were stopped by our team.
At first, Ashika did not trust our staff. She didn't want to believe what they were telling her about human trafficking, and she insisted that she wanted to continue traveling with the man. Despite her reservations, our team convinced her to stay at their shelter for continued counseling while the suspect was held in police custody for additional questioning. The police kept him at their station for two days while they investigated the situation.
They eventually learned that he had already married four other women, and everything he had told Ashika was a lie. When Ashika was informed of his deceit, she agreed to file a case against him and he was arrested later that same day.
---
Malawi: Team Intercepts 11-Year-Old Victim of Labor Exploitation, and Investigations Team Secures Arrest of Two Suspects
Our monitors were working at a bus station in Lilongwe when they came across an 11-year-old girl named Malita*. She told them that her father had died, leaving her in the care of her disabled mother. They were struggling to survive, so Malita had accepted a job opportunity working as a domestic helper in Lilongwe.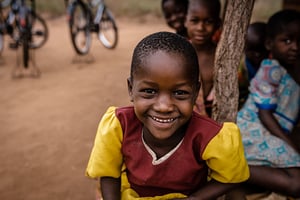 She told our team that she had worked for her employer for six months and was never paid for her work. Eventually, she was falsely accused of stealing a bucket and cash amounting to K8,000 ($415 USD), and she was chased from the home without being paid her salary.
Some kind strangers gave Malita enough money to get to the bus station in Lilongwe, but from there, she was unable to pay for a bus ticket back to her village. When our monitors met her, she was stranded at the bus station and at high risk of being trafficked due to her young age and lack of resources. Following Malita's interception, our aftercare team coordinated with a social welfare office to provide her with safe lodging until appropriate next steps could be determined.
Following Malita's interception, the investigations team in Malawi helped to facilitate the arrest of two suspects. The first suspect, a 58-year-old man, was arrested for the offense of trafficking in children. Our team gathered information confirming that he had recruited and transported Malita from her village to Lilongwe, where he handed her over to her host.
The other suspect, a 26-year-old female, was arrested for the offense of employing a minor under the Child Care, Justice, and Protection Act. Both suspects are due to appear in court.
---
Rwanda: Teen Fleeing Forced Prostitution from False Job Offer, Intercepted!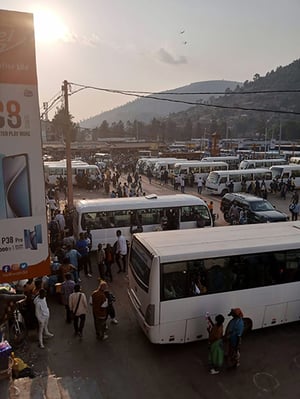 Marie* is a 17-year-old girl from a village in Kirehe District. One day, a stranger approached her in her village, offering her a good job in Kigali. Marie's parents were divorced and struggling to provide for her, so she eagerly accepted the offer to improve her life. She was connected to a broker in Kigali who arranged the details of her trip.
Marie traveled from her home to Kigali, and a woman was waiting for her at the bus station when she arrived. Marie went with the woman to her home, believing she was headed to a better life. Unfortunately, when she arrived, she soon learned that her new employer intended to force her into prostitution. When Marie refused to comply, the woman confiscated her phone and bag and then kicked her out of the home.
Marie was wandering on the streets, crying, when our monitors noticed her and offered to help. She told them her story and said she did not know the area and was completely helpless. Marie spent four days at a safe house while our team worked with local authorities to trace her village. When they located her family, they traveled with Marie to her home to make sure she was safe.
During a follow-up call, Marie thanked our team for their help. She told them that her parents were planning to put her back in school, and she promised to educate other people in her community about human trafficking.
---
Zimbabwe: Team Assists with Rescue and Repatriation of Women Trafficked to Oman
Recently, the team in Zimbabwe cooperated with the Department of Social Welfare to repatriate three females who had been trafficked to Oman. The suspect who recruited them had previously trafficked several other females just a couple months earlier.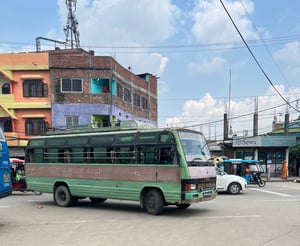 When he approached the three women, he offered to arrange jobs for them working as domestic helpers with a first month's salary of $700 USD; he also promised that their salaries would increase once they were more established in their jobs. He deceived the three females by informing them that the women who had previously gone to Oman were already earning enough money to take care of their families.
After listening to the suspect's offer, the three women accepted the jobs. Within three weeks, their documents were made, and their travel expenses were paid for. According to the women, when they arrived in Oman, they soon learned that their experience would be very different from what had been promised to them. While there, they were often mistreated and overworked.
When some of the other women who had previously been trafficked returned to Zimbabwe, they were able to share information on where they had been staying in Oman, which led to the rescue of the three females who had been trafficked there. A trusted contact in Oman made emergency travel documents for the rescued women, and the three of them were able to return to Zimbabwe. These three women will join the other repatriated females, and all of them will testify against the trafficker in court.
---
Uganda: Five Teens Traveling for Promised Work, Intercepted Before Exploitation
Five girls, ranging in age from 15 to 18, were lured from their village in Serere District with job offers working as domestic helpers in Kampala. They had been promised a salary of USh 350,000 ($95 USD), which is more than double the normal pay of USh 150,000 ($40 USD).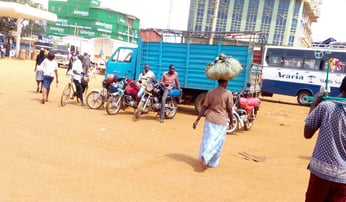 Our team was working at Namayiba Bus Terminal when they noticed the group of travelers and stopped them for interviews. During questioning, the girls confirmed that they had initially been promised domestic work in Kampala. They told our team that they were on their way there and had just contacted their broker for further details about the employment. During the call, he suddenly changed his story, saying the only available jobs for them would be working as prostitutes in a bar. The girls were upset and confused and told our team they didn't know what to do.
When our staff contacted the male broker, he was rude and refused to answer their questions. He told them to mind their own business and then switched off his phone. Our monitors contacted the teens' guardians and learned that they were unaware of the girls' travel plans. Our team spent time educating the teens about the dangers of human trafficking and explained that they would be at high risk of being exploited since they did not have an address for their destination and did not know any specific information about where they were going. The girls realized they were in a dangerous situation and agreed to return home.
---
South Africa: Team Uncovers Red Flags and Redirects Man from Job Posted on Facebook
Recently, our team redirected a 27-year-old man who was pursuing a suspicious job post from the Sibanye gold mine advertised on Facebook. One of our monitors contacted him to assess the situation, offer help, and raise awareness about human trafficking. During the interview, the young man shared that he had been a truck driver but had lost his job in 2021. Without employment, he was heavily dependent on a government relief grant for survival.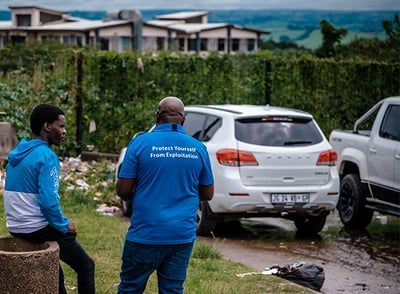 He told our team that he had been desperately searching for stable employment. Shortly after leaving his contact information on the advertised post on Facebook, he was contacted and interviewed over the phone. He was immediately offered the job and was told to come to a specific address in Johannesburg to sign his contract and to do a driving test.
Upon investigating the matter, our team uncovered multiple red flags and eventually concluded that the job offer was not legitimate. The recruiter had lied about being a "mine boss" and was not associated with a legitimate company. Furthermore, the recruiter was not operating from a registered office space; instead, he was conducting all of his job interviews over the phone. Additionally, the address where the young man was instructed to go to sign his contract was located in an area notorious for human trafficking and sexual exploitation.
Our team learned that the suspected trafficker seemed to be targeting both males and females who were desperate for employment, luring them with promises of high salaries, permanent job placements, and sponsorships to further their education. Our staff explained all of the red flags associated with the suspicious employment and advised the young man to stop pursuing the job. He listened to them, accepted their advice, and agreed to look for other employment opportunities.
---
Benin: Mother of Four Intercepted en Route to Suspicious Job Arranged by Friend
Our team recently intercepted Sidonie*, a 33-year-old mother, who was sitting at a bus station and appeared to be waiting for someone. During questioning, she shared that her husband had left her over four years ago to work in the fields in Burkina Faso. In his absence, Sidonie had been struggling to provide for the needs of their four children.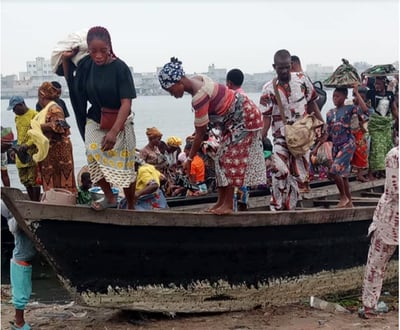 Fadilath*, one of her childhood friends, had recently visited her village. When she heard about Sidonie's dire financial condition, she offered to help. She promised to arrange a good job for her working as a domestic helper in Cotonou. Desperate to provide for her children, Sidonie accepted her friend's offer of help. Fadilath gave Sidonie 25,000 CFA francs ($42 USD) to pay for her transportation expenses and then promised to pick her up when she arrived at the bus station in Cotonou. Sidonie was sitting at the station waiting for Fadilath when our team first noticed her and intervened.
When our monitors asked Sidonie about the working conditions and the treatment promised, including her salary, she was unable to give them any specific details. Furthermore, she confessed that she had not informed her family of her plans and she was unfamiliar with Cotonou.
Based on all the information Sidonie shared, our team determined that she might be at risk of exploitation. They explained the potential dangers and advised her to return home. After talking to the team, Sidonie decided to go back to her village.
---
We are excited to announce that thanks to the generosity of people like you, not only have we surpassed our matching gift goal of $250,000 but two amazing donors who would like to remain anonymous stepped up and gave significant gifts—allowing us to extend our match goal to $400,000 through May 31. That means you have one more chance to give while your dollars can be matched!
*All data and statistics current at the date and time of publishing. Names changed and some specific locations excluded for privacy and security purposes.