May 14, 2020
Billions of the world's poor rely on daily wages to survive. Around 80% of the workforce in Asia and Africa work in the "informal economy." With countries shut down, billions of people across the globe are not earning an income, and in many places, there are no safety nets to prevent those who have no savings from starving. Today, millions of families around the world are being denied the means to eat. Through our COVID-19 Global Relief Effort, we are working tirelessly to find those with the most need and then provide them with essential supplies.
South Africa: Team Returns to Distribute More Aid to Foreigners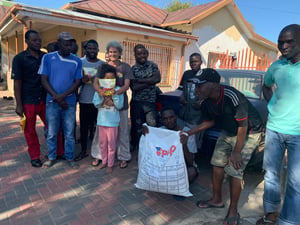 May 8 | During a previous distribution, LJI was able to meet a remarkable woman who supports her family off her pension and also provides for 46 foreigners who live on her property. She told our team that when she sees people who are hungry, she can't help but share what she has. Foreigners in South Africa have received no government support during this crisis, and under the current lockdown, they are struggling immensely.
At our previous delivery to this group, we realized that the need was much greater than we had anticipated the first time around. Our staff member said this about her experience with this amazing woman: "Today a lady was breaking down in tears with me out of sheer desperation just for food. She has SO little and shares it with those around her who have nothing—no job, little clothing, and no beds. She lives off a small pension and has many people living with her family. She is their hope at the moment while all of them have lost their jobs and have no way of finding more jobs. She sees trauma in her face every day; she doesn't have the luxury of turning away from it when life gets too much. She lives with it. This is ONE person's story amongst thousands. She needs medication and can't buy it. ... Her bedroom doesn't even have a door; it's covered with a sheet. Can you imagine how cold she is at night? Our organization was able to help with food today, and I prayed for her. But when I left, my heart felt overwhelmed with sorrow. ... People should never suffer to this extent under our watch. My heart is utterly broken to see it."
Bangladesh: Aid Delivered to Daily Wage Earners in Dhaka

May 12 | The staff of Love Justice Bangladesh completed another delivery of aid to their neighbors in Dhaka. Most of the recipients are daily wage earners who work as van pullers, day laborers, rickshaw pullers, tea stall shop owners, etc. As the primary providers for their families, they rely heavily on the small amount of money they earn each day. During the COVID-19 lockdown, they are all out of work, and it is becoming impossible for them to provide food for their children. Our team was able to distribute rice, lentils, cooking oil, potatoes, onion, salt, and soap—enough provisions to last for up to five days.


One beneficiary said, "During this COVID-19 pandemic, we were passing very hard time with our family. I do not have work during lockdown. Last 45 days we are in home without work. We don't have food, so I was looking for some help. At the right time your team came to me and today gave me some help. This food will help our family for next couple of days to live. We will pray to Allah [God], and Allah will bless you all more."
Uganda: Aid Delivered Across Four Rural Communities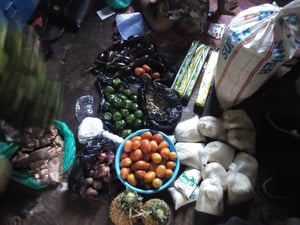 May 10 | The LJI Uganda team distributed aid in four rural communities and was able to provide essentials to individuals living in desperate conditions.
One beneficiary stated, "With affectionate greetings I am writing to you to express my gratitude and my thoughts for supporting us. There are many things I want to thank you for, but there are no words that describe how happy and thankful I am; without knowing us, you gave us an opportunity to eat in such a time when families are dying of hunger. We had taken three days without food, just taking tea without sugar and popcorn. LJI Uganda sent us money for food, sugar, soap, salt, beans, and vegetables; we are so, so, so humbled and grateful because you have saved us. My children would cry at night asking me for food, and I would tell them Jesus will provide; and He really has!"
Sierra Leone: LJI Collaborated with Army to Deliver Food to Households

May 11 | The LJI Sierra Leone team reached around 100 households, many with 10 individuals living in each, to deliver essential goods. Many of the recipients had nothing to eat and were extremely grateful to receive the provisions.

The army headquarters sent three soldiers to accompany the LJI team to assist our staff at various checkpoints and to build relationships for future aid deliveries.
South Asia: Unemployed, Single Mother Receives Aid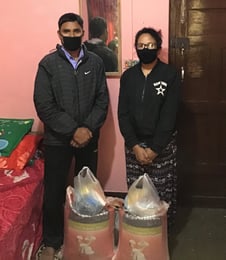 May 11 |Renu* is a single mother who is unemployed. Due to continual violence and spousal abuse, she separated from her husband and now lives with her two sons, the oldest of which suffers from depression.

Due to the lockdown, Renu quickly began running out of food and the meager amount of money she had on hand. Since she does not receive any support from her husband, she is the sole provider for her family. She is unable to receive any relief distributed by the government and has become increasingly worried about how she is going to continue feeding her children.

Thankfully, our team came in contact with her and was able to provide her relief aid of rice, cooking oil, lentils, and sugar. Renu expressed her deepest gratitude to our staff for providing essential food supplies for her and her family. She was overwhelmed with joy to receive such crucial, life-giving support during these extremely devastating and uncertain times.
---
It costs a little under $4 to feed a starving person for a month, $15 for a family. This is the actual amount we are giving people based on calculations about the minimum needed for basic necessities for those with absolutely nothing, using nationally appropriate food staples. There are more people out there than we are able to help, and for those who are desperate, the first bag of rice is more important than the second. Visit here to find out how you can get involved today.
*All content, data, and statistics current at the date and time of publishing. Names are changed for security and privacy purposes.