May 22, 2020
Today, millions of families around the world are being denied the means to eat. Through our COVID-19 Global Relief Effort, we are working tirelessly to find those with the most need and then provide them with essential supplies. Here are just a few of this week's top stories:
Lesotho: 223 People Receive Food Aid in Our First Distribution

May 21 | In this project, 223 individuals (57 families) were identified through recommendations from the Beautiful Dream Society, one of our trusted partners in Lesotho. The needs of these beneficiaries were confirmed through local officials including village chiefs and pastors. The recipients were orphaned children, families with the extra burden of feeding children who no longer receive a meal at school, and individuals and families who are unable to work because of the shutdowns.
Prior to the COVID-19 lockdown, a 9-year-old girl would frequently come to a feeding program, carrying her 4-year-old sister on her back. Our team learned that their mother has died, and the two sisters are being cared for by their dad who struggles to make ends meet. When our partners took the food packages to their home, they found out that they live in an unfinished house with no windows.

Our contact said, "Their father welcomed us and shared a little bit of how hard it is to take care of small girls on his own. They were very happy to receive the food parcels, and he said most of the time the 9-year-old girl has to take care of her younger sister when he goes out to look for small jobs. He said the food parcels would help them because he has not been getting any jobs because of the pandemic and lockdown, and the girls have had to go days without food."
South Africa: LJI Partners with Grandmothers to Make over 1,400 Masks

May 20 | A group of grandmothers who support their families by knitting and selling their products in Diepsloot, South Africa, have been drastically struggling to make an income during the lockdown. To help these "gogos" earn money, Love Justice South Africa donated sewing kits and materials to them so they could make and sell 1,400 masks. In many communities in South Africa, grandmothers are the sole providers for extended family members, and they rely on their pensions to support many people.


So far, we have been able to distribute 700 of these masks to city workers, police officers, security teams, sanitation workers, as well as pensioners and children in surrounding areas who did not have masks. During distribution, we also provided education on the usefulness and necessity of wearing a mask.
Philippines: LJI Aid Distribution Begins
May 17 | We have started distributions in the Philippines! More than 500 packs of essential supplies were delivered. Here is a note from our trusted contacts: "We were able to finally get the food packs distributed this week. We went to one area and distributed some of the food packs. The rest were given to different areas where they had not been given any packs at all and government help had not arrived yet, mostly in the rural areas. Several of our extension pastors in the rural areas told me that their members had not received any help from the government yet, so I distributed the rest of the food packs among them. Many of these people are very poor, so I felt that this would be what you would have wanted us to do. What a joy to see people's faces light up when they get the food packs!"
Cambodia: 161 Bags of Rice Distributed

May 18 | Our team returned to a slum area where they delivered essential supplies last month. This time, they distributed 161 bags of rice to recipients who were all in desperate need once again. One beneficiary told our team that she had just used up the last of her rice supply from last month's distribution. She shared that she had been afraid for her children and did not know what they would eat if she couldn't make any money that night. When our team showed up with enough rice to feed them for another month, she was completely overwhelmed with gratitude and said, "Whenever I am struggling, God always shows up to bless me!"

Regarding the recipients of this distribution, one of our trusted contacts shared, "It was fun for them to see God continue to provide for their needs. Thanks for making such a big impact here protecting vulnerable persons and helping them in their time of crisis."
South Asia: 212 Individuals Assisted at Tea Estate
May 15 | This distribution effort took place at one of the tea plantations in South Asia that produces the renowned Darjeeling tea. One of our staff members is a resident of the village, and when he realized his neighbors' urgent need, he immediately informed our team. Packets of rice, flour, lentils, cooking oil, soybeans, potatoes, and onions were provided to 212 individuals—enough food to last for at least a month.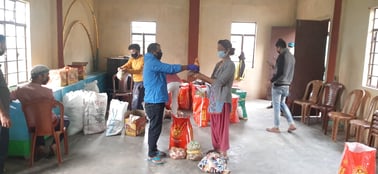 Due to the ongoing lockdown, the tea-producing estates and factories have closed, so the recipients no longer have a source of income. As daily wage earners, they have been surviving on only one meal per day and were on the verge of starvation because they were rapidly running out of food.

One beneficiary said, "The manner in which the organization and the donors have opened their hearts out with love and compassion, yet remaining behind the curtains to provide us all these support of food essentials, we are very much delighted and appreciate the wonderful gesture. We can now survive for many days to come. And we pray to God that He blesses you and your work abundantly, to be able to reach out to more of such people in need and distress."
---
It costs a little under $4 to feed a starving person for a month, $15 for a family. This is the actual amount we are giving people based on calculations about the minimum needed for basic necessities for those with absolutely nothing, using nationally appropriate food staples. There are more people out there than we are able to help, and for those who are desperate, the first bag of rice is more important than the second. Visit here to find out how you can get involved today.
*All content, data, and statistics current at the date and time of publishing. Names are changed for security and privacy purposes.