May 7, 2020
Love Justice staff is responding to COVID-19 around the globe. We are currently working to bring relief to vulnerable people in seven countries around the world. Some of the countries where we are working are not specifically named for the safety and security of our staff.

Bangladesh: LJI Responds to Increasing Need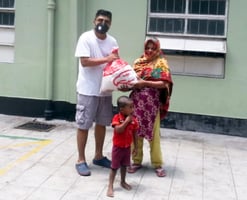 May 6 | LJI Bangladesh was able to distribute essential supplies to 25 needy Muslim families. Most of the recipients are garment factory workers, van pullers, and domestic helpers who live near a contact's church in Dhaka. A pastor at the church, Rev. Judith Milita Das, said, "Every day many needy people and families are coming to our churches for getting some help, especially food for their children. They are living in our church's surrounding area."

Our team was able to provide packages of rice, dal, cooking oil, potatoes, onions, salt, and soap to these families, and they were all very happy and blessed by our support. "In Dhaka … the cases of COVID-19 are increasing every day ... we need to respond and support them." – Rev. Das
South Asia: Team Distributes Provisions to 11 Desperate Families

May 4 | Our team in South Asia was able to distribute aid to 11 families in desperate need through their local pastor. The recipients are all daily wage workers who have had no work since the lockdown. Our auditor shared about one beneficiary, stating, "She was so happy and couldn't control her happiness and kept saying, 'Thank you!' I can't even remember how many times she said it!"
Uganda: Families Across Villages Receive Food and Provisions
May 1 | Love Justice Uganda completed their first phase of distributions in multiple villages last week! As they were handing out supplies, our team heard so many amazing stories of resilience, strength, and gratitude from the beneficiaries.
They met a 34-year-old single mother of eight children who had been operating a salon before the COVID-19 outbreak. Following the presidential directives, she was forced to shut down her salon until further notice. Since this was her only source of income, she has been unable to support her family during the lockdown, and she told our team that her biggest problem was feeding her children. Our team was able to give her a package containing maize flour, beans, rice, sugar, soap, and cooking oil—enough food to sustain them for about two weeks. When they received the provisions, they were all grateful to LJI for their help. Her children were smiling, and she said, "Thank you so much! May God multiply your blessings. May He richly bless you!"
Cambodia: Food Distributed to Families in Need

April 30 | Living in the slums of Cambodia, these families were already struggling to provide before COVID-19, but now they are in dire need. When they received their packages of food, one of the children exclaimed excitedly, "Yay! Now we have enough rice to eat."

A team member who helped distribute shared, "In an extreme place of desperation, one mother was thinking of selling her children ... but God intervened! She not only received food this month, but we've been able to move her and her family into a safe house for more one-on-one care during this difficult time. Thanks for protecting and providing for them!"
Zimbabwe: 130 Families Receive Two Weeks' Worth of Provisions

April 29 | LJI Zimbabwe was able to distribute provisions to 130 families—a total of 577 individuals. Each package included mealie meal (a food staple), cooking oil, sugar, salt, soya chunks, dried beans, tea bags, soap, and rice. An average family of four people can survive two weeks with these provisions.
One beneficiary shared, "We have had nights without food ... and God intervened and met us at the point of our need. I intended to walk 90 kilometers to my rural home to look for maize meal [a type of flour] in order to feed my family, but it's difficult—especially with the presence of police throughout the way. This is a miracle that Love Justice has given us food in the face of a harsh situation."
Visit here to learn more about our relief efforts, to read the latest stories from the field, and to watch testimonial videos from our beneficiaries in the countries where we work.
*All content, data, and statistics current at the date and time of publishing. Names are changed for security and privacy purposes.