Human trafficking is an intricate web of deceit, greed, and depravity. It's a vast industry of corruption that requires an army of people willing to come together with one common mission: to bring traffickers to justice and to end modern-day slavery and the exploitation of innocent lives across the globe.
IBM, the largest computer company in the world, is taking great strides to make this a reality. On November 6, 2019, they announced that the Natural Language Processing technology of Watson Discovery, along with IBM public cloud technology, is now being used by public, private, and not-for-profit organizations as they collaborate to bring an end to human trafficking.
This highly effective, new AI technology resource is called Traffik Analysis Hub (TA Hub), was co-created by IBM and donated to a group of public, private, and not for profit organizations, led by STOP THE TRAFFIK (STT), a non-governmental organization (NGO). It is believed to be one of the largest always-on AI resources for fighting human trafficking that bridges public, private, and not-for-profit sectors worldwide.
A collaborative effort
This complex system enables authorized organizations, such as financial service companies, law enforcement agencies, and NGOs—including Love Justice International—to collaborate systematically on an ongoing basis. They can now securely share and analyze data in the cloud to unravel seemingly unrelated clues, pinpointing potential criminal activity.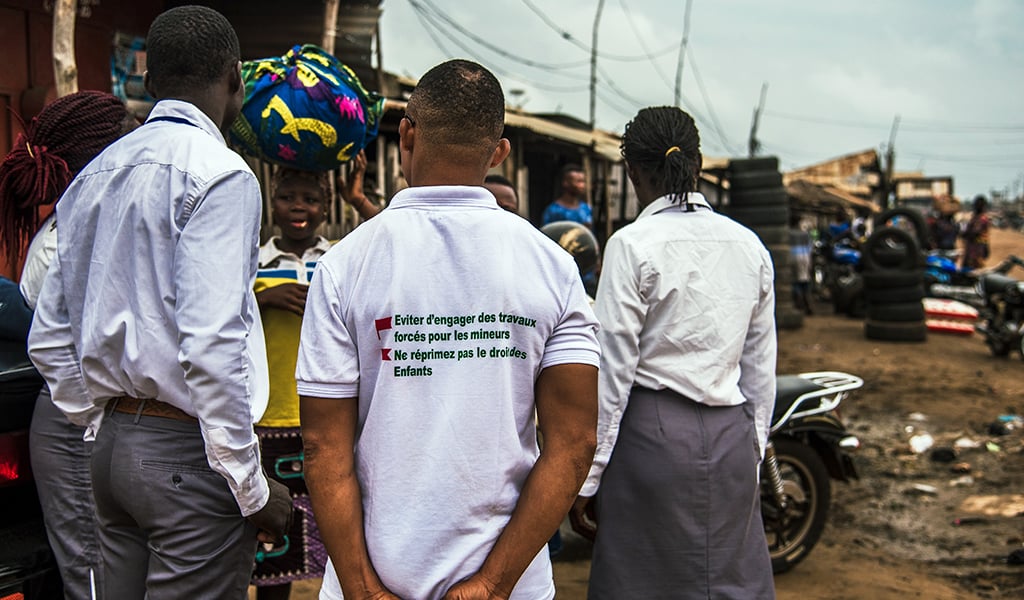 Love Justice transit monitors interviewing a young girl looking to cross the border in Benin.
In addition, this innovative technology identifies and examines patterns of suspicious financial transactions and connects them with publicly reported incidents related to labor and transportation.
As one of the first NGOs to test the platform and contribute data, we are privileged to be a part of this collaborative effort. Jon Hudlow, Director of Research and Analysis at Love Justice, shares, "The Traffik Analysis Hub brings together cutting-edge IBM technology with trafficking data from diverse sources, presenting an unprecedented opportunity for a more collaborative, data-driven approach to fighting human trafficking."
Taking action
Overall this strategic use of technology will help:
NGOs: to educate people and communities to prevent recruitment of victims and to rescue and help rehabilitate survivors.
Law enforcement agencies: to strategically pursue perpetrators.
Policy makers: to form smarter and more effective laws.
Financial institutions: to identify and freeze criminally obtained revenue.
Businesses: to ensure supply chains are free of exploitation.
Guillermo Miranda, Global Head of IBM Corporate Social Responsibility, states, "We're optimistic that technologies such as AI can be an important part of improving the lives of so many people. What's also key here is the collaboration of all the right organizations and sectors—public, private, and not-for-profit—addressing the issue together. They tell us that the shared knowledge and intelligence from the Traffik Analysis Hub will enable them to make real progress in addressing human trafficking." - PR Newswire
We are honored to be a part of this pivotal step forward in the fight to end human trafficking. With each one of us combining our skills, resources, and influence, we will be able to methodically dismantle trafficking networks, bring traffickers to justice, and empower innocent lives with freedom, hope, and a brighter future.