June 5, 2020
Our staff is responding to COVID-19 around the globe by working to bring relief to vulnerable people in 16 countries. To date, we have distributed vital provisions to over 60,000 people. Here are a few of this week's top stories:
Zimbabwe: Team Partners with Church Volunteers to Distribute to Many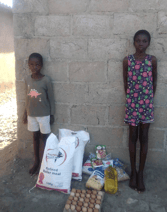 June 5 | To date, 5,910 individuals have received aid via LJI in Zimbabwe! Our team shared many stories and pictures from a recent distribution there. One volunteer said, "As I gave out the food baskets, I saw such joy and relief in the families we were helping, and I was so touched. What really touched me was that some of them had slept without eating, and their cries had been heard and answered. I rejoiced with them as they thanked God who has shown them such love."

One recipient was in the hospital when we were distributing the provisions, but our team was able to supply her children with food. She has since returned home healthy from the hospital, and she shared, "I would like to say thank you for the food my family received when I was so sick in the hospital. It was comforting to know that they were being provided for. I have no way to show how grateful I am. May God bless you so much."
---
---
Cambodia: Team Distributes Daily Hot Meals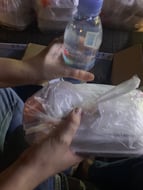 June 4 | Each evening from Monday through Friday, our team in Cambodia has been delivering hot meals to those trapped in prostitution amid COVID-19. "We give out 30 meals nightly but could easily hand out 50+. We are seeing the same 30–45 women each night. … They are some of Phnom Penh's most vulnerable. The virus situation has left them with little to no income. Many are having to sell what little possessions they have, and some have even been kicked out of their homes."—Team Member in Cambodia
---
---
South Asia: 49 Families Receive Aid

June 1 | In this distribution, 49 families received aid in South Asia. Most of the recipients are concrete makers and sand collectors who have been out of work due to the COVID-19 lockdown. They live near the bank of a river, and our trusted contact, a pastor, helped us identify them.
---
---
South Asia: 25 Families Receive Provisions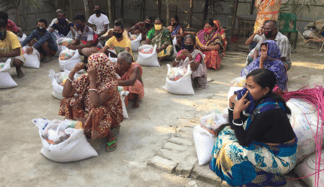 May 31 | By working with a local pastor, our team was able to identify 25 families in desperate need. They distributed packages to them that included rice, dal, cooking oil, potatoes, onions, salt, and soap—enough provisions to last each family for about 10 days. The beneficiaries of this distribution are primarily day laborers who work the land. With no land of their own, they are unable to grow their own food, and due to the COVID-19 pandemic, they have no other opportunities for employment. One of our staff members shared, "The local pastors have given thanks!"
---
---
South Africa: Large Distribution in Alexandra

May 31 | Most of the people working in Alexandra, South Africa, are daily wage earners who have been hit hard by their inability to work during the lockdowns. Our trusted contact Philemon works with an NGO called Leaves of Healing which sources food to give to the local communities. Recently, Love Justice partnered with them to identify vulnerable people and supply food to those who need it most.

In response to the shutdowns, Leaves of Healing has set up a temporary feeding program in Alexandra, operating out of a small two-by-two meter home that houses a kitchen, bedroom, and lounge all in one. Volunteers work in the kitchen, a makeshift emergency cooking room, and each day, they fill about five large pots in preparation for the rush of 300 children who reside in the nearby squatter camp. Philemon said, "We just want to make sure they get something every day, even if there is no meat—something that just fills their stomachs." By partnering with them, Love Justice was able to provide 1,875 highly fortified meals.
---
---
It costs a little under $4 to feed a starving person for a month, $15 for a family. This is the actual amount we are giving people based on calculations about the minimum needed for basic necessities for those with absolutely nothing, using nationally appropriate food staples. There are more people out there than we are able to help, and for those who are desperate, the first bag of rice is more important than the second. Visit here to find out how you can get involved today. You can also click here for the latest update from our president and founder as he shares about the current crisis and our plan to serve those who need it most.
*All content, data, and statistics current at the date and time of publishing. Names are changed for security and privacy purposes.