Recently, our team in South Africa was able to provide essential provisions to a small children's home located in Hillbrow, Johannesburg. Little Ruby's is a place of love and safety for 22 children between the ages of three months and four years. All of the children living at the home have either been abandoned or come from homes where they were neglected or abused. This safe haven for children does not currently receive any government funding or sponsorship, and they only have the barest necessities on hand.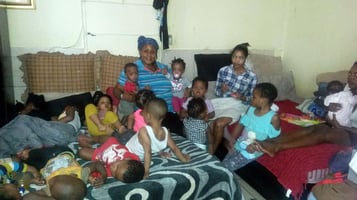 Little Ruby's was originally established by a woman with a heart for the neglected children in her community. Initially, she used her pension to give the children as much as she could. However, the need has grown and become increasingly more than she is able to provide for on her own.
In an effort to meet the needs of these precious children, Little Ruby's has begun a partnership with Skyward Charity, and together they are starting the process of registering Little Ruby's in order to qualify for government funding. However, with the outbreak of the COVID-19 pandemic, available funding has been scarce. Thankfully, Love Justice was able to step in and provide them with formula and diapers—their most urgent needs—during the lockdown.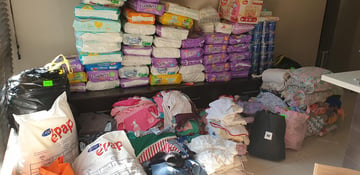 In addition, our team in South Africa managed to collect two carloads full of second-hand baby clothes, blankets, and mattresses that will hopefully make the upcoming winter months more bearable for these beautiful young lives. Our team was overwhelmed with the support for this initiative, and they collected far more than the need required. This will also enable Skyward Charity to help a number of moms and soon-to-be moms with some baby essentials this winter. Love Justice is so grateful for the financial support that has helped us to reach so many people during this time. This particular project demonstrates the power of community—and we are so encouraged by the outpouring of generosity in all forms!
A member of Skyward Charity shared, "Thank you so much for the donations! I can't tell you how much it is going to help them [Little Ruby's]! I just phoned the founder, and she burst out in tears! They came to fetch the items today, and I also put together packs for moms in need. I have a couple expecting twins and a mommy that went into labor this morning that had absolutely nothing, to name a few."
To date, Love Justice has provided aid to almost 60,000 individuals who have been affected by the COVID-19 pandemic—and that number is growing every day. Visit here to learn more about our work and to find out ways you can join us in fighting some of the greatest injustices that exist in our world today!
*All content, data, and statistics current at the date and time of publishing.