The outbreak of COVID-19 has left approximately 80% of the daily wage earners in Asia and Africa without any means to generate an income. We are receiving reports from our staff in the countries where we work, indicating things have reached a crisis point for many. People are struggling to find food, and they are not able to feed their families.

In response to this sobering reality, we created our COVID-19 Global Relief Effort. One of our primary missions during this time is to identify people with the greatest need for food and basic daily necessities—people who will not eat unless someone is able to reach them. Jesus tells us, "Whatever you do for the least of these brothers and sisters of mine, you do for me" (Matthew 25:40). Right now, the "least of these" are those who cannot work and have no savings set aside to be able to buy what they need.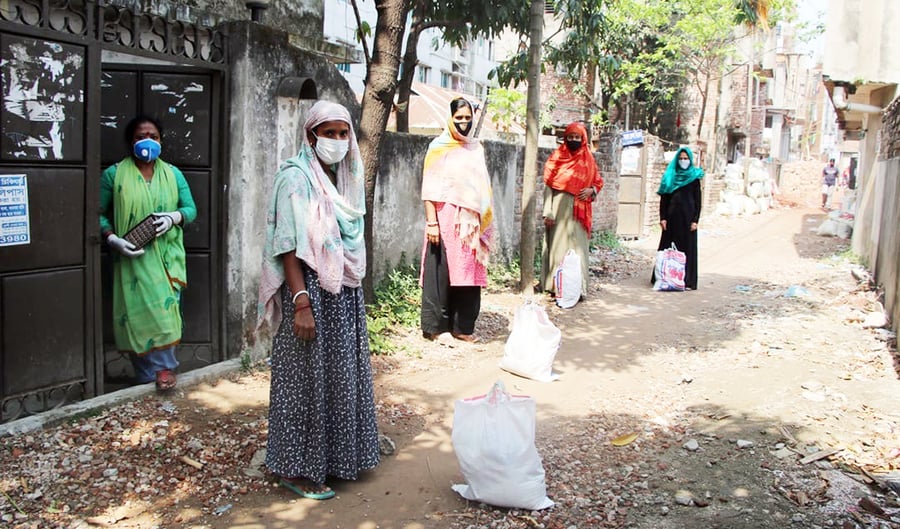 Our intent is to find these individuals and families who are suffering and provide them with essential supplies to survive during this pandemic. One of the key ways we have been able to locate people who are in dire straits is through partnering with the Church in the countries where we work.
Recently, our team in South Asia partnered with a local church to distribute food to 140 individuals. The recipients were women who have been trafficked into a notorious red-light district brothel, where many have been enslaved for years. The women had not eaten for several days, and they had no access to medical care. When the food truck arrived, they literally wept as they received their food packs. That day, they not only received life-saving supplies, but they also experienced dignity—many for the first time in their lives.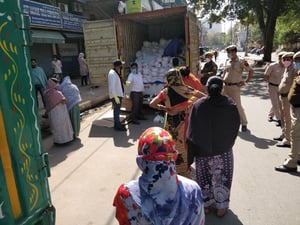 After this distribution, the LJI country director stated, "We've received some encouraging reports of other NGOs in the area now following suit and distributing supplies to the women trapped in these brothels. Initially no one was willing to risk going there because it is considered an unsafe and disease-stricken place. After we went, we contacted a few of them and gave them details of how we did our outreach. This gave some of them the boldness to go in, and thankfully over the last two days, a number of kits were distributed by other NGOs to women in the red light district."
This was not that particular church's first time reaching out to the women enslaved in that red light district. Every Friday, a group of women from the church visit there to minister, either through one-on-one Bible studies or a group worship time, and once a month they provide them with medical care. The pastor of the church shared his heart for this type of ministry, stating, "Created in the image of Christ, we are called to follow His example and to model His deeds."
In addition to our relief efforts in South Asia, we are also at work in 12 countries of Africa. Just recently we were able to partner with local churches in Zimbabwe in locating vulnerable people struggling to earn a livelihood.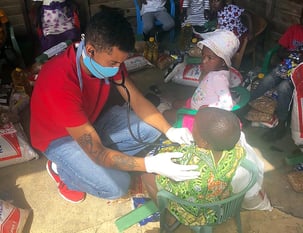 In Zimbabwe, 90% of the population survives hand to mouth, and the lockdown is prohibiting people from being able to go out and look for a way to sustain themselves. In addition, 65% of the total population lives in rural regions and makes their living from farming, which has not been producing anything substantial.
Tragically, it's life as usual in most parts of rural Zimbabwe, and the pandemic has worsened the situation for those living in these areas. Normally, they would receive funds from their relatives, but that is no longer the situation at hand. In addition, many small businesses have permanently closed because they have been deemed unnecessary during the lockdown and will be considered irrelevant when this pandemic is over.
To date, through partnership with local churches, we have been able to distribute essentials to 130 families in Zimbabwe, and a total of 577 individuals have benefited from these relief efforts. Some of the supplies we have been able to provide include mealie meal (a food staple), cooking oil, sugar, salt, soya chunks, dried beans, tea bags, soap, and rice. With the amount of provisions we have distributed, an average family of four people can survive around two weeks. One of our partners in Zimbabwe shares his heart about the relief work being done in the following video:
One of the beneficiaries shared, "You watch the children and think that one day they will die due to starvation because there is literally nothing to give them except for water. I don't know what to say because of the assistance you've offered me and my children in order to survive. May the good Lord bless you and everyone who facilitated getting this food to me and my family."
We continue to work as quickly as possible by mobilizing our staff around the globe to purchase as much food as possible to distribute to those who are in dire need. However, there is still much to do and many people who need our help.
Love Justice is blessed to have a dedicated community of churches partnering with us and helping to fuel the crucial work being done in the countries where we serve. Churches like Port City Community Church in Wilmington, North Carolina. In response to the current crisis situation, their staff members recently donated their vacation pay to our COVID-19 Global Relief Effort.
"We are so grateful and honored to support your teams and the work you are doing around the world to live and share the gospel. This donation is a gift from the staff of our church who can't currently come to help so we've paid out some vacation days to resource your team to be the hands and feet of Jesus in so many communities. Thank you for your love, your obedience, your sacrifices and your partnership in building God's Kingdom." – Port City Community Church
The need is great—now more than ever before. People across the globe are desperate for food and basic daily provisions to survive, and they need our help. Together, we can make a difference during this unprecedented pandemic, one life at a time.
"In all the vulnerable areas we serve, we think the Church is the key to help us with food security everywhere. ... This is our time, and we have to rise to the occasion." – LJI partner in Zimbabwe
*All content, data, and statistics current at the date and time of publishing. Names are changed for security and privacy purposes