June 26, 2020
We continue to distribute essential provisions to those most vulnerable of suffering from starvation in 17 countries around the world. To date, we have served over 70,000 individuals, and that number continues to grow as we diligently look for people in need. Here are some of this week's outreach stories.
Laos: LJI's First Distribution in the Country Feeds 15 Families

June 25 | We have established a relationship with a trusted contact in Laos and have begun distributions in the country! Our team just received news of the first occurrence in which 15 families received aid. More details to come!
---
---
South Africa: 400 Families Receive Food in Hillbrow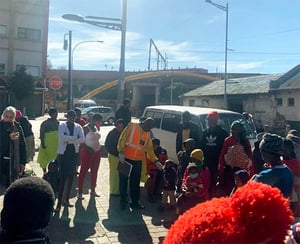 June 23 | During the course of their two-month lockdown, Love Justice South Africa ran a survey to understand more about the needs in their country. In a short period of time, they received almost 2,000 responses from individuals willing to share their experiences of how the lockdown had impacted them.
The survey showed that the weekly incomes for families had decreased dramatically, with most people only earning a quarter of their normal income and a quarter of respondents being left with no income at all. Many were previously working as servers, domestic helpers, construction workers, gardeners, and cashiers; for these daily wage earners, employment is precarious at best. Those who had run their own businesses, possibly in the informal sector, had to close them due to the lockdowns, and they were left without a viable way to make any money.
Of the respondents, 513 people asked our team for help, and Love Justice South Africa set out to see how they could meet their needs as best as they could. This distribution in Hillbrow (pictured) came out of their survey results. They fed around 800 individuals—a total of 400 families!
---
---
South Asia: 13 Families Receive Aid

June 21 | One of our teams in a country in South Asia distributed food to 13 families. Our team member shared about one beneficiary: "This photo is of an 81-year-old woman who lives alone. She has a son and daughter also, but they do not take care of her. During her old age, it is hard for her to fulfill her basic needs. When our staff visited her house with relief aid, the pain of loneliness and pain clearly seemed in her eyes. Thanks to LJI who managed to support the needy people like her who are going through their hard situation to meet their basic needs due to the lockdown. She was overwhelmed with the joy after receiving food items as a support for her. The tears of happiness and joy were in her eyes. She was so grateful for providing her support which meant big help for her."
---
---
Bangladesh: Three Weeks of Food Delivered to Families in Sarodagonj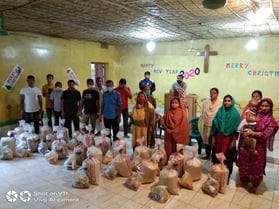 June 19 | LJI Bangladesh delivered packages of lentils, rice, oil, potatoes, salt, and soap—enough provisions to last each family three weeks. One of our team members said, "They are very needy and disadvantaged … but they are faithful to the Lord Jesus Christ. They have seen God's love through this distribution. They are so grateful to God and donors for this wonderful gift."
One beneficiary said, "I lost my husband last year. And because of COVID-19, I lost my job last month. My 10-year-old son is suffering from lack of food. This relief will help us to survive a few days more. Thank you very much."
---
---
It costs a little under $4 to feed a starving person for a month, $15 for a family. This is the actual amount we are giving people based on calculations about the minimum needed for basic necessities for those with absolutely nothing, using nationally appropriate food staples. There are more people out there than we are able to help, and for those who are desperate, the first bag of rice is more important than the second. Visit here to find out how you can get involved today. You can also click here for the latest update from our president and founder as he shares about the current crisis and our plan to serve those who need it most.
*All content, data, and statistics current at the date and time of publishing. Names are changed for security and privacy purposes.