June 12, 2020
Here are a few of this week's top stories from our ongoing COVID-19 relief efforts to provide essential provisions to those most vulnerable of suffering from starvation. We are currently working in 16 countries to meet this growing need.
Cambodia: Bulk Rice Distribution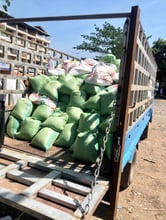 June 11 | The team in Cambodia has been doing some bulk rice distributions. They were originally planning to give 50-kilogram bags to 100 families. However, our community leader in the area's most impoverished slum decided it would be better to give less rice to more families. So, we repacked the rice into 320 10-kilogram bags.

The distribution was a huge success. In addition to providing food, the team was able to pray with many individuals and share a corporate gospel message. Our country champion said, "There were too many hands to count that raised their hand as having never before heard of Jesus ... and too many hands to count that decided to follow him. So many of these persons were truly hopeless ... most with little to nothing to eat, with limited to no employment. Thanks for making it possible to serve them!"
---
---
South Africa: Youth Center in Ga-Rankuwa Receives Food

June 10 | The Tshedimosetso Youth Center in Ga-Rankuwa, South Africa, is a place of safety and care for many of the community's children, a place where they know that even when there is no food on the table at home, they can go to the center for some food.

There are 86 vulnerable, orphaned children who are a part of the youth center. Many are HIV-positive and need food for their medication. Usually the government funds a meal per day at the center, but since the lockdown, they have not funded food. The majority of the families in the community are headed by grandmothers who likely are using their pensions to look after their family members. With children not receiving food at the center or at their schools, these meager pensions would not have been able to stretch very far during lockdown.

In this distribution effort, Love Justice was able to provide food aid to 344 individuals in the community. A leader from Tshedimosetso Youth Center said, "We thank Love Justice for opening their hearts to us and donating food parcels. Your generosity will really benefit the school children and their families. It is such a big relief in this pandemic!"
---
---
South Africa: Foreigners Living in Warehouse Receive Aid
June 9 | Living in a foreign land comes with huge challenges. Most people move to South Africa in hopes of being able to support their families living back in their home countries, and they often come with little more than the clothes on their backs.
In Alexandra, South Africa, we delivered food to an abandoned warehouse—home to 19 foreign families trying to make it in a land that can be hostile to their presence. The warehouse is dark, its concrete floor harsh and cold. Broken-down cars lie scattered in between cornered-off rooms made from bricks. Washing hangs from a line outside. Warehouse-style toilets are shared by over 100 people. A big water tank with a pipe sits, broken, in the back.
Lockdown is particularly difficult for foreigners who are not eligible for grants and who work as domestic helpers, gardeners, or mechanics. These daily wage earners haven't been paid since the shutdowns started. Love Justice partnered with a trusted contact named Pastor Philemon and an organization called Leaves of Healing to find these vulnerable people and provide enough food to last each family for a month. During the distribution, one beneficiary shared, "We are surviving on what Pastor Philemon brings us."
---
---
Liberia: Single Mothers and Children Receive AidJune 8 | Our relief effort projects in Liberia continue to grow. Our country director, who is a pastor, partnered with the head of a single mothers' prayer fellowship group and distributed essential aid to 30 single mothers and their 64 children. The food will last these 94 individuals for approximately 25 days! The recipients are dedicated mothers who are struggling to provide for their families during lockdown because most of them own small businesses and live hand to mouth. Our trusted contact said, "Any help is greatly appreciated. We have empowered several of them!"
---
---
Bangladesh: 50 Families Receive Aid in Dhaka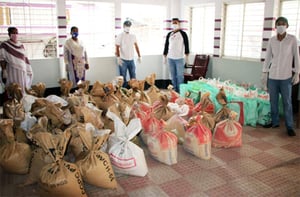 June 7 | Our team in Bangladesh distributed aid to 50 families in Dhaka. The beneficiaries of this distribution were either neighbors of our staff or were identified via a trusted contact. Most of the recipients are day laborers, rickshaw drivers, and domestic helpers who are out of work due to the lockdown.
One of our staff members said, "All the people were very happy. They had blessed our team members and our organization. Some people said to us that their house was empty, like no food. ... Some people said to us that minimum three weeks they will survive through this help."
---
---
It costs a little under $4 to feed a starving person for a month, $15 for a family. This is the actual amount we are giving people based on calculations about the minimum needed for basic necessities for those with absolutely nothing, using nationally appropriate food staples. There are more people out there than we are able to help, and for those who are desperate, the first bag of rice is more important than the second. Visit here to find out how you can get involved today. You can also click here for the latest update from our president and founder as he shares about the current crisis and our plan to serve those who need it most.
*All content, data, and statistics current at the date and time of publishing. Names are changed for security and privacy purposes.