I'm a blessed man! I'm 73 years old and have the best job in the world. People often ask me when I am going to retire, and I think to myself, "Why would I? What in the world would I do with my time?" I've always said that I wanted to finish strong. I have zero desire to spend the remaining years of my life on this earth sitting around preparing to die while doing stuff that lacks any kind of kingdom value. So, if possible, and if the Lord is willing, I would like to do this work until God calls me to my forever home!
So, why do I have the best job, and why do I not want to stop doing it? Well, I think those two questions were emphatically answered for me during my latest trip to Nepal and Bangladesh. This trip afforded me the opportunity to see up close and personal how amazingly God has been working in the lives of our children. It's been over 14 years since the first of our children became a part of our family home ministry. Throughout those 14 years, I've had the privilege of developing special relationships with so many of these kids and watching them mature into young adults.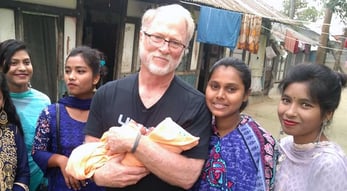 The joy of sharing life with them is something that is very difficult for me to put into words. It's like having another family to love, only they are half a world away. On this trip, I was privileged to experience two very special joys:
Joy Number One: Priyanka. Priyanka was the oldest of our children in Little Angels' Home in Bangladesh. Last year, she married and shortly after became pregnant. It just so happened that I was in Bangladesh soon after she delivered her daughter. So, I got the amazing privilege of meeting our ministry's first grandchild! It wasn't a private visit, however. It was a flat-out village celebration. When I arrived, I was greeted by nearly the whole village. Priyanka immediately placed her newborn daughter in my arms, and then we hugged and cried. She asked me to pray for her baby, which was a huge blessing for me. To share in that moment is something I will never forget! She told me that her desire was to raise her daughter to be a wonderful testimony of God's grace in this highly Muslim country. In the words of the apostle John, "I have no greater joy than to hear that my children are walking in the truth" (3 John 1:4 ESV).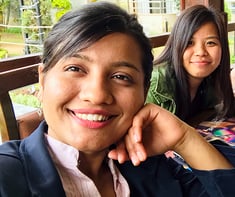 Joy Number Two: Nomika and Manita. There is a special joy watching your children grow up into mature, responsible young adults. To watch Nomika and Manita grow from struggling, young girls who were orphaned after their parents died from AIDS, into loving and caring adults who have an amazing relationship with the Lord is a joy unspeakable! Having breakfast with them and listening to their stories almost made my heart burst with thankfulness for what God has done in their lives! The impact that Nomika will have as a teacher and Manita as a nurse in their country for the kingdom of God is exactly what we prayed for when we first started our family home ministry.
So, if you are wondering whether or not your prayers and generosity are making an impact in the lives of those children that you sponsor or in this children's ministry that you support, the answer is an emphatic YES! It's exciting to see the Nomikas, Manitas, and Priyankas of our homes begin to impact their nation for Christ by becoming godly mothers and fathers, husbands and wives, teachers, nurses, doctors, businessmen and women, worship leaders, and pastors, and more—much, much more! To God be the glory for the great things He has done!
*All content, data, and statistics current at the date and time of publishing.