Recently, our team in Benin received an anonymous call about six minor girls located at the border who seemed scared and were accompanied by a suspicious-looking adult male.
Immediately, our team went to the police station to tell them about the information they had just received. The police then escorted our team to the location where the girls were last seen. Thankfully, the girls were still there and seemingly unharmed. Unfortunately, the suspected trafficker fled the scene and was unable to be apprehended at that time.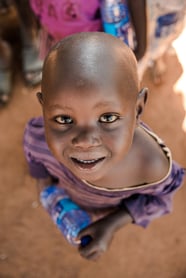 From there, the six young girls were taken to the police station where our team worked with the officers to help contact the girls' parents who had been frantically looking for them for several days. Apparently, the girls had left their village without telling anyone where they were going. After some brief questioning, one of the girls explained that they were promised work as domestic helpers by an acquaintance but were told not to inform anyone of their plans.
The parents were incredibly grateful for the intervention efforts of our team and the authorities. All six girls were reunited with their families, and the police are continuing their investigation in an effort to locate the suspected trafficker.
Through transit monitoring and interception, we attack trafficking at the most strategic moment—while it is in the process of occurring and BEFORE exploitation and enslavement. To date, we have intercepted over 18,000 individuals, just like these six girls, to prevent them from being trafficked.
Watch the following video for a chance to meet our transit monitoring team in Benin and get a little glimpse into the important work they do every day.
We currently have 265 transit monitors working in 45 stations in 13 countries. The dedicated support of our donors makes their vital work in the field possible. Learn how you can get involved and become an integral part of stopping lives from being sold into human trafficking today.