Our children's ministry continues to grow and thrive. With the creation of our first family home in 2004 to the launch of our education center, The Dream School, in 2015, it has proved to be a true testament to the hard work required to successfully nurture and empower our children to be all that God has called them to be.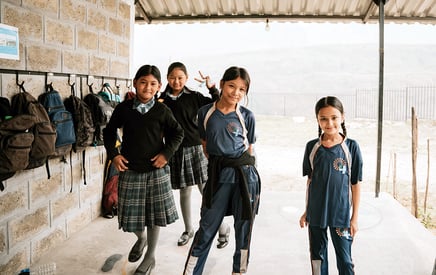 Throughout the last decade, with the vital support of our sponsorship partners and donors, we have dedicated our time and resources to ensuring that all the moments leading up to our children graduating into the world would enrich and nurture them to lead flourishing lives that make an impact in their communities.
This has gone beyond creating an environment in our homes that is as environmentally nourishing as possible. It has also included improving their education through attending The Dream School. The goal of the school is to provide excellent education to the children in the Love Justice family homes as well as the surrounding community. We allow children to ask questions, and we are willing to research together if we don't know the answer.
Our learning process focuses not just on gaining knowledge from a textbook but also on the development of critical thinking and creativity and the acquisition of necessary life skills. We have carefully selected our curriculum and resources in hopes of helping students gain the skills, knowledge, and experiences they need to break the cycle of poverty.
We recently started holding weekly contests at the school that students can choose to participate in. These contests include photography, writing, art, and more, and we feature the winners on our school's social media pages. The most recent contest involved poetry writing, and our Class 9 winner was Rachana*, a member of one of our family homes, who titled her entry "Where I Am From."

---

---
Overcoming the challenges of online education during the pandemic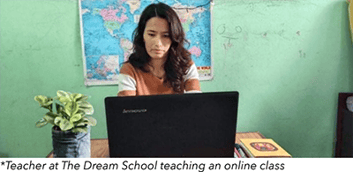 At the onset of the COVID-19 pandemic, The Dream School was one of the fastest schools in the country to adjust and move to online learning. Since that time, it has been a constant transition between virtual and on-site education, and with each return to online learning, we have had to find new ways to get students and teachers the devices they need. Amid all the uncertainty, however, our staff, students, and parents have been amazing.
Throughout the pandemic, classes have often been conducted online due to government regulations. Although the back and forth of virtual to in-person learning has been stressful, our teachers have done a tremendous job adjusting to the constant changes. Not only have they smoothly transitioned back to Zoom classes, but they are also working hard to create engaging online learning opportunities.
We are so proud of how our teachers have responded to the challenge of virtual education. Most of them don't own their own computers and never received any type of computer education when they attended school. So when we initially switched to online learning, we started with the basics, teaching different computer literacy skills and even enrolling our teachers in a typing course.
Our teachers were motivated to overcome obstacles, acquire new skills, and master the art of online teaching. When people from other schools observed our virtual classes, they were amazed at the resources our teachers used and were impressed by their ability to manage class time well. Throughout all of the challenges, our teachers have persevered with an unyielding determination to meet the needs of their students.
Quotes from The Dream School community

"My favorite part about The Dream School is that we are supporting students with emotional needs." – Dipen, teacher

"I appreciate how every teacher is treated with the same respect and the school environment is very encouraging and loving." – Prisca, teacher


"One thing I have learned since coming to work at The Dream School is it is important to not waste time but find a different way to teach kids so they can learn easily. (Every single second is very important!)" – Pramilla, teacher

"My favorite part about The Dream School is that the teachers try their best to make the students good listeners, thinkers, learners, and implementers through centered teaching with a great curriculum for every class." – Indra, teacher

"My favorite part of The Dream School is the love the students have for each other. They accept one another's differences and care for one another well. Their love for one another is the purest evidence to me of their hearts for God. It's beautiful to witness." – Hillary, teacher

"When I started my job at The Dream School, it was very hard for me because I had no knowledge or skills about the technical tools. But there were so many staff who helped me to use Google Drive, Slides, and Docs; Zoom; the printer; etc. So my journey of building myself and learning new skills has been one of my favorite memories while working at The Dream School." – Sabina, teacher

"My favorite part about The Dream School is the teachers. They are so friendly and supportive. And another part is that we can play basketball with our friends. One thing I have learned since coming to The Dream School is to be free to do things and speak for yourself. The things that make our school unique are our school management, teachers, and staff." – Pragya, student

"We have cool teachers and special events like clubs, geography camp, splash day, etc. That makes our school unique." – Amos, student

"Our school teaches us in a different way than other schools. I've learned that we should always love others, and we should work in unity." – Dipesh, student

"One thing that l learned since coming to The Dream School was how to make cakes and cupcakes in the baking club. One of my favorite memories from going to school at The Dream School was splash day because when we played, we all forgot our problems and focused on playing games." – Sumina, student
Visit here to learn even more about our children's ministry and to find out impactful ways you can get involved!
*All content, data, and statistics current at the date and time of publishing. Some locations omitted and names changed for the security and privacy of those involved.