A young tattooed girl stood in line for the ticket booth with two older women. The sun at its peak looked down through a hazy sky. Great hulking vessels waited lazily in the shipyard while people milled about over the docks, dragging luggage and readying for departure.
This port in Indonesia is a hotspot for human trafficking as the ships carry people throughout the many islands of the country. Indonesia is the fourth most populous nation in the world with some 280 million inhabitants spread across thousands of islands.
Love Justice opened its first station here in October of 2022. Though we normally target larger cities, we chose two smaller port towns to survey the volume of people moving through the islands as a whole.
"Are you gonna miss home?" one of the older women asked.
The tattooed girl clutched her bag tightly. Her brothers had been allowed to continue their education post pandemic while she had to find work; only there didn't seem to be any jobs. Her family acted like she was just too lazy to find employment.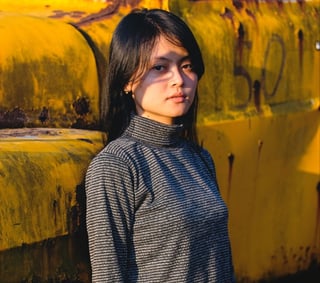 "What home?" she replied.
In the wake of the pandemic, Indonesia battles mass unemployment and a severe decrease in job opportunities. Women are at a higher risk in this recession since they typically hold lower income jobs and are not as highly valued in their culture as their male counterparts. Additionally, many women do not have proper identification documents, meaning they are not eligible to receive aid from government programs.
The pandemic also inhibited education since impoverished families did not necessarily have the resources to continue in an online format. (*Photo by Damar Jati Pranandaru)
These disadvantages turned into major risk factors as women became more desperate to find jobs to provide for their families. The Global Slavery Index estimates that 736,100 people have been trafficked and are living in slavery throughout Indonesia.
The tattooed girl and her travel companions moved slowly closer to the front of the line. Only a few people now stood between them and the tickets that would grant passage to a new life. She'd just met the other women at the port—they were all following the same job offer on another island, waiting tables at a night café. (*Photo by Fikri Rasyid)
There was no way for her to know that the night café was merely a front for a brothel; that upon arriving, with no means to get back home, she would have no other option but to take the job. There was no way to know that this new life would not be an opportunistic stepping stone to the future, but a life of slavery.
But before they reached the front of the line, a person with a badge and a clipboard intercepted them…
Love Justice operates at this port using our transit monitoring strategy. Trained monitors look for situations that indicate trafficking, such as this young girl traveling with two older women clearly unrelated to her. Through simple conversational questions, the monitors identify further red flags to confirm or deny whether the person is truly at risk for human trafficking. If risk is high, the monitors educate the individual on the risk they may be taking and offer resources to help them get to safety. If appropriate, the monitors may also work with police to arrest the suspected trafficker.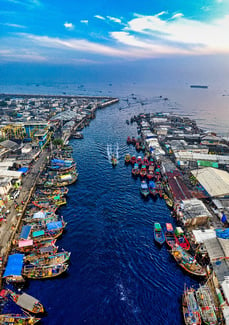 Although this particular girl was at highest risk for sex trafficking, labor trafficking is also common across farming and fishing sectors. The Global Slavery Index lists the palm oil industry as harboring some of the worst forms of child labor and the fishing industry as being responsible for trafficking fishermen from neighboring countries. (*Photo by Tom Fisk)
Our monitors have intercepted 23 people at these ports since opening the stations in October. They are working hard to build relationships with local law enforcement to be even more effective.
The tattooed girl, 17 years old, was a real person the monitors intercepted. Her destination was an area prolific with sex trafficking, and her search for a job far from her family while still a minor made the likelihood of her being trafficked extremely high.
"Humans are not products or goods," said Rolly Anthony, Love Justice's project manager in Indonesia. "Humans have a value and purpose in life set by God as a noble creation."
We are so thankful to extend our work into new countries like Indonesia, to keep more people free. Thanks for making this expansion possible with your giving! To learn more about Indonesia and our work there, visit the country page.
*Feature image photo by Ahmad Syahrir
*All data and statistics current at the date and time of publishing. Names changed, and some specific locations excluded for privacy and security purposes.