About an hour outside of Seattle, in the little town of Buckley, Washington, a coffee shop makes a global impact in the fight against modern slavery.
Walking into the large house-like building on Main Street, you'll see high ceilings with chandeliers, hardwood floors, and a bright, minimalist aesthetic featuring white tile and greenery. There's probably people sitting on the couch in the corner, others working on laptops; and the general din of conversation, laughter, coffee grinding, and milk steaming. On the wall behind the espresso machine is a mirror with a number on it—the total number of dollars to date that they've donated to Love Justice.
Luke and Tanya Wilbanks, the owners of Anchor House Coffee Roasters, make a big impact donating ten percent of their profits to Love Justice; but they make an even bigger impact through their commitment to providing a place of authenticity and belonging. As relationships build within their walls, the Wilbanks have inspired others to come alongside them in the fight against slavery. From the plant seller (Woodland Park Greenhouse) who also decided to donate ten percent of sales, to a 5k/10k race, and a Freedom Dinner, this powerful community works together to stop the crisis of global human trafficking.
The Heartbreak
Some 20 years before Anchor House opened its doors, from 1999–2001, Luke Wilbanks spent two years alone in the wilderness of Alaska, living off the land and transforming an old trapper's homestead into a wildlife-viewing/fishing lodge. The loneliness of those two years took its toll. Coming out of that time, he slipped into a deep depression and traveled to South America to take his own life.
Walking through South America, Wilbanks' health started to fade. He stopped eating and his feet got infected walking barefoot. One day, on the streets of Cusco, Peru, he pulled out the Bible he'd packed in his backpack and began reading.
"Jesus opened my eyes to see Him as a gracious Savior, and life was given to me by grace alone," he said of that time.
After that transformative moment, Wilbanks began to notice the needs of other people around him. His heart began to break for other people's suffering instead of simply dwelling on his own.
In 2007, Wilbanks teamed up with World Vision to walk 7,000 miles across 12 countries, speaking at various gatherings to raise awareness and encourage people to sponsor children orphaned by AIDS. Everywhere he went, people would come up to him after he spoke to tell him about the problem of human trafficking. Near the end of the walk, he hit a breaking point on the West Coast when he heard a story of a 1-year-old child that was pulled off a man in an alleyway.
"I just remember being on the side of the road somewhere in northern California on the coast, weeping and being angry and frustrated and feeling helpless," Wilbanks said. "I was like, 'God, help. I don't know what to do.'"
Beginnings
After the walk with World Vision, Wilbanks returned to Seattle where his future wife worked as a barista in Ballard. They fell in love and got married in 2010 before moving to Buckley and helping to pastor a church.
"We were living in Buckley, wondering what to do with our lives, and we passed by this old abandoned building. Luke felt like God pointed this building out to him," Tanya Wilbanks said.
In 2015, the housing market took a sudden turn, and they were able to purchase the building for a very low price. They put their house up for sale, and it sold that same night.
The building, which was originally a mortuary from 1923, needed a lot of work. The Wilbanks moved in upstairs, and the community came together to help renovate and contribute services like flooring and plumbing.
They started out simply roasting coffee while building renovations took place, and then seven years after purchasing the building, in November 2021, Anchor House Coffee Roasters opened its doors to the public as a coffee shop.
With the burden for human trafficking victims heavy on their hearts, the Wilbanks wanted Anchor House to be more than just a coffee shop. After spending some time researching organizations, they chose to partner with Love Justice, drawn by our organization's desire to glorify God in our work as well as by the tangible impact of intercepting people before they are trafficked.
Run to End Slavery
The small-town coffee shop gem gained popularity quickly. Janet Russell and her husband met the Wilbanks at church and soon fell in love with Anchor House Coffee Roasters. Even though they didn't live near Buckley, they started going there for cinnamon rolls, cocoa, and coffee after running 5ks together with their 4-year-old son.
"They were just awesome people and we loved that," said Russell. "It felt like community; it felt like home, felt like family. We all became friends."
One day when Russell and her family were about to leave the coffee shop, Luke Wilbanks asked if she would be interested in putting together a race as a fundraiser for Love Justice.
"I kind of looked at him, and in my heart it was like an automatic yes. This is something I want to do. I was like, 'I don't know if I can do it; I've never done something like this before, but I'm gonna say yes. Let's just try,'" Russell said of that moment.
The race took place in August of this year with 30 volunteers and 243 runners. "The whole day went better than we could have expected. It was a lot of work but so gratifying to be able to do something for other people," Russell said.
The race brought in $18,600 towards ending slavery. "I can have a greater impact by raising money and giving it to an organization that is already an expert in this area," Russell said. "LJI has already paved the way."
On human suffering, she adds: "If you can give people hope, they can get out of their trauma, depression, whatever it is. That's a beautiful and hard thing, that heartbeat of hope. When you walk into that coffee shop, it feels like family. It's really just God being present there, a place of hope and healing. This is bigger than just me."
Russell, along with the Wilbanks and other volunteers, is already making plans for hosting next year's race.
Freedom Dinner
A dinner fundraiser came about in a similar way. Tanya Wilbanks met some other women at church and one of them, Nicole Pavey, invited her to her home. She started looking through a cookbook she saw there called Dinner Changes Everything by Kelly Welk. The book was about hosting dinners to fundraise for nonprofits.
Wilbanks told Pavey she wanted to host a dinner fundraiser for Love Justice, and the two women met to plan. At church they invited some other women to join them: Sabrina Bjornstad, Tinell Skaug, and Sarah Crosby. (Photo by Jessica Beerman Photography)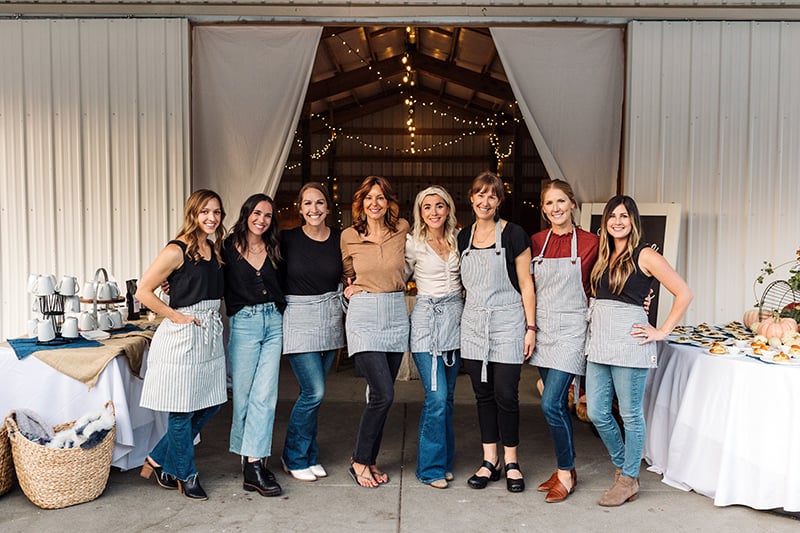 "We call over these other women and we are standing there talking about doing this, and it turns out every single one of them has this cookbook," said Wilbanks.
Skaug had even already considered hosting a dinner the first time she visited Anchor House, but hadn't told anyone about the dream.
On October 15 of this year, in unusually perfect weather for Washington, 20 people gathered at the Pavey residence for an eight-course meal together. People from all over the community donated their time and resources to the event so that the funds raised could be maximized. (Photo by Jessica Beerman Photography)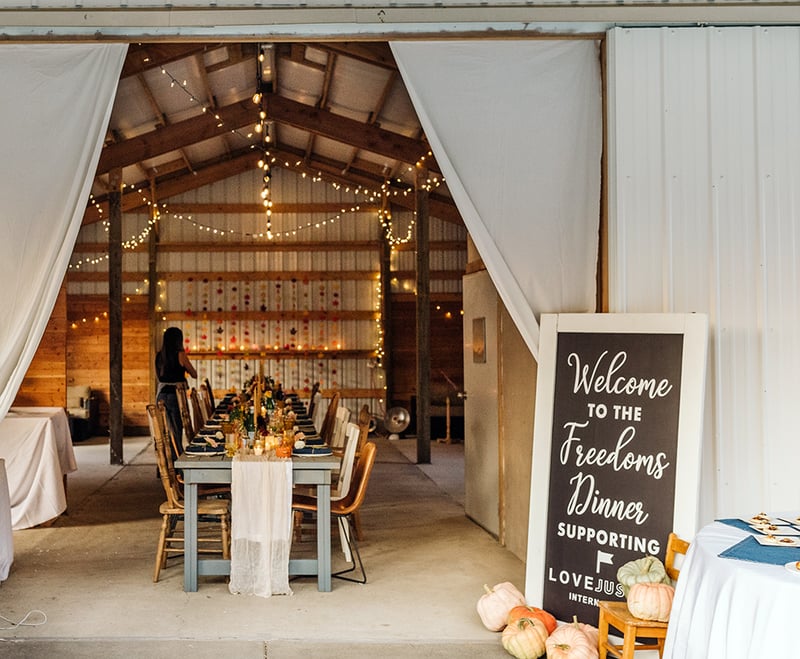 "One of my favorite parts about all of this is that we all have separate God-given talents and giftings, and we were able to utilize them collectively and prayerfully shine the love of Jesus through everything we did that night," said Skaug.
They, too, are already planning the next dinner.
Tanya Wilbanks said when they first started planning and dreaming for Anchor House, they thought they would plant a church through it. "We quickly grew out of that idea and got absorbed in the church we're at now, but God uses Anchor House as His church all day every day."
All the staff care deeply for the community and do their best to support, encourage, and even pray with customers as appropriate. People who have nothing in common become friends in the coffee shop. "It's like Cheers. We are so happy to be a place for our town to gather," she says.
We at Love Justice are so thankful to partner with our friends in the Anchor House community. They are a perfect example of how a community can come together to make a difference bigger and more impactful than any one person can do on their own. We are inspired by their commitment to this cause—to be so moved by injustice that they just had to do something, to be so open to saying "yes" to God's leading in their lives, and to so skillfully bring others alongside on the way. This truly feels like the kingdom of God at work here on earth.
Want to learn more about hosting your own fundraiser? Get in touch with our team at info@lovejustice.ngo and we'd love to support you in any way we can.
*All data and statistics current at the date and time of publishing. Names changed and some specific locations excluded for privacy and security purposes.