Two monitors stand watch in an African forest. There is a small river just down the steep bank where people often try to cross the border illegally. They've already intercepted two young boys and handed the suspected trafficker over to the police, but now the forest is quiet.
The monitors wonder if they should move on to a different spot, but they aren't sure where to go next. The border is hundreds of miles long, and the two of them can only observe a small portion of it at a time.
Then one of them gets a call on her cell phone. It's a food vendor who runs a booth near a different section of the border.
"I think I've got a case for you," the man says.
High-Value Contacts
Although our monitors can't be everywhere at once, they are creative and committed to finding innovative ways to increase their impact with the resources they do have. One of these strategies is to build relationships with high-value contacts (HVCs).
HVCs are people who are already in a position to gain information about human trafficking. These might be vendors or business owners in a strategic location as in the case above or transportation workers, hotel staff, etc.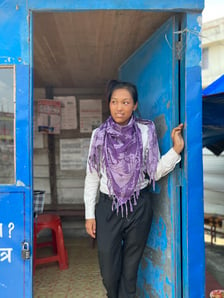 The monitors seek out contacts like these very carefully. They must confirm that a person is not only strategically placed but also feels compassion for victims of human trafficking and demonstrates a responsible and trustworthy character. Only when they are sure of these qualities will a monitor approach to invite their participation in this work.

Monitors arrange for HVCs to be compensated for every tip-off that leads to an intercept or arrest and do their utmost to ensure the HVC's safety.

HVCs have been a cost-effective way for us to multiply the number of people we have on the front lines, watching for signs of trafficking. Because of these amazing undercover partners, we've been able to reach so many more potential victims before they are trafficked!

Here are some of their success stories, with locations and names left anonymous to help protect those involved:

1. An HVC who runs a small business near a train station where our teams work has referred a total of 15 confirmed intercepts so far. At first he refused any compensation because he wanted the good deeds to add to his "Karma." But the monitors insisted, and he finally agreed to accept a small token of appreciation.

2. An HVC who sells bus tickets helped the team identify two sisters who were being trafficked and reunite them with their father. The HVC said, "I love what Love Justice is doing in saving lives. I am happy to be part of helping the team."

3. An HVC who manages operations at a transit location alerted the team to a trafficking situation happening while the monitors were attending a Sunday church service. This HVC was able to be our monitors' eyes and ears when they could not be present 24/7.

4. In one unusual case, smugglers—people who are paid to smuggle other people across the border—became valuable HVCs after monitors hosted a meeting with them to explain what they do. Smugglers are in a unique position to identify trafficking victims, as traffickers may interact with them and pay them to get victims across borders.

"It would reduce their profit; that's the amazing thing," said Briony Fickling, Love Justice's VP of anti-trafficking. "At first, they were very threatened by the monitors, often harassing and threatening them, but as they have come to know the monitors and learn about human trafficking, some have been willing to forgo their profit when they find someone they think is being trafficked. Even they know how badly people can be exploited and abused as a poor foreigner."
Now, the smugglers have a positive working relationship with the monitors and send them tip-offs regularly, without any money exchanged.
5. Monitors in one country developed a positive relationship with one of the immigration officials who was very interested in Love Justice's work and wanted to help in some way. The monitors worked out an agreement to pay him $100 a month for at least 10 referrals that lead to intercepts.
6. In another country, monitors don't have a monetary agreement with HVCs but instead regularly treat them to a coffee or cold drink. This has helped them show appreciation and develop these relationships deeper on a more personal level.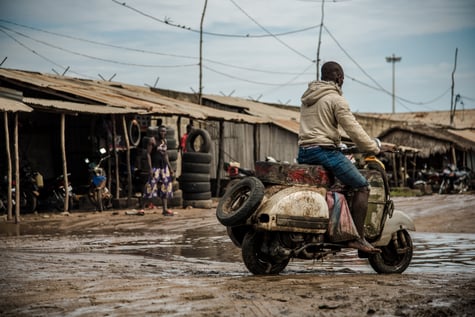 7. Lastly, one country has an entire network of covert undercover HVCs. Their identities remain anonymous for their protection, and they are compensated with a small amount for each intercept referred. These informants have helped this particular Love Justice team track down hundreds of cases of human trafficking.
Our monitors cannot be everywhere at once, but there are many other people already in a position to observe potential human trafficking situations. Developing relationships beyond our organization with key contacts like these helps us expand our reach at minimal cost.
We are always looking for ways to make the dollar stretch further and maximize our impact. We currently have one of the greatest impact-on-the-dollar strategies in the world at under $300 to save someone's life, and we are continually working to reduce that cost even further.
Our founder and CEO, John Molineux, said recently:
"Having lived in the developing world over the last 20 years, I've been surprised at how hard it is to turn money into impact. But as we've honed in on searching out the people, places, and tools to maximize mission impact, we at Love Justice are cracking the code. LJI has never been better positioned to turn money into impact than we are today, and there has never been a better time to partner in our work impacting lives around the world."
We are proud of our impact-multiplying strategies, and you can count on us to continue giving this work our all and our best. Click the button below to partner with us financially and release your impact on the world:
*All data and statistics current at the date and time of publishing. Names changed and some specific locations excluded for privacy and security purposes.