Zimbabwe is a country in turmoil. It has a history of political and economic unrest that continues to plague its people today. In addition, Zimbabwe has been a focal point for human trafficking throughout the years.
Today, the steady deterioration of the country's economic status continues to cause concern and unrest among its citizens. This uncertainty can prompt people to look for employment opportunities in other countries, resulting in an increased potential for innocent lives to become victims of trafficking.
This heightened sense of turmoil has caused our border and transit monitoring staff to remain vigilant as they look for suspicious behavior and red flags that point to a possible trafficking situation.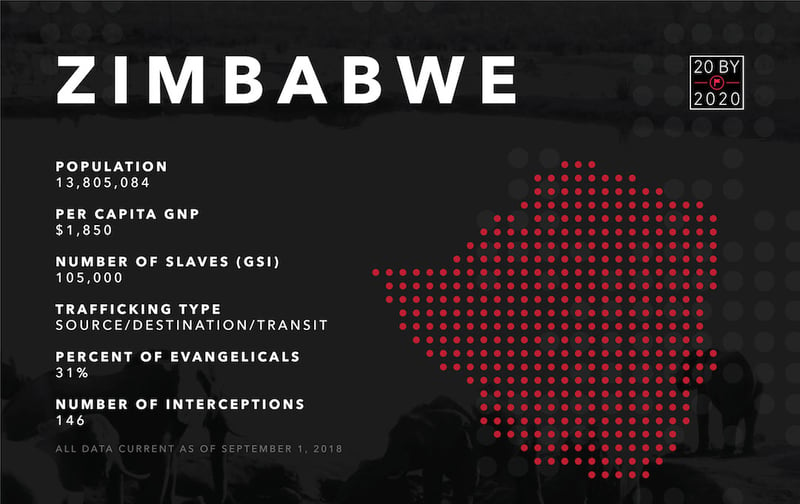 Zimbabwe has proven to be a prevailing source of human trafficking through the years. The U.S Department of State notes that there are continuous reports of Zimbabwean women being lured to China and the Middle East for work where they are vulnerable to trafficking, and this just scratches the surface.
Women and girls from Zimbabwean towns bordering South Africa, Mozambique, and Zambia are subjected to forced labor, including domestic servitude and sex trafficking in brothels—catering to long-distance truck drivers on both sides of the borders.

Zimbabwean men, women, and children are subjected to forced labor in agriculture and domestic service in the country's rural areas, as well as domestic servitude and sex trafficking in cities and surrounding towns.

Family members recruit children and other relatives from rural areas for work in cities where they are often subjected to domestic servitude or other forms of forced labor; some children, particularly orphans, are lured with promises of education or adoption.

Reports indicate that adults have recruited girls for child sex trafficking in Victoria Falls.

Children are subjected to forced labor in the agricultural and mining sectors and are required to carry out illegal activities, including drug smuggling.
We are so excited for the opportunity our dedicated donors have given us to continue growing our anti-trafficking work in Zimbabwe. Watch this video as our border guard in Zimbabwe, Shona*, shares her personal interception story and how she came to work for Love Justice:
Shona's story could have been drastically different if not for the generation support of people like you who make our work possible. There are so many lives in need of hope and a chance for a brighter future. Thankfully, even amidst the uncertainty across the country, our staff has still been able to continue functioning effectively, and they are successfully intercepting a steady number of individuals at risk of being trafficked.
**Names are changed for both privacy and security purposes.