In the heart of West Africa, young people flock to the gold mines, grasping at false promises of great wealth.
Burkina Faso—along with neighboring Ghana and Mali—is a major gold producer. Sharing borders with six other nations, Burkina Faso is a crossroads to them all.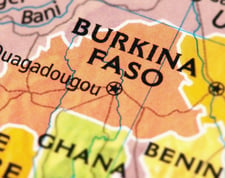 "They will work hard—digging, extracting the gold for people who are becoming rich from the exploitation. This is the way they do it everywhere," said Emmanuel Sam, LJI's champion for Burkina Faso.
People promise teenagers a lot of money if they will come and work in the gold mines, but without contracts or insurance they end up being exploited. To make matters worse, they can develop diseases from the chemicals used to refine gold or be injured or killed in a mining accident.
Several recent mining accidents gained attention this year, including an explosion in February that killed 59 people and injured more than 100 others, and a flooding accident in April that killed eight miners.
"We tell them, 'You are very young to be digging all your life. This is not good for your health. It's better you go back to your family, go back to school,'" said Sam.
The launch of Love Justice Burkina Faso
Sam became involved with LJI when a longtime friend and coworker asked him if he thought LJI's program could work in Burkina Faso. Together they prayed with Sean Mullens, LJI's director of champion recruitment, for three months about the possibility of piloting a transit monitoring station in Burkina Faso.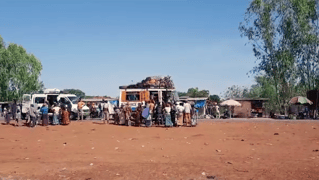 "After that time of praying, there was a silence," Sam said, explaining how he thought the opportunity had been lost. "I never knew that Sean was thinking about Burkina again; for me, it was finished."
Sam didn't know the process and legalities it would take for LJI to open in a new country, or that Mullens was already putting their plans into motion during this time. A few months later, Mullens called and asked Sam how he felt about starting the program.
"I responded without hesitation that yes, I feel this is an opportunity for my country regarding the situation."
LJI Burkina Faso launched shortly after, in November of 2021.
Trafficking in Burkina Faso
Apart from gold mining, other factors—such as forced marriage and child marriages—influence the trafficking scene in Burkina Faso.
Sam told of a woman they assisted who was caught in a forced marriage. Her parents had taken her out of school to marry an old man, but the man became violent and beat her. Finding herself pregnant, she ran away.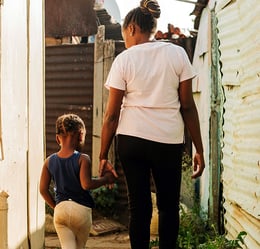 "We found her lying on a bench, and she explained her story to us. We asked her if she wanted to go back home, but she said her dad would not let her come back," said Sam.
Sam and his team called her parents to see if they could negotiate her return home, but the father was adamant that she should not come back. He felt that if she did, he would lose his pride and dignity since he had given her to another man.
The team was able to arrange for her to go and stay with her sister until she could figure out what to do next.
"I can tell you that we have many stories about these situations, and we never thought that this kind of thing was happening in our country," said Sam.
By the grace of God
Sam had an even closer encounter with trafficking just before starting work with LJI.
His 2-year-old daughter was home with a babysitter when a man came to the house, claiming he would take the baby for a vaccination per the mother's orders. The sitter said she had not heard any such thing from the mother and refused to give him the baby. He persisted, took the baby, and said he had to go quickly.
Fortunately, at that moment Sam's wife came home and saw the man holding the baby, still arguing with the sitter. By the time she had parked and come to see what was going on, the baby was back safely in the sitter's arms and the man had fled.
"They are doing these kinds of tricks in many families to steal the babies," Sam said. "But this time—this was really God's grace that we still have our little daughter."
With everything that is happening, we are truly excited to partner with Sam in working against trafficking in Burkina Faso. These stories underline the "why" behind our work. We believe in continuing the work of Christ—for the teen who dreams of a better life, the young mother stuck in an abusive marriage, and the baby stolen away from a loving family—we want to stand in the gap and fight these injustices.
"I think this is a ministry more than a job," said Sam. "At the stations, you talk to people, behave well, and be gentle with the people around you. And maybe they are safe, maybe they are not traffickers, but when they see why you are here and the way you live, it may touch them also."
*All data and statistics current at the date and time of publishing. Names changed and some specific locations excluded for privacy and security purposes.