Last month, our transit monitoring team intercepted three vulnerable minor boys named Rahul*, Mayank*, and Soham*. Our staff had been observing the boys and could tell that they seemed noticeably lost, scared, and confused.
Our staff approached them and began to ask them about their travel plans and what they were doing upon their arrival. During the interview, our team discovered that the three boys had traveled to Delhi from their homes in Bihar, India, two months earlier to work in a production factory making motorbike parts. While there, they had been forced to work 12 hours a day, 7 days a week, and were only paid monthly salaries of Rs. 4000 (around $56 USD) for their labor.
During questioning, the boys told our team that they had all been able to escape and were trying to find a way to return to Bihar, but they didn't have enough money to purchase their tickets. They shared that before they left home, they had been enrolled in a local school and if they were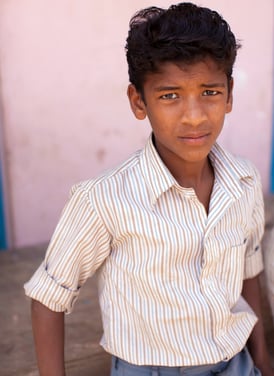 able to find a way to get back, they were hoping to continue their education.
Our team promptly offered their assistance, and Soham gave them his mother's contact information. When our staff called her, she was appalled to hear that the conditions were so abusive, and she explained that Soham had been sent to work in Delhi because they were a very poor family.
Once our staff members were certain the boys would be safe to return home, they educated them about the dangers of human trafficking and ways to safely and legally look for foreign employment opportunities in the future. Our team then purchased the boys' transportation tickets to return to their homes. The father of one of the boys referred our staff to his relative, Sunil*, who lives fairly close to where the boys were intercepted. Our team contacted Sunil, and he agreed to accompany the boys on their journey home.
The International Labour Organization estimates that there are 40.3 million victims of human trafficking globally, with 25% of that number representing children. Many of these children have either been abandoned by their parents, been forced to leave home because of extreme poverty, or suffered the loss of their parents due to disease or war, making them extremely vulnerable to traffickers.
Although not a direct solution or strategy in the fight to stop human trafficking, our family-like homes currently provide a safe haven for 213 orphaned and abandoned children who otherwise would have been susceptible to exploitation, abuse, and disease. Instead of facing a future without hope, these children are growing up in an environment designed to help them thrive—from the love that our house parents provide, to the quality of their education and diet, and even the time, space, and materials for them to live out the true purpose of childhood: play. You can learn more about our family home model by visiting here.
The work being done to end human trafficking and to provide a safe and loving home for orphaned children is a direct result of people like you joining us to fight these great injustices and empower lives with freedom and hope.
*Names and locations have been changed or omitted for privacy and security purposes.