"My name is Claire. I was a victim of circumstances that culminated in my arrest and suffering inside an Iranian prison cell. I was on a death sentence for five years. While I was behind bars, I remained faithful to Christ. His loving hand lifted me out of the jaws of death. This is a true story. Read carefully; I pray it blesses you wherever you are, whoever you are."
The strength of Claire's faith and wisdom is the outcome of a remarkable life and testimony.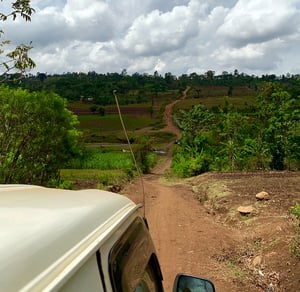 In April 2019, the team and I were traveling from Kampala, Uganda, to Lwakhakha, a town in the Eastern Region of Uganda. We planned to assess piloting our operations and meet with local authorities in one of the municipal centers in Manafwa District, sitting across the international border from Kenya.
During this three-day trip, I had the privilege of meeting Claire and listening to her as she shared the miraculous story of her extraordinary life. At first, it was difficult to absorb the details because of her soft voice, heavy accent, and the vehicle's loud noises as it bounced along the rough dirt road. However, as we continued to visit, the distractions slowly disappeared as I became enthralled by her journey and resilient strength.
Claire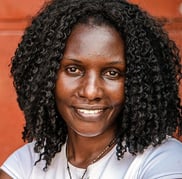 On June 22, 1970, Claire was born in Mbale, in what is now known as the Sironko District of Uganda. When she was a young child, her father started working at a major dairy company three years after the East African Community's foundation. Then in 1972, he was transferred to Kampala, Uganda, during the regime of Idi Amin, a military man who served as president of Uganda from 1971 to 1979. Known as the "Butcher of Uganda" and said to be one of the most brutal despots in world history, Amin is allegedly responsible for the murders of some 300,000 Christians during his time in power.
The context of Claire's early life is tied to Uganda's most horrific human rights violations under the regimes and armies of Idi Amin and Milton Obote. The majority of the countryside communities survived the economic crash in the 1970s because of Uganda's fertile ground. However, an all-pervasive black market developed in the towns, and dishonesty became the only means of survival. This economic and moral collapse stirred up criticism of the government, and during this period, the country experienced several severe coup attempts.
Life in Uganda was grueling and far from secure when Claire was growing up. From her third through sixth grade years at school, the country had five different presidents, and some were in office for as little as ten days. Then, when she attended secondary school, Milton Obote served his second term as president of Uganda, the first being before Idi Amin's regime.
After completing her college studies, Claire met and married her husband, a Ugandan police officer. Soon after, they started their family and eventually had three children: Morris, Gloria, and Morgan. It was a challenging season, and Claire struggled to find and keep a steady job to help provide for her growing family.
A promising business venture
During this time, Claire was invited by a friend to help run a cotton import business. This "sister" (as close friends are often called in the Ugandan culture) was in a better financial position and offered to help with the start-up costs. The two joined forces, and Claire began operating and overseeing the business.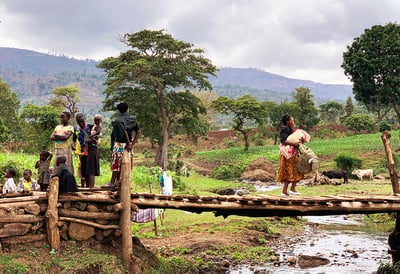 In Uganda, it is a tradition for Christians working near their church to gather there during lunchtime. In 2006, following her usual lunch routine, Claire was walking back to work from church when she was approached by a Nigerian man, claiming to be a pastor who knew her from church.
The man explained he was looking for a trusted person to fill a high-ranking position in a new business venture. Claire, a known member of the local church community, suited the profile he was trying to find.
He said, "Sister, we believe you can help us run our business and become the CEO of our operations in Uganda. We are foreigners; we pay the highest level of taxes applicable. We want you to learn how we operate our main plant in China and receive training for two weeks. Then, you can come back ready to start and run our business in Kampala. Do you have a passport?"
Claire had just renewed her passport three months earlier, so it seemed like a God-given opportunity. "I embraced the idea," she said, "and I completely trusted him because he said he was a Christian, too. I thought what he was saying was true, so I decided to give him my passport."
The next day, Claire handed her passport to the Nigerian man. Then a week later, she received a call from him, saying her China visa was ready. He never asked if she was prepared to travel; he just expected her to begin the journey.
It was confusing, and Claire felt anxious. She wondered, How did he get my visa? Will I have to pay for it? Will I have to pay for the trip or any expenses incurred? However, she was excited to travel, to see a side of the world she had never even dreamed of visiting, and, most importantly, to advance professionally and become a CEO.
Her husband agreed it was an opportunity worth exploring, and he reassured her that the trip would only last a few weeks. The possibility of a better future built high expectations among her extended family.
Her journey begins
Days later, a prearranged transportation service picked Claire up and drove her to the airport. The driver returned her passport, which she hadn't seen since meeting the Nigerian, and he provided instructions on what she should do next.
Her flight was headed to Imam Khomeini International Airport in Iran's capital, Tehran. When she arrived there, she was greeted by a company representative holding up a sign with her name on it. The driver asked for her passport, mentioning he would make sure her visas were in order.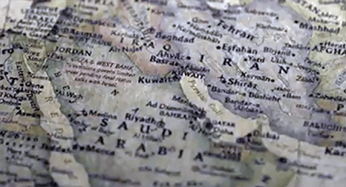 The man took Claire to a hotel in the city, told her to check in, and then drove away, taking her passport with him. She was assigned to a room, and although it was nicer than any place she had ever been, it was hard for her to relax. She convinced herself, however, to just trust that everything was okay.
A few days later, a South African woman joined her in the hotel and shared a similar story. This woman had also been told that she would be in charge of the same business in her country. They both enjoyed their time together as they waited for their travel arrangements to be fully set, and Claire was relieved to share the space and experiences with a new friend.
Days went by without notice until they received a phone call from someone asking to meet them in the hotel lobby. The women were excited to finally have news of their next steps. They were told they would travel to China the following day, and they were each given a piece of luggage with new clothes to wear for their new CEO positions.
The next day, wearing their new outfits and feeling confident, they were picked up by their driver who returned their passports and completed visas back to them. When they arrived at Imam Khomeini International Airport, they checked in at the airline desk and headed to the security checkpoint.
Claire cleared security without any issues; however, her friend faced more scrutiny. Claire could hear some arguments as she headed to the departure gate, where she decided to wait for her companion. A few minutes went by, and Claire suddenly heard loud voices. Raising her head, she saw men in uniforms walking directly toward her. Speaking in Arabic, incomprehensible to Claire, they were shouting at her and moving their hands and arms in adamant gestures. Feeling frightened and completely stunned, she was pulled and pushed back to where she had last seen her friend.
The men in uniform continued to shout at Claire while her friend was crying helplessly. Simultaneously, they became surrounded by TV cameras and reporters. The frustration of not knowing or understanding anything was unbearable. Claire spotted the BBC News crew and asked, "What's happening? Please help me; I don't speak this language!"
The nightmare begins
As Claire recounted the haunting events from her past, memories flooded her mind, and her eyes became lost on the horizon. After a few moments of silence, she looked back at me and then continued sharing her story. "I didn't know what was going on," she said. "They asked me where my luggage was, and once they had collected it, they started cutting through it. They found things we didn't know were in there."
When she asked what was happening, the BBC reporter said, "Don't you know you've committed a huge crime in this country? You're being arrested for possessing more than 100 grams of heroin; in Iran, the sentence for this crime is death by hanging."
Claire recalled, "Immediately, the airport authorities came and handcuffed our feet and hands. I screamed and screamed until I passed out. I don't remember what happened after that."
According to Iran's Anti-Narcotics Law, possession of narcotics is a felony punishable by death or life imprisonment if the person is found with more than five kilograms of opium or more than thirty grams of heroin, morphine, cocaine, LSD, methamphetamine, or similar drugs.
Claire does not recall what immediately followed. Her first memory is waking up in the prison's infirmary, where a nightmare began. Later, authorities informed her that her trial would happen in eight months.
Ultimately, she was imprisoned and sentenced to death. She was told, "You are going to die by hanging. You have been given 30 days."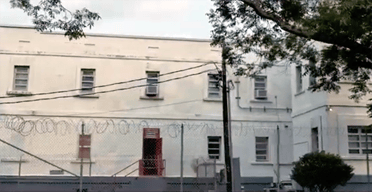 The prison officers and lawyers told her that as a foreigner, she could only be saved from death by converting to Islam. Although they encouraged her to become a Muslim so she could get a life sentence, she told them, "I do not know Mohammed but have known Christ since birth. I cannot deny Him in my time of difficulty. He is dear and good to me. He said: 'But whoever disowns me before others, I will disown before my Father in heaven' (Mathew 10:33)."
Claire continued, "They left enraged, saying I was mocking Mohammed. So I remembered I had Jesus, and He promised He would never leave me alone. So I said, 'Jesus, it's you and me. There is no one else.'"
Waiting
Each day, prisoners' names were called over the loudspeakers signaling they were to be put to death, many times in front of the other inmates. Those who had professed Christ were pressed by authorities to deny Him, and in a vain attempt to stay alive, many did deny Him. In the end, however, they were still executed.
Many months passed, but Claire's name was never called.
During her five years in prison, Claire believed and trusted God for her release while continuing to share the love and truth of Jesus Christ. She stated, "I just called upon His name, and I said, 'I know you're here with me because you promised to never leave me. I know you are the only one who can get me out of this situation.'" She continued, "I began feeling strength coming into me, and I felt like somebody was guiding me and moving with me."
During this time, Claire witnessed many miracles of conversion, freedom, and healing, and she was a vessel to serve and be a witness to Christ. However, anger against her wrongdoers surfaced when she questioned why others were being released through her prayers, but she wasn't. She was aggrieved by her unjust incarceration because not only were her young children growing up without a mother, but also her husband had married another woman and abandoned their kids.
Claire eventually realized that forgiveness was the only route to freedom, and she thanked the Lord for the grace to overcome the resentment of her imprisonment. She also began preaching about forgiveness. Many around her had been imprisoned for hurting people, and while incarcerated, they kept causing harm to other inmates.
As an Islamic country, Iran adheres to the belief of Qisas,  a term interpreted to mean "retaliation in kind," "eye for an eye," or retributive justice. Qisas is available to the victim or victim's heirs against a convicted perpetrator of murder or intentional bodily injury. Although Qisas is allowed, forgiveness is recommended, and Claire faithfully preached the message of forgiveness, changing the hearts and lives of numerous prisoners.
Miraculous freedom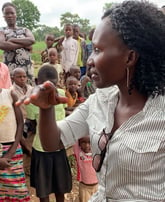 The day she was set free from prison was a complete miracle. Out of nowhere, she was inexplicably pronounced "free." She shared, "They called me in the office one day after I had fasted for three days. I was the only one announced as a free woman. In the physical realm, I thought it was impossible, but in the spiritual realm, I knew that with the Lord, all things are possible. God had determined I would come out of prison one day."
As Claire finished her story and I was jolted back to the present day, I knew I would forever be impacted not only by her testimony but also by her deep faith in Jesus Christ.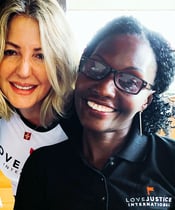 Today, Claire is part of our staff in Uganda where she works as a transit monitor. Her path led her to Love Justice International, to fervently work to ensure innocent men, women, and children are protected from the injustice of human trafficking, where they lose their freedom, as she did.
The two-day journey back home gave me time to reflect on what Claire's life experience meant to me. Her personal journey helps me navigate a fallen world while understanding my own faith. Fighting against global injustice can be daunting, and at times I feel like I'm taking tiny steps like those of an ant. But Claire's unwavering courage in the face of ongoing adversity inspires me to persevere and never give up.
To learn more about our anti-trafficking work in Uganda, visit here.
*All data and statistics current at the date and time of publishing. Names changed and some specific locations excluded for privacy and security purposes.