Our staff was monitoring at a train station when they noticed two minor boys, Pankaj* (13) and Aman* (12). The boys were shabbily dressed and looked worried and scared, so our team approached them for questioning.
At first, the boys refused to respond, but after our monitors explained their work and assured they only wanted to help, Pankaj and Aman slowly started sharing their story.
They told our team they had been visiting a market near their village when they met a man named Kanha* who offered to take them to a "nice place." Although he didn't mention the name of the place, he promised they would have a lot of fun, and he eventually convinced them to accompany him. They collected their meager belongings and went with him to an unknown destination.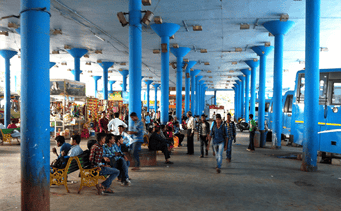 Kanha took them to the nearest train station where they boarded a train to a nearby city. When they arrived, they started walking toward a market located directly behind the station. As soon as they left the station premises, Kanha abruptly abandoned them in the unfamiliar area without any explanation. Confused and afraid, Pankaj and Aman started frantically searching for Kanha, but they were unable to find him.
Since they were traveling without any money, they were in a vulnerable situation and did not know what to do. With no other option, they ended up following some street boys who were collecting bottles and cardboard for money. They began doing the same thing and managed to earn enough money to barely survive. Pankaj and Aman spent their days wandering around the market area, eating scraps of food distributed to the street dwellers. At night, they slept near the shops.
After spending a few days this way, they decided to try to return home. They had no knowledge of the train system and did not know which train to board or how to return home. However, Pankaj and Aman were determined to somehow get back to their village, which is why they were at the train station when our staff first noticed them and intervened.
After listening to their story, our staff comforted them and offered their assistance. They took the young boys to the police station and explained their situation to the officer in charge. After receiving medical care, Pankaj and Aman were sent to a shelter home where they will stay until our team can locate their parents and help them return safely home.
---
South Asia: Two Girls Being Lured Across Border for Promised Dance Opportunity, Intercepted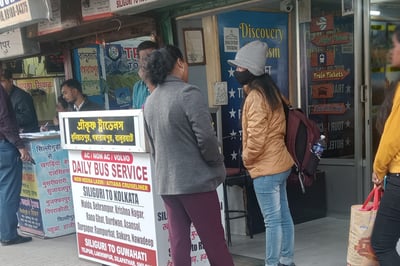 Fourteen-year-old Sovina* and her friend Sumitra* were taking dance lessons at a dance institute. While there, they met a couple who offered them the chance to participate in a special dance program. They persuaded Sovina and Sumitra to travel together with them, but they hid the fact that the so-called dance program was located in a neighboring country.
Our staff was monitoring at the border when they noticed the couple trying to take the two girls across at night. During questioning, it was evident that the young girls were unaware of their destination. When our staff contacted their parents, they learned that they also did not know the girls would be traveling to a different country. Due to the suspicious circumstances, our team intercepted Sovina and Sumitra and handed them over to their families.
---
Malawi: Minor Victim of Labor Exploitation, Intercepted and Returned Home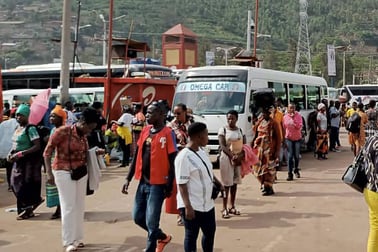 Recently, the Lilongwe team intercepted Esther*, a 14-year-old girl from a village in Dowa District. The girl had been working as a housemaid in Ntcheu District. She told our team that she had been abused in various ways while working there. Her employer eventually kicked her out of the home without giving her enough money to purchase transportation back to her village. As a result, Esther found herself stranded in Lilongwe with no resources to stay safe. Our monitors intercepted her, educated her about human trafficking, and facilitated her transportation home.
---
Rwanda: Three Females Traveling to America with False Promises from Stranger, Intercepted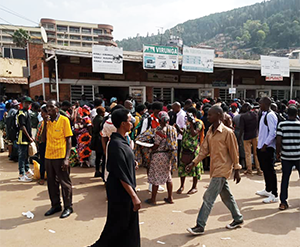 Marie*, Divina*, and Natasha* are three young females from a village in Rusizi District. They traveled with a stranger to Kigali because he promised to take them to Burundi. From there, he assured them it would be easy to travel to America, the land of opportunity. Believing they were on their way to a better life, they agreed to travel with him without informing their parents of their plans.
One of our monitors noticed the three women in the company of a man who seemed to be a stranger to them, so she approached them for questioning. During the interview, our monitor uncovered multiple contradictions in their stories and called the police for assistance. The male suspect was arrested. Our team spent time educating Marie, Divina, and Natasha about human trafficking and then made arrangements for them to travel safely back home.
---
Uganda: Team Intercepts 18-Year-Old Female Traveling for Promised Work in Kenya
Kakazi*, an 18-year-old female, was recently intercepted by our team at the main border in Lwakhakha. She was traveling with a broker who had enticed her to accept a job offer working as a domestic helper in Nairobi, Kenya, with a promised salary of Ush 450,000 ($121 USD)—an amount that is significantly higher than the normal pay of Ush 200,000 ($54 USD). During the interview with our monitors, Kakazi and the broker made several contradictory statements, which increased our staff's suspicions about the situation.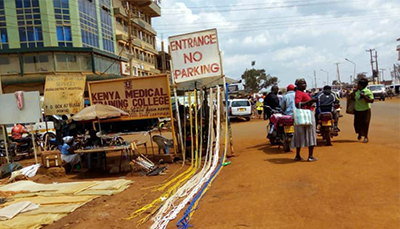 Kakazi initially told our team that she was being taken by the man to visit her father. However, the broker eventually confessed that he was taking her to Nairobi for work. Upon further questioning, Kazazi shared that her future employer had organized her travel from her village to Lwakhakha on a motorcycle belonging to the broker. She further mentioned that the broker had arranged her other transportation to ensure that she arrived at her destination.
After listening to Kakazi's story, our monitors were concerned that she might be in the process of being trafficked since she did not know the broker's name and could not provide any detailed information about her promised job. When our team called the employer to verify the details of the work, she stated that she was hiring a bar attendant, not a domestic helper.
The suspect was handed over to the police for further investigation, and a case was filed against him. Our monitors educated Kakazi about the dangers of human trafficking and then facilitated her transportation home.
---
South Asia: Monitors Intercept 12-Year-Old Girl Lured with Work and Stranded at Station
During our team's normal monitoring duties at a transit station, they saw Jasna*, a 12-year-old girl. She was sitting on a bench by herself and seemed to be waiting for someone. Due to her young age, our staff was concerned for her safety, so they went up to see if she needed any help. At first, she was reluctant to provide any information about herself, but after our team showed their identification documents and explained their work, she slowly opened up to them.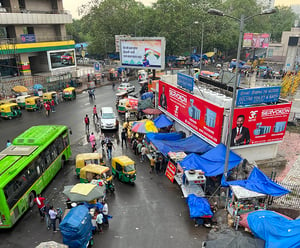 Jasna told them that she had met a boy on her phone who had offered her a job working in a garment company with a promised monthly salary of $112 USD. After hearing about the salary, Jasna accepted the offer and moved to the area without telling her family about her plans. When she arrived, the boy wasn't waiting for her as promised, and when she tried to call him, his phone was switched off.
After talking with Jasna, our team determined that the boy was deceiving her because the promised salary was double the normal pay. Furthermore, he hadn't given her any official documentation proving the legitimacy of the job, and she was unable to provide the address or phone number for her future place of employment. After receiving counseling from our team, Jasna asked if they could help her return home. Our staff kept her at their shelter house for one night. Then, they escorted her home the next day and handed her over to the care of her mother.
---
South Africa: Team Uncovers Red Flags in Advertised Position and Redirects Man
Our staff recently intercepted a 39-year-old man with a grade 12 certificate who was pursuing a suspicious job. While talking to our team, he mentioned that he had never worked in any type of formal employment and was dependent on a government social relief fund of R350.00 ($20 USD).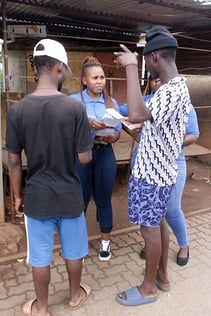 Desperate to make money and find stable work, he had applied for a cleaning position that he saw posted. When he called the recruiter to find out more about the post, he was asked to attend an interview. He was told that he would be picked up at a certain location to be taken to his workplace, but he was never given the exact physical address for his employment. He was told that he would be working at various hotels; however, the names of the hotels were not disclosed to him. Furthermore, he was instructed not to tell anyone about his employment offer, and he was promised a monthly salary of R6500.00 ($355 USD).
Based on the information gathered, our team determined that the promised position did not exist. The fact that the recruiter would not disclose the name of the alleged hotels where the man would be working was a red flag of deception. Additionally, when our team contacted the recruiter, he was reluctant to divulge any more specific information about the post and disconnected the call after stating that he felt like they were asking too many questions. Finally, the promised salary package was unrealistic for the position advertised. Our team advised the young man to stop pursuing the job, warning him that if he continued, he would likely find himself at risk of being trafficked or forced into sexual abuse or exploitative labor.
---
Ghana: Two Minor Girls Traveling to Find Work, Intercepted Before Exploitation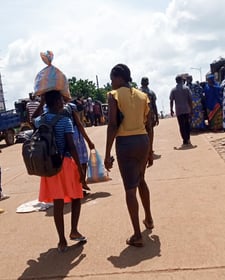 Ama* and Abina*, two girls from the Savanna Region, were going to Atebubu because friends had told them they could find good-paying jobs there where they would be able to earn a lot of money in a short period of time. When our staff first noticed the girls, they were at a bus station, preparing to enter a car. After asking them several questions, our monitors were concerned for their safety and pulled them aside for separate interviews.
Ama and Abina eventually revealed that they had secretly left their homes without their parents' consent. Our monitors intercepted them because they were at high risk of being trafficked. They educated them on the dangers they might face if they continued their journey and advised them to return home. After talking with our staff, Ama and Abina understood the risks and decided to go back to the safety of their village.
---
Tanzania: Monitors Intercept Young Mother and Baby and Help Them Return Home

Jailu*, an 18-year-old mother, traveled from her village to Dar es Salaam along with her 8-month-old baby for the purpose of work. Jailu's friend had promised to meet them at the bus station when they arrived. However, upon their arrival, she was not there. Although Jailu eventually managed to contact her, the friend said she couldn't help her find work or lodging. Our staff intercepted Jailu and her baby and helped them return home where they were reunited with family.
---
Lesotho: Young Man Traveling to South Africa for Suspicious Work, Intercepted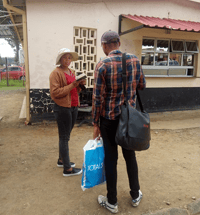 A man was recently intercepted by one of our monitors at Van Rooyen's Gate. The young man looked impoverished and was carrying only a small bag of clothing even though he claimed to be going away for a long time to work in South Africa.
He told one of our monitors that he was going to South Africa because his alleged friend had found a job for him working on a farm with a promised monthly salary of R1,000.00 ($55 USD). The most interesting part of the young man's story was that he had never met or even communicated with his alleged employer over the phone about the details of his job. Instead, he was blindly trusting the word of his friend.
Upon further questioning, the young man mentioned that he did not know the hours that he would be working or even where he would be staying. One of our monitors educated the man about human trafficking, explaining the dangers he might face if he continued his journey. After talking with our staff, the man decided to return home.
---
Kenya: After Uncovering Red Flags Related to Overseas Work, Team Intercepts Woman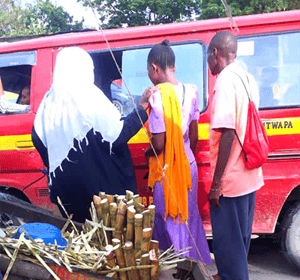 Mwamamisi*, a 20-year-old woman, was intercepted at a postal ground where she was planning to meet a broker named Kombo*, a family friend who was facilitating her travel to Saudi Arabia to work as a waitress. During questioning, Mwamamisi mentioned that she had been promised a salary of kes 45,000 ($356 USD) as opposed to the usual pay of kes 30,000 ($238 USD). The high salary was an immediate red flag to our team, and they warned her that the job was probably too good to be true.
Upon interviewing Mwamamisi, our team discovered that she lacked relevant experience to perform the job and she was not in possession of the required travel documents. Even though she did not have an identification document, Kombo had assured her that he would be able to process the necessary paperwork for her to travel abroad. Furthermore, she mentioned that this would be her first time traveling overseas, and when asked, she was unable to tell our team the exact address or city for her destination.
After checking a website to verify the legitimacy of Kombo's alleged agency, our staff discovered that it was not listed with the government of Kenya. Because they were unable to confirm the job, they intercepted Mwamamisi, educated her about human trafficking and safe foreign employment, and then helped her return home.
---
Mozambique: 20-Year-Old Traveling for Work Arranged by Friend, Intercepted
Our staff recently intercepted a 20-year-old man who had left his home province after being promised a job working as a farmer in the crop fields in Maputo, earning a monthly salary of 6,000 MZN ($94 USD), which is higher than the usual pay of 4,000 MZN ($63 USD).
The man who had offered him the work was someone he knew, so he had no reason not to trust him. Despite not knowing the exact destination and not being able to speak the local language in Maputo, the young man decided to accept the offer without consulting his family. The man who had offered him the job paid for his transportation and gave him travel instructions over the phone, promising to meet him at the bus station in Maputo.
When the young man arrived in Maputo, the man was not waiting for him as promised. Although he waited at the bus station for a long time, the man never came to pick him up. Stranded, the young man became afraid because he knew he was in a high-risk area for human trafficking. When our team found him, he was sitting alone and seemed very apprehensive.
Our monitors warned him about human trafficking and all the dangers he was exposed to being in the dangerous city of Maputo. He listened to their warnings and then gave them the contact information for the man who had arranged the work for him. When our team contacted the man, he said that he had not promised a job, but the possibility of furthering an education.
When our team asked the man some more questions, he was unable to answer and ended up turning off his cell phone, making it clear that it was a case of human trafficking. Our team advised the young man to return to his home, and he agreed to do so. Since he did not have the resources to pay for his ticket home, our team arranged and paid for his transportation.
---
Zambia: Team Intercepts 12-Year-Old Working in Dangerous Streets
Jeremiah*, a 12-year-old boy, was spotted by our team picking up bottles near the Chirundu border, a place known for human trafficking. During questioning, he told our team that after he collects the bottles, he takes them to various places in exchange for a small amount of money. He further mentioned that he has never been enrolled in a school.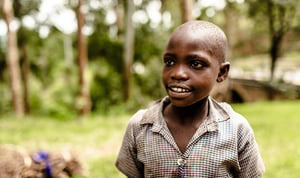 Our staff accompanied Jeremiah to his home where they were able to meet his mother. She told them that Jeremiah's father had passed away six years ago, leaving her widowed and unemployed. She told our team that she survives and feeds her five children by doing whatever odd jobs she can find, like cleaning other people's homes and doing laundry. Through this type of work, she has been able to provide for her family's most basic needs, but nothing more.
Although she was aware that Jeremiah was going to the border to do work, she did not know about the risks facing minors in the area. After being educated about human trafficking and child labor, she assured our team that she would not allow him to go the border unaccompanied ever again.
When asked about where he took the bottles after picking them up, Jeremiah mentioned that there were several places, most of which were homes in communities near the business center. The bottles were washed, refilled with tap water or the Zambian traditional drink, chilled, and then sold off.
Our staff followed up on one of these places and found a woman in her home. She confirmed that she paid an incentive to anyone who brought bottles to her. She said that people knew about her place and brought her the bottles on their own accord. Our team explained to her that doing that with children under the age of 16 was considered child labor and was against the law in Zambia. She said she was not aware of that, and then she assured them that she would no longer collect bottles from minors.
---
Burkina Faso: Team Intercepts 16-Year-Old Traveling to Another Country for Promised Work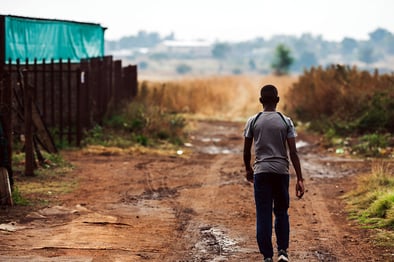 This is the story of a 16-year-old teenager that our team recently intercepted. Driven by a desire for adventure, this teenager had decided to leave his hometown in search of a better life in another country. Along the way, he fell into the hands of a suspected trafficker who offered to give him a job working on a gold panning site in Côte d'Ivoire with a promised salary of 70,000 CFA francs ($113 USD). The alleged trafficker organized the teen's trip and promised to meet him at the Burkina Faso-Côte d'Ivoire border.
Fortunately for this minor, his bus stopped at one of our monitoring stations, and our staff approached him for questioning. After he told them his story, they provided him with counseling, educating him about human trafficking and warning him of the potential risks he was exposing himself to. Convinced, the teenager voluntarily decided to turn back and return to his family.
---
To learn more about how you can get involved in preventing vulnerable people from becoming victims of human trafficking, visit here.
*Names, photos, and locations changed or omitted for the security and privacy of those involved.