Recently, our Africa leadership team spent some time in Uganda traveling to our various monitoring stations and getting a clearer picture of both the successes and challenges our staff are facing there on a daily basis. As one of the more recent countries where we have expanded our work, it was an encouraging experience.
They spent a day training and equipping the monitors with our interception strategy. While they were there, they were able to spend some time monitoring a local bus station and were able to successfully intercept a woman who had been stranded there for over two weeks.
Interception
She had traveled there from her village, but then her trafficker abandoned her. She had since been surviving on what little food scraps she could find. Her vulnerable state only increased her chances of being targeted and exploited by another trafficker looking to make a profit. Our staff member states, "We thankfully found her and were able to send her home." Watch this brief footage of our staff at work in helping see her to safety:
Unfortunately, Uganda is another key transit area affected by the trafficking industry. According to the U.S. Department of State, Ugandan children as young as seven are exploited in forced labor in agriculture, fishing, forestry, cattle herding, mining, stone quarrying, brick making, carpentry, steel manufacturing, street vending, bars, restaurants, and domestic service. Traffickers are also known to exploit both girls and boys into prostitution.
Young and innocent targets
Recruiters target girls and women aged 13–24 years for domestic sex trafficking, especially near sports tournaments and road construction projects. It is estimated there are between 7,000 to 12,000 children involved in prostitution in Uganda.
Another driving force behind the trafficking in Uganda, according to the Coordination Office to Combat Trafficking in Persons (COCTIP), is the fact that traffickers appear to be increasingly organized, and some may have even formed regional trafficking networks. In fact, it's reported that traffickers are frequently relatives or friends of victims, or they may pose as wealthy women or labor recruiters promising vulnerable Ugandans well-paid jobs abroad or in Uganda's metropolitan areas.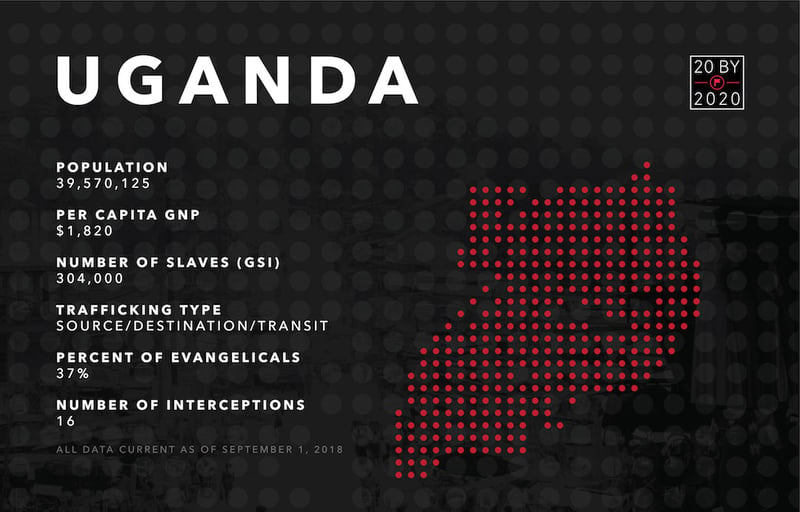 Our team in Uganda continues to be diligent and remains dedicated to the work of saving lives from the potential of being sold into human trafficking. Due to the massive movement of people through the country, there are a myriad of places to consider for expanding our monitoring strategy. Soon, we will be sending a team to an additional border outpost in hopes of finding another key transit spot where we can secure more successful interceptions.
During the month of December, your gift will be doubled up to $500,000! Give the gift of freedom today and help protect and serve the most vulnerable people across the globe.