Meet Aminata*, a 3-month-old baby girl whose twin sister died during childbirth. Our monitors first met her at a local transit station in Sierra Leone when they noticed a young woman, Aminata's mother, holding her and crying. They approached the distraught woman to find out what was wrong and to see if there was anything they could do to help. It was then that they learned about the mother's tragic heartache and what was about to be Aminata's horrific fate.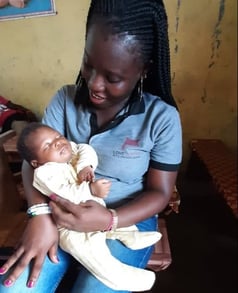 In certain tribes in West Africa, people have been taught for centuries that twins are born with special powers, and as a result, there is an irrational fear of them. In response to this cultural and religious belief, twins are often killed in infancy.
When Aminata's twin sister died during birth, many members of the local community believed that Aminata had killed her in the womb. Afraid of her mysterious abilities, they demanded that Aminata be taken to a witch doctor in order to be put to death. Under immense pressure from her neighbors, the mother felt like she had no other option, and she told our monitors that she was on her way at that very moment to take Aminata to a witch doctor.
Many people may not be aware of the reality that the killing of twin babies still continues in some remote villages and cultures today. In certain tribes in West Africa, it is common for witch doctors to protect their communities from the dangerous powers they believe twins possess.
According to a recent article in The Guardian, "The witch doctor feeds them with a secretly prepared liquid. He convinces the ordinary people in the community that the liquid is water and that the deaths of the babies actually result from the activities of the gods. The function of the water, he would say, is to keep the spirit of the twin in the family lineage. That's far from the truth and that substance is highly poisonous."
An excerpt from the University of Missouri's Artifacts Journal provides more insight into the history of the stigma against twins in West African culture stating, "Igbo society viewed twins as a bad omen sent by the 'Gods.' They considered twins as supernatural beings that could bring devastation upon society. ... As a consequence, whenever twins were born, their parents had to leave them in the 'Evil Forest' to die."
If our monitors had not intervened at that exact moment, sweet Aminata would have been taken to a witch doctor to be killed. Thankfully, she is now in the safe hands of Mariatu*, a woman who works for a child protection organization, and the local police have been involved. Our staff members are closely monitoring the situation, and they plan to help put the child in the care of social welfare.
Read more about our ongoing anti-trafficking work in Sierra Leone here.
Thank you to all of our donors who make it possible for us to intervene in the most pivotal point of a person's life—the brief moment between freedom or slavery, and sometimes even life or death.
If you would like to join our community of passionate people determined to stop human trafficking and empower lives with freedom, hope, and the opportunity of a bright future, visit here today.
*All content, data, and statistics current at the date and time of publishing. Some locations omitted and names changed for the security and privacy of those involved.