Certified as one of the Best Christian Workplaces in 2021 and 2022, Love Justice International (LJI) is a Christian nonprofit organization whose mission is sharing the love of Jesus Christ by fighting the world's greatest injustices.
The LJI global team fights injustice in two primary ways: through our expanding anti-human trafficking work and by caring for orphaned and abandoned children. Currently, we have staff working throughout Asia, Africa, Europe, and North America. As we look toward future expansion and identify where the needs are greatest, we are seeking like-minded individuals with a passion for justice who are compelled to use their own gifts and talents to empower vulnerable people around the globe.
Use Your Gifts to Serve the Vulnerable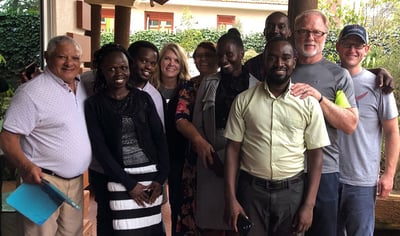 From educators to lawyers, from software developers to creatives, Love Justice's capable and driven team members harness the gifts and passions God has given them to best fulfill our mission. Our staff's varied backgrounds and professional experiences are essential for the progress and strengthening of our work. Each of their insights allows us to develop innovative, new approaches to identify and combat the world's greatest injustices.
Our Values Guide How We Work
Our mission to fight modern-day slavery and empower individuals with hope and freedom takes us to the far corners of the globe and into cultures and locations where our international staff are often far less effective than locals to carry out on-the-ground work. The challenges of this mission have led us to a very specific understanding of our role, articulated as LJI's core competency: searching out the people, places, and tools to maximize mission impact.
This unique self-understanding of our role means that we deliberately aim to cultivate an environment where the best ideas have a chance to rise to the top, and our approach to hiring comes out of that. We strive to hire highly capable and passionate people and work with them to figure out how the gifts and passions God has given them can best fulfill our mission, with job descriptions intended to evolve over time as we jointly come to understand that better.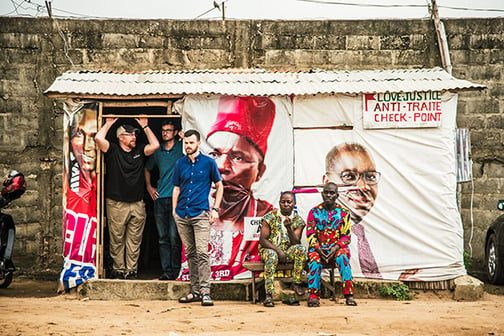 For this reason, all LJI staff are expected to be highly thoughtful, capable problem-solvers who are able to think deeply and carefully, and engage in healthy dialectic about how we can share Christ's love by fighting injustice.
Founder and CEO, John Molineux, explains, "We are committed to being patient and gracious, loving and blessing each staff member. Yet we are firmly resolved to establish the culture of radical accountability warranted by the plight of those for whom so much may depend on the effectiveness of our work. We greatly value humor and fun in the workplace. Yet we are dedicated to fiercely and relentlessly doing our part to fight the most heart-breaking injustices in the world."
He continues by stating, "Our work is driven primarily by the emotions of empathy, compassion, and love. And yet our core competency involves the rigorous application of data, science, and human excellence. And finally, though we are committed to clear systems, structures, and lines of authority in our work, it is our desire that God himself should be the one giving orders to all of us, and we are committed to helping each staff member find what they were created to do."
Finding, Hiring, and Retaining Faithful Staff
Finding quality, capable, and passionate workers is central to the work that LJI carries out throughout the globe. We want to find servant-leaders who are full of faith and led by the spirit, rather than those who are motivated by money or worldly affluence. We are committed to continually seeking out these people and doing whatever we can to retain them when we find them.
"Recently a staff member told me that we at LJI are truly set apart from other organizations in the way we care for our staff. There is a unique family-like connection among the team that truly promotes a cohesive and unifying work environment" – Cuc Kim, human resource manager.

"I firmly believe LJI's unique strategy is critical in helping to end human trafficking and is vital to the well-being of thousands of people across the globe. Given that, my biggest highlight working with LJI has been having the opportunity to spend time with our transit monitors in several of the countries in which we work" – Libby, regional director of donor management. (To read about some of Libby's experiences with LJI, visit here.)

"Since I joined LJI over eight years ago, I have seen the organization change and expand in amazing ways. It has been exhilarating to be a part of an organization that focuses on always improving and growing in order to serve others better. The leadership is open to adapting and responding to need as they continue to work to improve both its systems and its communication. Every day, I go to work and feel part of something bigger. I can't imagine a more meaningful job than what I do now" – Sally, overseas worker, (headshot not included for security reasons).

"The community within Love Justice is what keeps me with this organization. I've seen how pursuing a calling alongside others who feel similarly forges fast and deep friendships. Love Justice does not just paste our mission statement in pamphlets, but it is actually what defines the organization and dictates how we work. That is what I love about the organization. Our core values aren't text that are lost in a sea of information, but rather internalized by staff, referenced often, and serve as guide posts" – Kirk, South Asia expat staff member, (headshot not included for security reasons).

"Since my first day working at LJI, I've been blown away by the way that diverse perspectives are valued, rigorous debate is welcomed, and a healthy critical eye is adamantly encouraged. I'm surrounded by people who are excellent at their jobs, yet honest in their self-assessment. I've been empowered to find solutions to enormous, open-ended problems, and have received grace when my ideas fell short. Beyond my passion for LJI's work—which captured my heart on day one—it's the urgent, driven, impact-focused culture of this team that continually fuels me" – Natalie, director of expansionary research and safe foreign employment.
Searching for the Least of These
We want to find those places where the needs are greatest, where the people are suffering the most, and where the gospel is most desperately needed. If you are passionate about fighting injustice, stopping modern-day slavery, and empowering people with love, hope, and freedom, click here to view our job openings and start using your unique talents and skills to make a difference in the lives of vulnerable people across the globe. To learn more about the countries where we work, visit here.
*All content, data, and statistics current at the date and time of publishing.