Our donors are the heart and soul of our organization. We simply would not be able to implement the work we do across the globe without their dedication and support. Their passion to add their voices and their resources to help save people from human trafficking and the unthinkable exploitation and abuse that takes place within this depraved industry is what fuels our on-the-ground efforts.
Whether it's through joining us in a brand or church partnership, rallying alongside us to raise awareness as a social media influencer, or becoming a member of our monthly giving community, Project Beautiful, our donors play a vital role in our anti-trafficking efforts, and our work would not be possible without their love and support.
Brand Partnership
We thrive off building strong relationships with our amazing partners. The important work we do is fueled by their dedication and commitment to the joint mission of ending human trafficking. Recently, both the CEO and the president of N2 Publishing shared about their faithful partnership with Love Justice:
"Everyone has a cause near and dear to their hearts; something they hear about and just can't seem to shake. For the leaders of N2, it's the epidemic of human trafficking—and with the inception of our giving program, N2GIVES, it's quickly become a cause that touches the heart of every N2 team member.

As a for-profit company, N2 stays in business because we're good at generating revenue. When it comes to fighting modern-day slavery, however, we don't know anything about intervening for the vulnerable and bringing traffickers to justice. That's the impactful role nonprofits like Love Justice International play. But it takes money for LJI to do their life-saving work, and therein lies a perfect synergy. N2 donates millions of dollars each year to the best anti-trafficking organizations, and we're proud to continue supporting the amazing work of Love Justice International. We provide so they can do.

If N2 were a nonprofit, we would probably look a lot like LJI. We don't buy fancy desks and we don't have designer carpet on our floors. We do more than $100 million in sales each year, but if you drove by our building, you might think it was home to a really big White Castle restaurant (which would be super unhealthy, but amazing). It's in our DNA: We just hate spending money on things that don't matter and don't improve the business. That's why we love LJI. No egos—no one needs to pretend they are cooler than they are by having fancy things. We agree on spending money on the things that matter: rescuing people, telling them God is real and has more in store for them, and helping bring an end to human trafficking worldwide. It's hard work, and I've seen how the leaders of LJI embrace that hard work, and live a tough life to help fulfill the mission. We're like-minded about Jesus and like-minded about finances. Keep doing much with little, LJI! We are proud to be partnered with you."—Duane Hixon, CEO, and Earl Seals, President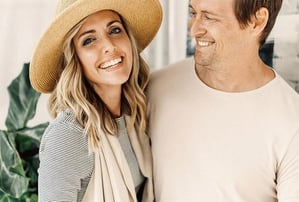 The owners and founders of MISSIO Hair, a hair product company that exists to use beauty to restore hope and fight human trafficking, share, "Love Justice's heartbeat is beautiful. Fueled by God's love, they are committed to finding and implementing the best, most effective strategies to prevent human trafficking and rescue its victims. They primarily serve in two areas: Children's Homes/Schools and Human Trafficking Intervention. We could not be more thrilled to announce our newest partner - Love Justice. We are honored, humbled, excited, and overjoyed to partner with this incredible international organization and help contribute to fighting human trafficking worldwide."
Anchor House Coffee Roasters, located about an hour outside of Seattle, in the little town of Buckley, Washington, is a coffee shop being used to make a global impact in the fight against modern slavery. Owners, Luke and Tanya Wilbanks, donate ten percent of their profits to Love Justice; but they make an even bigger impact through their commitment to provide a place of authenticity and belonging.

As relationships build within their walls, the Wilbanks have inspired others to come alongside them in the fight against slavery. With the burden for human trafficking victims heavy on their hearts, the Wilbanks wanted Anchor House to be more than just a coffee shop. After spending some time researching organizations, they chose to partner with Love Justice, drawn by our organization's desire to glorify God in our work as well as by the tangible impact of intercepting people before they are trafficked.
Church Partnership
Church partnerships also greatly impact our work in the field. Our church partners are able to use their influence to share what God is doing through this ministry, encouraging people to stand in the gap through prayer and empowering them to be kingdom doers by helping those who need it most. Recently, Port City Community Church, a church partner in Wilmington, North Carolina, told us that their staff members were donating their vacation pay to our COVID-19 Global Relief Effort during the height of the pandemic lockdowns. They share: "We are so grateful and honored to support your teams and the work you are doing around the world to live and share the gospel. This donation is a gift from the staff of our church who can't currently come to help so we've paid out some vacation days to resource your team to be the hands and feet of Jesus in so many communities. Thank you for your love, your obedience, your sacrifices and your partnership in building God's Kingdom."
In addition to Port City Community Church, a few of our other church partners share about collaborating with us:
"This is a ministry that seeks to partner with churches in creative ways. Love Justice goes out of their way to create a relationship with the church and provide ways the church makes a difference in the world of human trafficking and keeps on the front lines of human trafficking." – Jimi Pitts | Missions Director, Washington Heights Church, Ogden, Utah
"I had a chance to visit the LJI Headquarters in Kathmandu, Nepal, two months ago and I can't tell you how impressed I am with this organization. Love Justice International is making a difference in so many lives around the globe. As soon as I heard they were working to bring food to those trapped in extreme poverty as a result of the COVID–19 crisis, I immediately got our church engaged in giving to their relief fund. It's a huge blessing to have such a solid, reputable organization to partner with in meeting the needs of those who are suffering in the developing world in the wake of this crisis. I can't recommend these guys enough. They are the real deal." – Daniel Susenback | Missions Pastor, Grace Commons Church, Boulder, Colorado
"As a church, we are always looking to partner with organizations where God is already working. Preventing human trafficking is a daunting task, but coming alongside the work of Love Justice is a great privilege for us because we know they are literally saving lives and bringing God's Kingdom to earth. We are so grateful for the work they are doing and feel honored to be a part of it!" – Jen Oakes | Former Missions Director, Missions Church, Ventura, California
Social Media Partnership
Social media is a powerful tool for people and businesses alike to use their influence across platforms to motivate others to join in the crucial fight to end human trafficking. They are an army of justice fighters, adding their voices to encourage others that together we can make a difference!
Project Beautiful Partnership & Donors
Every one of our donors has their own story to tell along with their own motivation for giving to Love Justice. For many, their passion to join the fight against human trafficking is driven from a place deep within their hearts that radically compels them to fight for every ONE life that is in danger of becoming a victim. We are truly humbled by both their partnership and their transparency when they share the reasons why they give:
"Human trafficking of BOTH men and women is something I have always felt passionately about in terms of helping to stop it. I wish I could give more, but I hope every little bit helps." – H.D.

"We are giving because we believe in what God is doing through you. Human trafficking is awful, filthy, and disgusting! We are also teaching our 5-year-old daughter to give. She was very excited to give and to help keep people from becoming slaves. Thank you, keep up the good work, and God bless!" – G.S. & A.S.
"In memory of my grandma, who suffered years of abuse and didn't have the coping tools we do today! I hope this helps prevent traumas my grandma went there." – J. J.
"This donation is in honor of two Philippine women that I met while living in Kuwait that were enslaved." – C.B.
"Earlier this year, my friends and I participated in an event to raise money for the fight against human trafficking as well as bring awareness to the issue. This opened my eyes to the awful realities of human trafficking and modern-day slavery. My heart has been aching for these people and I knew I had to make a difference. I would love to start my own organization one day, but for now the best I could do was make donations monthly. I searched through many different organizations specifically looking for a Christian organization that would not only bring freedom, but freedom in the name of our Lord and Savior. I pray that this money will be used to do amazing things and transform lives." – M.A.
"I want to do something instead of nothing." – J.P.
A vital key to bringing an end to human trafficking is each one of you. Each one of you deciding that enough is enough. Each one of you joining together, raising your voices, giving of your resources, and doggedly pursuing justice for the priceless lives in danger of falling victim to this monstrous industry.
This work would not be possible without you. Join us and continue to help play a role in writing the next chapter of this story. When we work together, each effort multiplies into one incredible impact—one more life changed, one more step toward wholeness and freedom. All of us at Love Justice look forward to you joining us on this amazing journey! Learn how here.
*All content, data, and statistics current at the date and time of publishing.