I still remember visiting with family members prior to the birth of our first child about my desire to be the father of four boys. I was quite sure our first impending birth was going to be the start of the fulfillment of that desire. Well, God had other plans. Much to my surprise, not only was our first child a girl, but over the next six years, three more little girls followed! Four daughters—how they changed my life and my heart forever!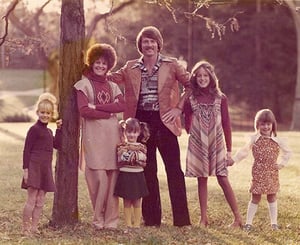 When I held my daughter for the first time, I knew, without question, that I would do everything in my power to ensure my little girl would feel loved, cared for, and protected. I knew at that moment that being a father would be my greatest and most important calling in this life. Little did I know how God would use that time of being a father to prepare me for another calling—that of being part of a mission focused organization that seeks to protect and care for young girls and boys all over the world!
I've had the privilege of visiting with fathers all around the globe who have the same protective love for their daughters that I do. Unfortunately, oftentimes due to extreme poverty and cultural obstacles, those fathers are limited in their ability to completely provide that protection, and it breaks their hearts.
I remember a time when I visited one of our safe houses in South Asia to learn more about how our staff protects the vulnerable people they intercept until they can be returned to their families. During that visit, the parents of a young girl staying at the safe house arrived to take their daughter back home. I watched as they entered the house, fell at the feet of one of our staff, and wept. Looking up, the father profusely thanked our team member for intercepting and caring for his daughter. His love for her was palpable.
In that moment I couldn't help but silently weep to myself as I thought about the wonderful privilege of being able to stand in the gap for thousands of parents like these, by protecting their daughters when they can't.
That's what we get to do at Love Justice. That's what those who partner with us allow us to do! Together, we have been able to protect and empower those who are the most vulnerable, oppressed, and marginalized. Together, we have been able to intercept thousands of young girls to prevent them from being trafficked and then unite them back with their families.
So, on behalf of all those fathers and mothers, whether they live in South Asia or Africa or somewhere in between, from the bottom of our hearts, thank you to all of you who stand with us in this crucial fight for justice!